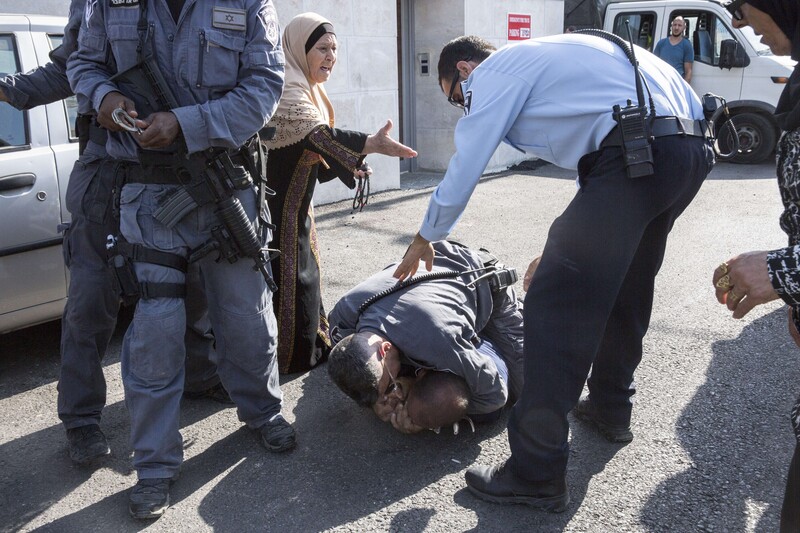 It was supposed to have been Nizar Shamasneh's first day back at school.
At around 5:30am, a large number of Israeli police descended on the Sheikh Jarrah area in occupied East Jerusalem. They had arrived to evict the Shamasneh family.
"They took everything: my schoolbag, our clothing, my grandfather's identity card," Nizar, aged 15, said. "It was heartbreaking to be thrown out in the street without being able to defend yourself."
The family were caught somewhat off-guard by the 5 September eviction.
As the family had secured a court injunction, they thought that they could remain in their home for at least another five days.
Yet on 4 September, Israeli settlers appealed successfully against the injunction. As a result, the eviction was allowed to proceed immediately.
The family was not informed that the injunction had been overturned.
"We were not ready for this," said Fahima, Nizar's 76-year-old grandmother. Noting that the eviction occurred just after the Muslim holiday of Eid al-Adha, she added: "They chose their timing well."
Determined to fight
The family were forced to find accommodation in a hotel. Every day, however, members of the family visit their home and sit outside it in protest.
The Shamasneh family are determined to fight against the injustice inflicted on them and their community.
Muhammad Shamasneh, a father of six, has become a vocal campaigner against ethnic cleansing in East Jerusalem.
Much has changed about him since the first eviction notice was delivered to his family in 2009.
At that time, Muhammad was too shy to speak in public. So he asked other people from the neighborhood to speak on his behalf during protests against evictions. He was reluctant to speak with the press, fearful of confronting Israeli police officers and wary of criticizing the Palestinian political leadership.
Even when complaining about how the Palestinian Authority has given him hardly any support, he would usually whisper.
Muhammad – a gardener – had until then avoided political activity as much as he could. He had to raise his children and take care of his elderly parents. Making ends meet was a daily struggle.
Since then, Muhammad – now aged 45 – has realized that everything is political in Sheikh Jarrah, even the act of remaining in your own home. The battle against eviction has seen him stand up to Israeli police, settlers and to the Palestinian Authority.
"What is going on in Sheikh Jarrah has nothing to do with property laws," said Muhammad. "It's not a simple conflict over real estate either. It is a long-term Israeli plan to uproot us from our neighborhood and replace us with Jewish settlers through legal gymnastics."
Muhammad and his 23-year-old son Dirar were both arrested on the day of the eviction. They were released on bail the following day – but not before Dirar had been beaten in custody, sustaining a neck injury.
"My neck is bruised but the real pain is in the heart," Dirar said shortly after his release. "You cannot stand idly by as settlers occupy your home, harass your neighbors and provoke your family."
The Israeli settler movement has invoked a 1970 Israeli law to drive the Shamasneh family from their home.
That law enables Jews to make claims on property if they show it was under Jewish ownership before 1948. Known as the Legal and Administrative Matters law, it only applies to Jews. Palestinians are prevented by Israel from returning to the homes they held before the 1948 mass expulsions carried out by Zionist forces.
Arieh King, a right-wing member of the Israeli-run Jerusalem city council, has been the most prominent face of the settler movement.
King, director of an organization called the Israel Land Fund, is trying to seize Palestinian homes in Sheikh Jarrah so that they can be taken over by Jewish settlers.
The effort to evict the Shamasneh family has been spearheaded by King. By contrast, the Jewish family which has made a claim on the Shamasneh home has only appeared once in court while the case was being heard during the past eight years, according to Muhammad Shamasneh.
The Shamasneh family have lived in Sheikh Jarrah for more than five decades.
"Hurt"
Ayoub Shamasneh, Muhammad's 84-year-old father, is originally from Qatanna, a village in the Jerusalem area. He has witnessed the mass displacements caused by Zionist forces in 1948 and by the Israeli army in 1967.
He began renting the Sheikh Jarrah home in 1964, when East Jerusalem was under Jordanian control. All of his children were born since then.
"I am hurt for what they did to my home," Ayoub, who uses a wheelchair, said. "But what hurts more is that history continues to repeat itself and the Palestinian political class doesn't seem to care."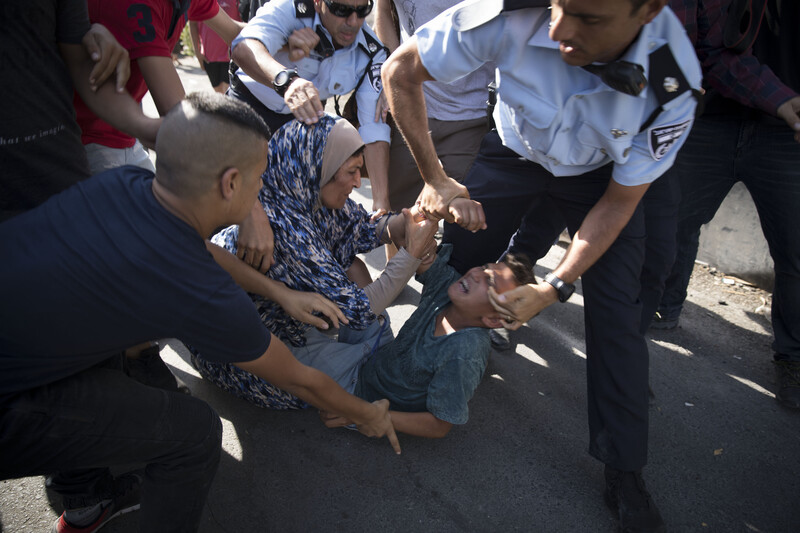 A few months ago, the Shamasneh family learned that their eviction was likely to take place soon. Receiving that news was "like a disaster for my father, especially because this time there was very little we could actually do to prevent or even delay it," said Muhammad.
"My father is strongly attached to this home and he keeps saying that losing the home reminds him of defeats in 1948 and 1967," said Rabiha Zahran, Ayoub Shamasneh's daughter.
"My mother has been trying to lift him, to give him strength. But for both of them, the loss of this home represents a tragedy that cannot be described in words."
Life became "hell"
The eviction of the Shamasneh family is the first to take place in Sheikh Jarrah since 2009.
The al-Kurd family were among those affected by the evictions of that year. Settlers seized the front section of the family's home. Life became "hell," according to one member of the family, Nabil al-Kurd.
His mother, Rifqa al-Kurd, said, "I will only agree to leave Sheikh Jarrah" if her right of return to Haifa, a city in historic Palestine, is guaranteed.
Commonly known as Umm Nabil, she had to flee her native Haifa in 1948. Like many others in East Jerusalem, her family were uprooted during the Nakba, the ethnic cleansing of Palestine around the time of Israel's establishment.
The Shamasneh home is located in the poorest part of Sheikh Jarrah. The neighborhood feels a world apart from the five-star American Colony Hotel and the consular offices – representing governments around the world – within a few minutes' walk.
The Shamasneh family had created a welcoming atmosphere in their dwelling. Every visitor was greeted warmly and chatted to over coffee.
In 2013, the Shamasneh family earned a temporary respite. Israel's high court turned down their appeal against the eviction order. Yet it agreed to defer the eviction on what the Israeli media has called "humanitarian" grounds. The court cited the fact that elderly people had lived in the home for a long period.
"We refused to look for another house because the case is not simply about housing and it is not just about us," Amal Shamasneh, Muhammad's wife, said.
"Our home is simple and tiny but it means everything to us. We also know that evicting us will only be the start of evicting all the families who are under threat."
Among those facing eviction threats is Amal's brother Muhammad Zahran. Before the eviction, Zahran was also their next-door neighbor.
"The settler groups and their leader have a plan for the entire neighborhood," Zahran said.
"I see the settlers in the Shamasneh home, raising Israeli flags over the house, provoking us every minute, and I fear that the same destiny awaits my home and many others if we don't act."
Budour Youssef Hassan is a Palestinian writer based in Jerusalem. Blog: budourhassan.wordpress.com
Tags