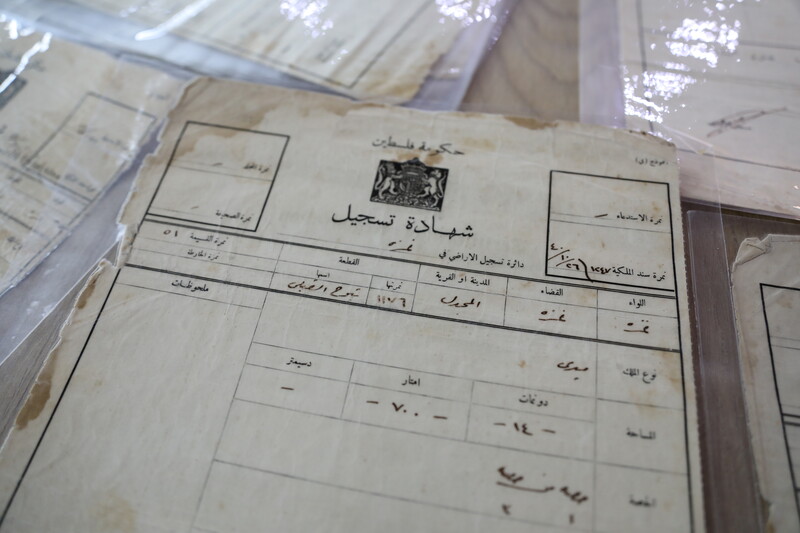 For many people in Gaza, pieces of paper are their most treasured possessions. These are the deeds for land from which their families were expelled.
Adam al-Madhoun is the custodian of documents showing how his grandfather Salim owned a 37 acre farm in Majdal.
Located on the southern coast of historic Palestine, Majdal was seized by the newly formed Israeli army in November 1948. A mass expulsion of its residents occurred then.
Those who managed to stay put came under attack by Israel again in December the following year.
The remaining Palestinians left Majdal as a result of that attack, mainly ending up in Gaza's refugee camps.
Israelis tried to remove evidence that Majdal once had a thriving Palestinian community – by, for example, turning its mosque into a restaurant.
Adam al-Madhoun, however, is determined to keep alive the memory of what happened to his family.
The documents which he inherited were guarded carefully by his grandfather Salim.
Adam never actually met his grandfather, who died in 1974 – long before he was born. Yet he is acutely aware that Salim always dreamed of returning to Majdal.
As well as being a farmer, Salim was a cloth merchant with customers in various parts of Palestine and Lebanon.
The documents for Salim's farm date from the 1940s and are headed with a lion and a crown – symbols of Britain, which ruled Palestine between the two world wars.
"These documents prove that Palestinians owned the land," said Adam.
"They refute Israel's claims that Palestine was empty. When I speak to politicians or to young people, I refer to these proofs of ownership, how we have preserved these documents to this day and how we will hand them on to our sons."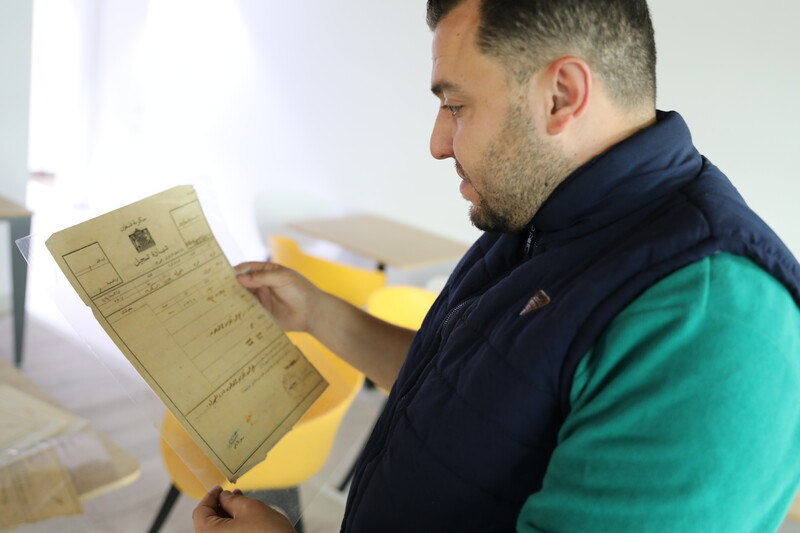 "Powerful"
Land deeds and similar papers attain a special significance around 15 May each year. Palestinians refer to that date – the anniversary of when Israel was established in 1948 – as Nakba Day.
The occasion shows how Israel was founded on the displacement and dispossession of an indigenous people. Nakba means "catastrophe" in Arabic.
Up to 800,000 Palestinians were expelled from their homes during the Nakba.
Among them were Farid Shaheen, who owned a 5 acre farm in a village named Beit Daras.
In his book The Birth of the Palestinian Refugee Problem, the Israeli historian Benny Morris describes how Zionist forces carried out two separate massacres in Beit Daras during April and May 1948.
As well as killing a total of around 150 Palestinians in those massacres, the Zionist forces torched and blew up numerous houses and destroyed granaries and wells.
After fleeing Beit Daras, Farid Shaheen lived in Beach refugee camp, near Gaza City. He remained in Gaza until he died 15 years ago at the age of 87.
First, his land deeds were taken care of by his son Khalil. When Khalil himself died two years ago, the documents were left to Ahmad, Farid's grandson.
Khalil, a mechanic, used to work inside Israel.
"I always remember my grandfather's stories about Beit Daras," said Ahmad. "Every time my father went to work, my grandfather would ask him if he saw our village or passed by it."
Farid insisted on retaining his land deeds and his passport. By doing so, he asserted that Palestinians have the right of return to the villages and towns from which they were uprooted.
"My grandfather always said that these were the most powerful documents that we have," said Ahmad.
"It really bothers Israel that we keep them. They prove ownership of lands that Israel has seized. My grandfather said to my father: I want you to keep these documents after I die and that your sons inherit them."
Saadi Hamdan grew olives, oranges and lemons on a 7.5 acre farm in Jaffa. He exported much of his produce – first to Arab countries, later to Turkey, Cyprus and Italy.
Saadi also owned a 1 acre farm, complete with palm trees, in nearby Wadi Hunayn. That village was seized by Zionist forces in April 1948, forcing Saadi to flee.
He moved to Gaza City and had to abandon his trade. Saadi lived in Gaza until his death – at the age of 100 – in 2005.
Today, Saadi's son Muhammad teaches history in al-Rimal, a district of Gaza City.
Muhammad stresses that it is vital for Palestinians to keep their land deeds. Unfortunately, he notes, some Palestinians lost these documents amid the upheaval of the Nakba.
"The land ownership documents aren't mere contracts," said Muhammad. "They represent the history of Palestine. We must use them to make sure nobody forgets how our villages were ethnically cleansed."
Ola Mousa is an artist and writer from Gaza.
Tags