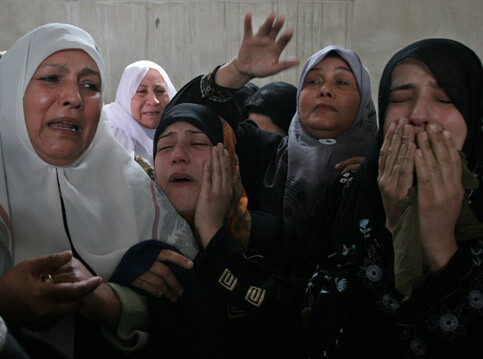 In an escalating military action that is being waged by the Israeli Occupation Forces (
IOF
) in Gaza, the
IOF
have killed 44 Palestinians, injured 176, and destroyed numerous homes and properties in the Gaza Strip between 1 November 2006 and 4 November. Thirty-nine of the killed are from the town of Beit Hanoun alone. The
IOF
has expanded its incursion in the north-Gaza towns of Beit Hanoun, Jabalia and Beit Lahia, carried out four extra-judicial assassinations, and killed three medics in an attack near their ambulance. In addition, the
IOF
killed and wounded numerous women as they protested the siege onto their neighborhood in Beit Hanoun.
According to Al Mezan's initial documentation, 44 have been killed, including seven children and three women, while 176 were wounded, including 30 children and 43 women. 16 have been admitted to hospitals with critical wounds. These casualties occurred between the dawn of Wednesday 1 November 2006 and today.
IOF incursion continues:
In its previous press release, Al Mezan reported that the IOF had started a wide-scaled incursion into north Gaza on 1 November. This incursion has since been expanded to include larger parts of the three towns of north Gaza. In addition to causing dozens of casualties due to the excessive use of force, the IOF has completely destroyed five homes, four vehicles and one store, and damaged 15 other homes. Troops broke into 20 inhabited houses and used their roofs as military posts while the resident families were forced to remain in the building. They have also caused damage to water and electricity networks. The incursion continues as this release is circulated.
Al Mezan's fieldworker in North Gaza also reported that IOF opened fire at two women's demonstrations in Beit Hanoun. After the IOF had rounded-up a group of Palestinians in An Nasser mosque in the town, a group of women walked toward the mosque at approximately 7am on Friday 3 November 2006 in an attempt to protect the besieged Palestinians. However, the IOF opened fire at them and killed Rawda Jaber, aged 48. Seven other women were also injured. At least one man was killed inside the mosque from IOF fire. He was identified as Suhaib Udwan, aged 22.
At approximately 7.30am, another group of women walked from other parts of north Gaza towards Beit Hanoun, protesting the siege and killings. The IOF opened fire at them, killing Ibtisam Mas'oud, aged 44, and injuring 31 other women. Some of the group of women managed to enter Beit Hanoun with journalists but were rounded-up by the IOF who arrested them and moved them to the area where the male residents of the town had been collected. Medical sources informed Al Mezan that it took until 4pm to evacuate wounded women from the area because of the restrictions on the movement of ambulances.
At approximately 11pm Saturday 4 November 2006, the IOF opened fire at two Beit Hanoun residents as they were returning home from the place in which the IOF had ordered all male residents of the town to gather for a search and an ID check. They had been ordered to leave this location by IOF after 'passing' the search and check. As they were leaving, unarmed, one of them was killed and the other was critically wounded by IOF sniper fire. Al Mezan reports that the man who was killed was 22-year-old Mazin Shabat and the man who was wounded was 35-year-old Zahir Shabat.
Several other Palestinians were also killed and wounded in north Gaza in separate attacks by IOF, which ordered all male residents of Beit Hanoun to collect in a school and arrested many of them.
Related Links