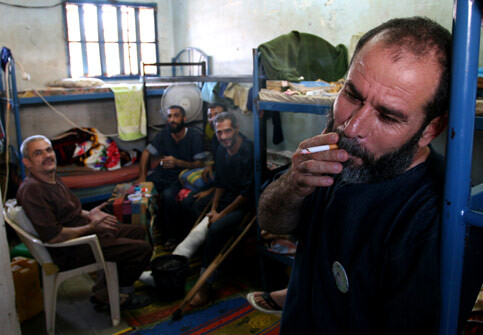 Forty-five-year-old Waleed Salman Abu Dalfa died yesterday, 15 July 2007, while being held in custody at the former Intelligence Headquarters in the al-Mashtal area east of Gaza City. The facility, which was recently converted into a detention centre, is currently run and supervised by Hamas' military wing — Ezadin al-Qassam Brigades.
According to investigations carried out by Al Mezan, Al-Haq and Al Dameer, Waleed and his brother, Khalil, were arrested at their home in Gaza City on Monday, 9 July 2007. In an affidavit provided to the aforementioned organizations, Khalil states that roughly 30 masked men broke into his apartment at approximately 11:30 pm, and arrested himself and his brother. The masked men then took Waleed and Khalil to the former Intelligence Headquarters. According to Khalil's affidavit, the two brothers were kept blindfolded in two separate, but adjacent, cells. From their cells they could talk to one another, and could hear when the other was being beaten. According to Khalil, Waleed was kept in painful positions at all times, except for during prayer times, which lasted for a few short minutes.
Following Waleed's death, Al Mezan's lawyer was permitted to examine his corpse. In doing so, he identified heavy bruising on Waleed's wrists and lower legs, which is believed to have been caused by handcuffing. The lawyer observed numerous bruises on the deceased's legs and buttocks, as well as wounds on his arms and hands. These marks suggest that the victim was tortured; a possibility that was reaffirmed by the victim's brother, Khalil, who stated that he heard Waleed screaming in pain in the adjacent cell.
The investigations also indicate that a number of violations of the law were committed in the course of the arrest and detention of the two Abu Dalfa brothers. They were arrested without a warrant, and were not informed of the reasons for their arrest. They were also denied the right to receive family visits during their detention. These actions constitute clear breaches of Articles 10, 11 and 12 of the Palestinian Basic Law, and of provisions of the Palestinian Penal Law.
The undersigned organisations wish to express their deep regret at the death of Waleed Abu Dalfa. They reaffirm that torture and all other forms of cruel, inhuman or degrading treatment or punishment amount to serious violations of international human rights law, as well as Palestinian domestic law. Article 13 of the Palestinian Basic Law places an absolute prohibition on torture. In addition, under Palestinian law, the crime of torture is not subject to a statute of limitations, and the victims of torture are entitled to compensation, as stipulated in Article (32) of the Palestinian Basic Law.
Therefore, the undersigned organisations call upon Hamas to:
1. Initiate a prompt investigation into this incident, examining the legality of the victim's arrest, the place of detention and the means used in interrogating him. The investigation must also examine the cause of death.
2. Take appropriate measures to ensure those individuals and/or institutions that are charged with maintaining order and security in Gaza respect the law and safeguard the lives and dignity of Palestinian citizens. In this regard, Hamas must issue clear instructions to its members highlighting the absolute prohibition against the torture or ill-treatment of detainees. Furthermore, it must establish a monitoring mechanism to ensure that its members abide by such instructions.
3. Suspend and bring to justice any individuals who are proven to have been involved in the torture or ill-treatment of citizens.
4. Ensure that all arrests and detentions are carried out in compliance with the law. Effective measures much be taken in order to ensure that any such acts that do not follow due process procedures, and which are performed by unauthorised persons, are brought to an end.
5. Ensure that places of detention are limited to those determined and recognised under the law. Detainees' families and lawyers, as well as human rights organisations, must be allowed to visit detainees and to make certain that they are treated humanely and kept in adequate conditions.
Al Dameer Association for Human Rights
Related Links