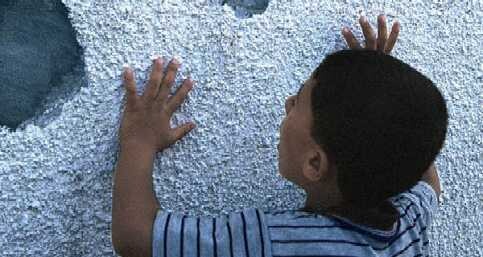 Despite the release of 13 child prisoners in early August as part of the 'Road Map' peace process, numerous other children were taken into custody during this time, far outnumbering the number of "concessionary" releases.
Further arrests were made after peace negotiations broke down at the end of August as Israeli checkpoints were fortified and extended across the Palestinian territories and troops returned to previously vacated areas.
Many of these new detainees continue to be housed in military detention centres, often without immediate interrogation. This suggests that many of the detainees are not considered a security threat or being arrested for specific actions, but are part of Israel's collective retribution against the Palestinian population as a whole. Two of these teenagers, Yusuf and Ibrahim are profiled in Case Study 1.
Meanwhile, conditions in the major detention centres and prisons are mostly unchanged in the last month, with torture and poor living conditions key issues of concern. Children continue to be held in 'temporary' adult facilities, with no special provision for minors, even after trial. This tends to affect children who are serving shorter sentences of less than six months for charges such as stone throwing.
In some long-awaited positive news, Riham Musa will soon be freed after a parole hearing in which her sentence was reduced by a third on 3/9/2003. Riham was arrested on February 20 2003 and sentenced to one year imprisonment for attempting to stab a soldier. She was shot in the leg and stomach during her arrest and has had three operations this year which have successfully removed the bullets from her body. Rihad will be released from Ramle prison on 28/9/2003.
Prison life
Atzion Military Detention Centre: A DCI lawyer visited Atzion outside Bethlehem on 5 August 2003 and said that the situation is as bad as ever in the centre, with torture and mistreatment widely reported amongst prisoners, including juveniles.
Overcrowding in permanent facilities means that this so-called temporary centre continues to hold child prisoners for prolonged periods of time. Child prisoners are even being kept in this facility after trial, when they are supposed to be moved to permanent facilities under Israeli rules. Fifteen-year old Ahmad Taqatiqa, 16 year-old Ra'ed Juweilis and 14 year-old Muhammad Haddush are three of the juveniles who are currently serving their sentences in Atzion, enduring physical hardship and ill-treatment.
Telmond Prison: A DCI lawyer went to visit Telmond prison on 4/9/2003 to see five children being held in the Israeli prison authority facility. As usual, he had to wait a long time before the first child detainee - Salem Qassab - was brought in. After speaking with Salem, the Telmond prison guards declared an emergency and told the lawyer that he had to leave and that he couldn't meet with any other prisoners.
In a later visit, the DCI lawyer said that conditions continue to be tough in Telmond for the 75 child detainees. Among key concerns are:
- overcrowding; at least 9 children continue to sleep on mattresses on the floor
- monetary fines continue to reduce scarce canteen funds. The Israeli interior minister has commented on this recently saying that the prison has the right to fine prisoners specific amounts up to 250 shekels and this money is to be put in a prisoner wellbeing fund.
- poor sanitary conditions in the cells and bathrooms
- insufficient and poor quality food
- unnecessary provocations; including intimate searches before visits and sometimes complete strip searches. Prisoners have refused this treatment leading to beatings and solitary confinement.
Ofer: On 1/9/2003, a DCI lawyer visited Ofer prison outside Ramallah where he was kept waiting an hour at the entrance. After an hour he was admitted to the meeting room and was kept waiting another hour and a half. He was then told he would not be able to meet prisoners because of a family visit. The lawyer returned on 2/9/2003 and was kept waiting for an hour on the pretext that another lawyer was currently visiting inmates. He asked an official at the prison why he was being kept waiting, and the official said that the other lawyer had arrived late. After this the DCI lawyer waited for two hours in the visitors' room before seeing any of his clients.
The continued stalling, long waits and diversionary tactics suggest that the administration is trying to deter prisoner visits and keep inmates isolated from the outside world. It also suggests that the prison is trying to hide abuses of other core rights.
Ofeq Hasharon Prison: One of the rare exceptions to the norm is Ofeq prison near Haifa (and Telmond) where Palestinian inmates state that conditions are currently good and prisoners' have access to their basic rights. This is probably because the prison mainly houses Israeli criminal prisoners and has only recently started admitting a few Palestinians due to overcrowding elsewhere. During a visit on 3/8/2003, a DCI lawyer met three inmates, one of whom, Amin Awda was released the same day. The prisoners said that they are allowed to learn a number of subjects in the facility including music, drawing, computer studies and languages. There are also opportunities for entertainment including football and other games, alongside films and television. Inmates are also able to contact their families from the public phone in the prison, although family visits are extremely rare because of travel restrictions to Israel.
Case studies
Case 1 - a) 17 year old Yusuf Abu Khalifa was arrested on 29/8/2003 at two o clock in the morning from his home in al-Ain camp, Nablus. He was taken to Hawara detention centre and was beaten on the way by soldiers. He still had not been questioned six days later when a lawyer visited him on 4/9/2003 and he wasn't sure why he had been arrested. Yusuf is currently extremely stressed and the lawyer described him as scared and very nervous.
b) Sixteen year old Ibrahim Taysir Arida from Nablus was arrested on 24/8/2003 at 2 o'clock in the morning and taken to Hawara detention centre. He has still not been interrogated and he doesn't know why he was arrested.
Case 2 - Update: Sixteen year old Zainab Abdullah al-Sholli from Bethlehem, who was detained on June 13 2002 on charges of throwing a molotov cocktail and sentenced to 22 months imprisonment, was released in early September following a successful parole hearing.
Defense for Children International