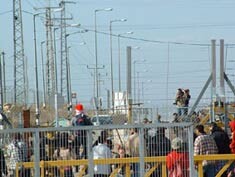 International release, Tel-Aviv, 27 December 2003 —
We just come back from a fiery demonstration — in protest at yesterday's shooting at peace activists. Especially, the story of the seriously-wounded Gil Na'amati continues to make headlines. The 22-year-old kibbutznik had to be raced to hospital after he lost consciousness because of his heavy bleeding.
Both his legs were operated on to remove bullets — in one leg the knee was involved. The nonviolent though militant protest at the Separation Fence was his first demonstration after he only two weeks ago finished his three years of military service. His father reported on TV that Gil had become so rebellious exactly because of what he had seen and had to participate in at the roadblocks in the West Bank.
This Saturday evening hundreds of furious — many of them young — demonstrators blocked the road in front of Tel Aviv's Defence Ministry for hours. Among them were also our veterans such as Uri Avnery and Teddy Katz, as well as Oren Medicks and Nimrod Kerrett, who both became very involved in the anti-Wall protest and the Masha camp.
The police came with a far too small a force and succeeded to arrest eleven — among them David Tartakover, graphic artist and laureate of the prestigious Israel Prize. The others just continued their sit-in on the road.
While blocking the road slogans were chanted: "We won't kill nor be killed for the settlements" (some chanted "for Zionism" which in Hebrew also produces an acceptable rhyme and rhythm) and fitting placards were held up.
Anarchists Against The Wall: "When they shot at Palestinians we were silent!"
The anti-militaristic Profile Hadash "Purity of arms - a contradiction in terms!"
From the Gush Shalom store: "The Evil Wall Must Fall!"
The gay peace group Kvisa Schora was represented, but what especially attracted media attention was the presence of Knesset Member and Meretz Leader Ran Cohen.
When out of nowhere suddenly the prominent anarchist activist Yonathan Pollack appeared (straight from the Ariel Police Station where he had been held since yesterday) it was decided to end the demonstration and march collectively to the Tel Aviv (Yarkon) Police Station and demand there the release of the detained activists.
The police station was sort of besieged, and through the mediation of lawyer Yoni Lerman and Leah Tzemel it was agreed to lift the siege in return for the release of all activists.
Gush Shalom is an Israeli peace movement.