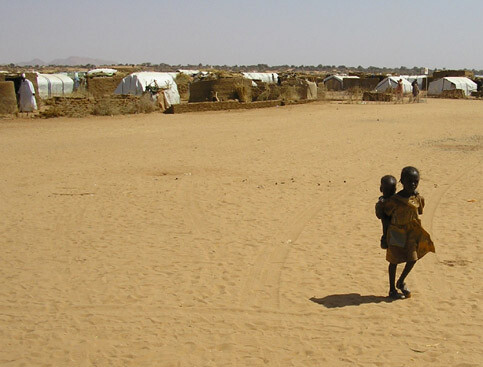 The debate on Darfur is in danger of sounding like a historical exercise. No one should forget that people are still being killed, still being forced to flee their homes, still suffering each and every day. Though the Security Council has "primary responsibility for the maintenance of international peace and security," it has not been able to address and resolve this conflict. No party in this crisis has taken adequate measures to ensure the cessation of violence against civilians in spite of the many assurances made. Over 20 months since they were burned out of their villages and after numerous promises from the Government of Sudan and world leaders, people's lives are still under daily threat.

Despite several resolutions and pledges since that time, neither the Government of Sudan nor the international community has provided sufficient assistance and security to the people in Darfur. The people of Darfur have endured a vicious campaign of violence and terror which has led to massive deaths and forced two million people to flee from their destroyed villages in search of safety.

In response to the natural disaster of the tsunami, the world united to save lives. In Darfur, people are dying needlessly because of other people's actions, yet the world has responded with half measures and empty promises. More than 1.8 million people have already been forced to flee their homes, many having seen their families killed, abducted, abused or raped. The UN estimates that at least 70,000 people have died since the start of the conflict.

Two million people remain displaced and homeless, having sought shelter in camps, school buildings, or temporary shelters in other villages. 200,000 have crossed the border into the remote, barren regions of eastern Chad. Those who fled often brought just the clothes they were wearing. Some people were able to bring animals — if they were not killed or stolen in attacks — but they often died on the way. Many people now have virtually nothing.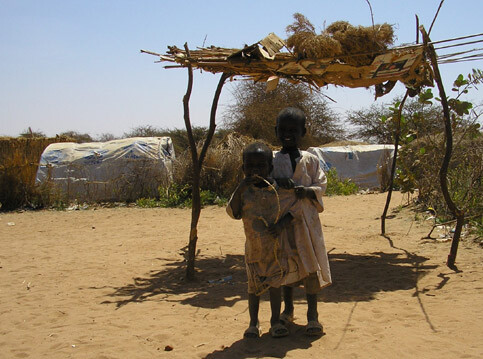 While the warring parties battle over control of towns or villages, those who live there are forced to run. Civilians are not just caught in the crossfire – they continue to be targeted by militias and other armed groups. Even when they have fled they are still not safe. There are daily reports of civilians being attacked and harassed throughout Darfur. Many women are afraid to venture outside of camps or towns to collect firewood for fear of beating, abduction and rape. Some women have suffered horrific injuries in these violent attacks.

People continue to arrive in camps and villages fleeing insecurity. At the end of December thousands of people arrived at camps in both North and South Darfur – fleeing fresh fighting. Those who have fled are living in terrible crowded and unhygienic conditions. They do not have enough food, water, sanitation or medicine, and lack even basic items like soap, buckets for water, and materials to make shelter.

After a poor rainy season, and with such pressure on water supplies, the lack of water is now becoming critical. In a number of places in Darfur groundwater levels are dropping, and soon the existing wells will not be able to supply enough water for the hundreds of thousands living in crowded camps and villages. Without sufficient access to clean water, the threat of malnutrition and disease are greatly increased. The dwindling supply of water is the source of much of that misery. As the dry season lingers, water tables are dropping and bore holes are running dry. There simply is not enough water at many locations for all the people camped at them.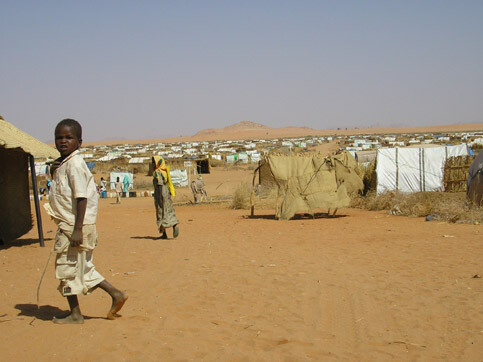 The water shortage has also stymied the effort to open new camps, forcing tens of thousands of newly homeless people to crowd into sites already exploding with populations the size of small cities. A short distance from Abu Shouk camp in North Darfur, aid groups finally gave up on their plans to open a new camp after repeatedly drilling for water on the site and coming up dry. Abu Shouk, formerly an empty stretch of desert, now has 90,000 people camped around its water taps and bore holes. About 30,000 of them have arrived in the last two months.

Water shortages aren't the only impediments to opening new camps. The process is slow and tricky: There are questions of land ownership to sort out and locals often fear—justifiably—that having a camp placed in their midst would put an intolerable strain on their limited natural resources, such as wood for cooking fires and pasture for their animals.

Some of the families that have recently arrived in camps don't have any shelter at all, but have just set their few belongings down on the ground in open areas of the "new arrivals" area of the camps. Thousands have arrived in the last six weeks, fleeing violent attacks and fighting between government troops and rebel forces. The new arrivals at the overflowing camps often suffer most. Many have little food, few materials with which to build shelters, and no access to even the most basic facilities, such as latrines. As the weather warms up, diarrhoea is on the rise. Overcrowding increases the chance that diseases will ripple through whole camp populations.

Some have travelled for many days, often hiding along the way out of fear of being attacked again. With so many people living in cramped conditions there is enormous risk of disease. There are high rates of malnutrition, bloody diarrhoea, and waterborne diseases such as Hepatitis E (jaundice), and cases of respiratory diseases and pneumonia are increasing as the cold weather sets in. The World Health Organisation estimates that every month 10,000 people are dying as a result of living in these terrible conditions.

Host communities, those already living in towns and villages before the displaced people arrived, are also suffering. The populations of many towns have swelled massively, well beyond their ability to cope, and there is enormous pressure on the limited resources of water, firewood and grazing land. Buying food is becoming increasingly difficult as market prices soar – in some areas the cost of a chicken has risen by 800%. We are still six months away from the next rains. People do not know what they will eat next year.

Competition for already scarce resources is leading to growing tension between displaced people and host communities. Those communities will need help too. The UN estimates that 2.2 million people throughout Darfur will need food aid in the coming months.

Many people had not been able to plant due to continuing violence and attacks on rural villages. Thanks to poor rains those that were able to sow their fields are now reporting crop failures, particularly in North Darfur. There is every indication that the harvest will be poor this year, leaving many people totally dependant on food assistance until next year's harvest.

The fighting and insecurity that led many people to flee their homes has not stopped, and most displaced people are still too afraid to return to their villages. In many cases, even if they could go back they have nothing to return to. The 'temporary' camps and shelters have been home to hundreds of thousands of people for a year already – and are likely to remain their home for months to come.

The U.N. Security Council has passed three resolutions on Sudan in the past year without calling for effective measures. The cost of delaying action is high.

Arjan El Fassed is co-founder of The Electronic Intifada. He recently visited various camps and towns in Darfur.