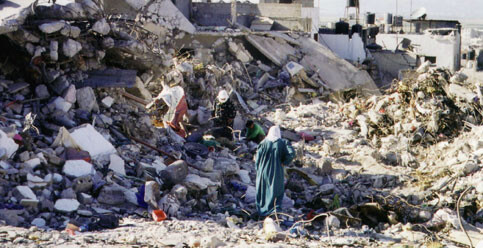 For the seventh successive day, Israeli occupying forces have imposed a strict curfew on Jenin and its refugee camps, prohibiting Palestinian civilians from obtaining food supplies, and abrogating their rights to movement, education and medical attention.  Israeli forces moved into Jenin and its refugee camps after learning of the identity of a Palestinian bomber in Haifa on Saturday 4 October 2003. 
According to PCHR's investigations, the Israeli incursion into Jenin and its refugee camps took place on Sunday 5 October 2003.  At that time, Israeli forces immediately imposed a curfew on Palestinian residents of the town.  Israeli occupying forces continue to patrol Jenin's streets and enforce the curfew, only allowing residents to leave their homes once in the past week for the duration of two hours.  This was insufficient time for Palestinian civilians to obtain much needed supplies and many residents are in desperate need of food and other goods.
Israeli arbitrary measures have also prevented dozens of Palestinian patients from reaching health facilities.  Thousands of workers and employees have been unable to reach their work places, and thousands of students and teachers have been prevented from reaching their schools.  PCHR's fieldworker reported that approximately 22 thousand students from Jenin and its refugee camps have been deprived of 16 school days between the beginning of the school year on 1 September 2003 and the date of this release.
Israeli occupying forces continue to impose additional siege measures on all Palestinian residential areas in the occupied West Bank.  On Tuesday, 7 October 2003, Israeli forces extended a resolution concerning an indefinite continuation of the comprehensive siege imposed on the OPT.  Israeli occupying forces also simultaneously issued a military order on Tuesday prohibiting the movement of Palestinian vehicles between Palestinian areas in the West Bank.  The past 48 hours have witnessed additional Israeli imposed measures preventing Palestinian civilians from moving outside their residential areas.  Such measures are an example of collective punishment
PCHR's fieldworkers reported that Israeli occupying forces intensified their presence throughout the West Bank this week and prohibited the movement of vehicles on many streets.  Israeli forces informed vehicle owners that the prohibition would continue until further notice.  Meanwhile, they stopped and interrogated individuals who attempted to use secondary roads and access routes between Palestinian towns and cities.  It should be noted that 30% of Palestinian residential areas in the West Bank lack water networks and rely completely on purchasing water in tanks for water supplies.  Israeli imposed road closures make it impossible for water trucks to access needy areas and result in the rapid depletion of much needed water supplies.
The Palestinian Centre for Human Rights expresses grave concern over the deterioration of humanitarian conditions in the town of Jenin and its refugee camps as a result of the ongoing Israeli imposed curfew.
PCHR further condemns collective punishment measures practiced by Israeli military forces against Palestinian civilians in Jenin as well as in its refugee camps.  These Israeli actions strictly abrogate article 33 of the Fourth Geneva Convention of 1949 on the protection of civilians in time of war. 
PCHR calls on the international community to intervene immediately to alleviate the suffering of Palestinian civilians facing dire humanitarian circumstances in Jenin and around the Occupied Palestinian Territories (OPT). Furthermore, PCHR reminds the high contracting parties to the Fourth Geneva Convention of their obligations to the convention, and their responsibility to ensure its application by Israel in the OPT.