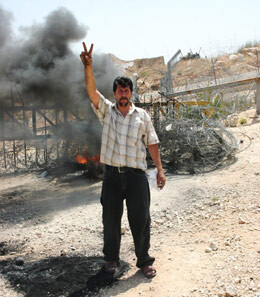 On 30 June an Israeli military prosecutor demanded two years' imprisonment for grassroots activist Adeeb Abu Rahmah, at a military court hearing at the Ofer Military Complex in the occupied West Bank. Abu Rahmah has already spent 11 months behind bars and his arrest and detention is part of Israel's repressive efforts to criminalize the grassroots popular resistance to the Israeli occupation.

Adeeb Abu Rahmah is known for his vibrant presence at the occupied West Bank village of Bilin's weekly demonstrations against Israel's wall and for his commitment to popular nonviolent resistance. A founding member of the Bilin Popular Committee Against the Wall and Settlements, Abu Rahmah was arrested at a nonviolent demonstration on 10 July 2009 and later indicted by the military prosecution on grounds of "incitement," "activity against public order," and "being present in a closed military zone."

Abu Rahmah has repeatedly affirmed his commitment to nonviolent resistance. He has also denied all charges, aside from acknowledging his participation in the weekly demonstrations. Although his release was initially ordered on 16 July 2009, the prosecution later appealed the decision and Abu Rahmah was remanded into custody for the duration of his legal proceedings.

Many contend that Israel's investigation of Abu Rahmeh was flawed from the very beginning, and the Israeli military court system is notorious for its lack of respect for international standards of fair trial and detention. A 5 March 2010 Human Rights Watch report particularly highlighted many due process concerns where investigations regarding Palestinian anti-wall demonstrators are concerned, citing charges based on "questionable evidence and allegedly coerced confessions."

According to Iyad Burnat, Head of the Bilin Popular Committee, the Israeli military in Abu Rahmah's case "relied on the forced confessions of four Bilin youth — one 14, one 15 and two 16 years of age — to convict Adeeb for having told them to throw stones."

Burnat added: "This problem is not confined to Bilin and has also emerged in other villages."

Attorney Gaby Lasky, who is representing Abu Rahmah, noted that the testimony from the minors in question was provided under considerable duress. "They were arrested at 3:30am, they were handcuffed and blindfolded," she said. "They were then interrogated at 2pm the next day, without having eaten or having had a chance to use the washroom."

Israeli military authorities claim that they questioned the youths to determine who threw the stones, and the youths identified Abu Rahmah as having done so.

"Yet, several times, the demonstrators had thrown leaflets and other innocuous objects at the soldiers. We are arguing that the police investigation was so lacking that they didn't even ask the youth what Adeeb had specifically said," Lasky explained.

Lasky also noted that the youth were questioned by an interrogator who was not a specialist in questioning children, and the interrogation was carried out without the presence of a lawyer or the children's parents. Human Rights Watch states that such practices directly contravene provisions under Israeli Military Orders that allow detainees to contact lawyers and grant child detainees the right to have a parent present during their interrogations.

The credibility of the investigation was also challenged when Lasky learned that a special army unit was filming the demonstrations and that the footage was being submitted as evidence against Abu Rahmah. When Lasky subsequently attempted to get ahold of the footage, however, she was told that all the cassettes had been erased.

"Under different circumstances, this might have been enough to acquit him," Lasky said. "There have been many problems with the investigation and we had hoped that the court would take this into consideration."

Ultimately, Abu Rahmah's trial may portend broader implications where the popular resistance is concerned. "Adeeb's indictment and conviction raise much bigger questions," Lasky explained. "The trial is really against the demonstrations as a whole." Indeed, Abu Rahmah's indictment may signal an escalation in the use of legal strategies as a means of quelling the popular resistance.

For the past five years, the people of Bilin have waged an ongoing struggle against the construction of Israel's wall, which has annexed large portions of their agricultural lands and threatens the economy of the village. Since the first bulldozers began to uproot olive trees in February 2005, the villagers have staged weekly demonstrations every Friday. Joining villages such as Budrus, Jayyus, Nilin and al-Masara, their creative tactics have captured the imaginations of many people around the world and inspired other Palestinian communities across the West Bank to take up the struggle.

Villagers in Bilin have also launched a precedent-setting legal challenge alongside its popular campaign. On 22 June 2009, court proceedings unfolded in the Quebec Superior Court, where the village filed their lawsuit against Green Mount and Green Park International, two Quebec-based companies involved in the construction of condos and the expansion of settlements at the village's expense. Citing the Fourth Article of the Geneva Convention and the Canadian Law on Crimes Against Humanity and War Crimes, the complaint accuses both companies of complicity in war crimes.

Coinciding with the legal challenge, three members of the Bilin Popular Committee Against the Wall and Settlements also visited 11 Canadian cities for a nation-wide speaking tour.

While the case was later rejected by the Quebec Superior Court in the fall of 2009, the village later appealed the decision at the Quebec Court of Appeals. During hearings that unfolded earlier this month, judges fielded arguments from the village's legal team regarding the "justiceability" of the village's claim. Lawyers for the village maintain that the Fourth Geneva Convention is not incorporated into Israeli law, thereby precluding the possibility that the case can be heard in the Israeli high court. At present, the Canadian court has taken the case under advisement and a decision is anticipated in the months to come.

While Bilin's three-pronged strategy of direct action, court cases and international solidarity have kept it in the headlines, the Israeli military continues to repress it. Indeed, Abu Rahmah's case represents the most recent development in a broader campaign to quell the popular struggle.

In a recent report, prisoner rights group Addameer and the Stop the Wall campaign have noted that violence has been systematically used by Israeli forces to suppress the popular resistance. It is estimated that more than 1,566 Palestinians have been injured and 16 have been killed between 2005 and 2009. In Bilin alone, approximately 1,300 protestors have been wounded during weekly demonstrations over the past five years. Israel's directed policy of misusing dispersement tactics also claimed the life of Bilin's Bassem Abu Rahmah, who was killed on 17 April 2009, when he was shot in the chest with a tear gas canister.

The Israeli military has also instituted a policy of targeted arrests and detention. According to Sahar Francis, director of Addameer, "this policy is very much part of a broader campaign of repression against any form of activism." The use of detentions and arrests has also escalated considerably in recent years. "Within the past one or two years, it has increased considerably as momentum in the campaign against the wall builds."

Since 2002, Addameer and Stop the Wall have documented the arrests of 176 Palestinian grassroots activists in five villages, namely Bilin, Nilin, al-Masara, Jayyus and Budrus. According to Bilin's internal village statistics, 85 residents have been arrested since June 2009, many during the Israeli military's frequent night raids into the village The recent wave of political arrests has targeted key community activists; five of those arrested are active with the Bilin Popular Committee Against the Wall and Settlements, and all were charged with "incitement."

Defined as "any act of attempting, whether verbally or otherwise, to influence public opinion in the Area in a way that may disturb the public peace or public order" under Article 7(a) of Military Order 101, the use of incitement as a blanket charge is controversial.

Attorney Lasky explained that "Until recently, people had not been charged with this particular offense for a very long time and it is now being interpreted very broadly." In a recent press release, Amnesty International also cautioned that "the broad scope of Israeli military orders mean that Abu Rahmah could be imprisoned solely for legitimately exercising his right to freedom of expression in opposing Israeli policies in the West Bank."

From Sahar Francis' perspective, the use of vague language and nebulous parameters is no coincidence. "The first thing we should remember is that all forms of activism are deemed illegal," she explained. "Participating in demonstrations, holding forums — all these things are considered to be incitement. You find very vague language and definitions so broad that any action can fit inside. This was written into the Military Orders in 1967 to permit them to adapt to evolving forms of resistance."

Abu Rahmah's case could also have far-reaching implications for other anti-wall activists currently awaiting trial. As Amnesty International explained, he could be "the first activist against the fence/wall to be brought to a full evidential trial in a case of this kind." Abu Rahmah's conviction could potentially set troubling new precedents for further criminalizing the popular resistance.

Abu Rahmah's proposed sentence has also come as a tremendous shock and disappointment to his family, and his ongoing imprisonment continues to weigh heavily upon them. Left without a financial provider, the family of ten has struggled to make ends meet for the past 11 months.

"I am a medical student at Abu Dis University, while my sister is also studying management at al-Quds Open University," daughter Rajaa Abu Rahmah explained. "We also have to cover the costs of books and tuition, in addition to meeting basic needs. It has been really hard to get by."

In addition to financial pressures, Abu Rahmah's absence has also exacted a heavy emotional toll on the family. "This is the first time my father has been away from us, even for a short period of time," stated Rajaa. "We feel angry all the time, for no reason. It has been a sad, lonely time for us all."

Despite the challenges faced during his absence, the Abu Rahmah family remains steadfast. "We are not alone," Rajaa said. "Many villages also have prisoners and people who have suffered injuries. It has been difficult, but we have to come out of this stronger."

As the Abu Rahmah family has been resilient, so too has the popular struggle. The weekly demonstrations have continued unabated and resistance remains ongoing, even in the face of intense repression and legal persecution.

"Certain people may be more cautious in their participation," Francis explained. "Still, the resistance is continuing and even expanding to new villages, such as Nabi Saleh. They are not succeeding in breaking the will of the people."

Iyad Burnat said that the latest round of repression leaves the movement even more determined to sustain the popular struggle. "Israel will not break us on their anvil — they will only make us stronger with their repression and hammer blows."

Burnat added, "After five years of struggle in the village, one murder and many disabling injuries we still strive with the words of Terence McSwiney — the Irish nationalist who fought the British occupation of Ireland and died on hunger strike in protest — in mind: 'it is not those who can inflict the most, but those that can endure the most who will prevail.'"

Editor's note: This story originally reported that Adeeb Abu Rahmah was sentenced on 30 June to two years imprisonment at an Israeli military court. This was inaccurate. In fact, the Israeli military prosecutor had requested a two-year sentence. As of 6 July, the military judge had not ruled. Abu Rahmah was scheduled to have another hearing on 7 July. The Electronic Intifada apologizes for the error and will continue to follow this story as it develops.

Amy Darwish is a writer and community organizer active in the Tadamon! network in Montreal.
Tags