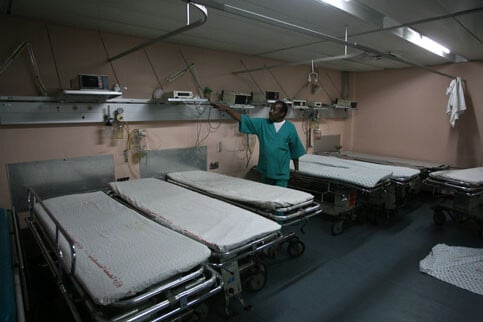 JERUSALEM, 13 December (IRIN) - The isolation of the Gaza Strip is "intolerable" said a senior World Health Organization (WHO) official on 10 December, urging better access for Gazans to medical care outside the boxed-off enclave.
Ambrogio Manenti, head of the WHO in the West Bank and Gaza Strip, urged medical professionals to take a stand against the current situation which, he said, was having a negative impact on the health of residents.
Manenti was speaking at a WHO symposium with the Physicians for Human Rights-Israel (PHR-I) organization and the Gaza Community Mental Health Programme.
The WHO noted an increase in the number of patients being denied access to care outside Gaza.
Hadas Ziv, the director of PHR-I, said her organization had collected affidavits from Palestinians whose permits to leave Gaza were allegedly made contingent on their cooperation with the Israeli security services.
Bassam al-Wahidi, aged 28 from Rafah in southern Gaza, said doctors told him several months ago that without proper treatment for an eye problem he would lose his sight, and referred him to a hospital in East Jerusalem.
He received a permit and went to the northern Erez Crossing with Israel, where, after waiting for three hours, he was taken into a room for interrogation.
"I waited in the room for over an hour. Then an officer began asking me basic questions, like my name and about my family," Wahidi, who works in the media, told IRIN.
The officer moved on to questions about militants saying "as a journalist you must know things about them." The officer then asked him "to work together" in tracking militants who fire rockets into southern Israel.
Wahidi said the officer even offered to provide better medical treatment if he agreed.
He refused to help the Israeli security forces. "I told him it's my right to get treatment. He said 'that type of language doesn't work with us.'"
Wahidi has since tried several times to get a permit, but failed.
"I have already lost the sight in my right eye. If I don't get treatment soon, my sight in my other eye will be in danger," he said.
PHR-I said there are many more like him in Gaza.
The International Red Cross \in Jerusalem said Israel still had responsibility for Gaza, and must ensure access to health care for the Strip's residents. It recalled that the Geneva Conventions forbid forcing protected people to give information.
Israeli security officials have said the state does not condition treatment on collaboration; security concerns lie behind the rejections.
"Security risks"
Ziv of the PHR-I told the symposium that even people deemed "security risks" should be able to access care, and offered solutions, including an Israeli military bus which would take patients from Gaza to Jordan for treatment.
This might help people like Ahmed, a 21-year-old with stomach cancer, which has led to severe internal bleeding. He was denied exit from Gaza as he was deemed a "security risk" by the Israeli authorities.
His father, Naim, told IRIN he first took his ill son to the Erez Crossing in late October, after receiving a permit, but they were turned away for "security reasons."
They reapplied for permission and returned on 21 November.
"They made us wait for about one and half hours, and then [the soldiers] said they needed to speak to Ahmed. I remained outside and they took Ahmed away," recounted Naim.
The ill son returned from the interrogation, which consisted mostly of questions about the refugee camp where they lived and "which everyone knows the answers to," over an hour later. The two then waited another four hours before they were sent home, after Ahmed was again refused permission to leave Gaza.
This item comes to you via IRIN, a UN humanitarian news and information service, but may not necessarily reflect the views of the United Nations or its agencies. All IRIN material may be reposted or reprinted free-of-charge; refer to the copyright page for conditions of use. IRIN is a project of the UN Office for the Coordination of Humanitarian Affairs.
Related Links