INTRODUCTION
The Electronic Intifada is currently working on the production of a multimedia DVD for distribution to journalists, editors, producers, politicians, entertainment industry contacts, activists, and others interested in the Israeli-Palestinian conflict.
The EI DVD will include introductions to the history of the conflict and to key aspects of the current situation on the ground, including the razing of Rafah in Gaza, and the effect of Israel's West Bank Barrier. Other resources will include map collections and photo galleries from some of the photojournalists whose work appears on EI, as well as some general information about EI.
As well as educational materials and activist resources, the

EI

DVD

will include an extensive

Arts, Music

&

Culture

section, will offer features, videos, and

MP3

s showcasing a range of material from Palestinian and Palestine-related artists.

Multimedia segments already in production include a piece on Palestinian rap group DAM's first shows in the US and Jackie Salloum's associated Slingshot Hiphop documentary, a piece on the New York Arab-American Comedy Festival, and photographic portfolios from Ronald de Hommel, Johannes Abeling, and Asim Rafiqui.

EI has produced a sample module to demonstrate the style and quality of the segments that will be included in the DVD's Arts, Music & Culture section, a multimedia piece on the visit of Al-Rowwad theatre group to Louisville, KY.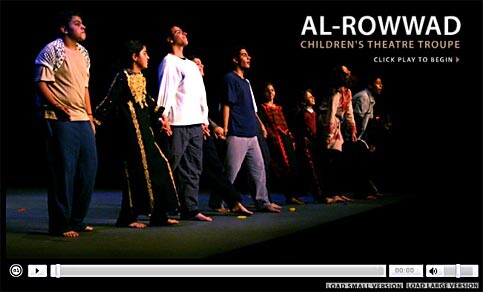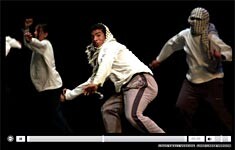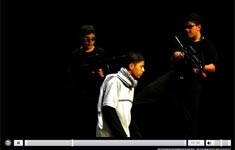 The piece was produced by two Western Kentucky University School of Journalism and Broadcasting students, Patrick Yen and Andrew Sturgill. Similar submissions are sought:
CALL FOR CONTENT SUBMISSIONS!
As with the rest of EI, the production quality of the DVD will be extremely high, resulting in a professional-grade tool that you can use to help others understand more about the conflict from a Palestinian perspective.
A small amount of Iraq-related contributions will be also considered for a subsection relating to EI's other supplementary news project, Electronic Iraq.
EI invites all multimedia producers, film-makers, musicians, visual artists, and photographers to submit content for inclusion on the EI DVD. Content should be high quality and should illuminate an aspect of either the conflict or Palestinian life and culture.
Photographic portfolios should be submitted as a zip file of full size digital images with captions, a 200-300 word overview of what the portfolio represents, and a photo and bio of the photographer. Contact
EI
for
FTP
upload instructions or a mailing address for work submitted on
CD
or
DVD
.
Nothing to submit yet, but you still want to help? There are a number of planned segments that EI still needs videographers to shoot, and editors to edit. The final DVD is planned for production in 2006. Can you give us a few days between now and then?
While no payment can be made for submissions, prominent credit, and portfolio copies of the finished EI DVD will be offered to all contributors. Segments will be also be made available on the Electronic Intifada website.
Questions? Contact DVD Producer Nigel Parry, based in New York City, via EI
CALL FOR FINANCIAL SUPPORT!
While most of the production costs of the actual DVD have been covered by a generous donation from The Jerusalem Fund, the extremely labor-intensive process of compiling, editing, and producing both the content segments and final DVD master still requires funding, as does the costs of distribution to the DVD's target audience.
Can you help? Please consider donating to enable the EI DVD Project to be a success! Larger sponsors will receive prominent credit on the DVD.