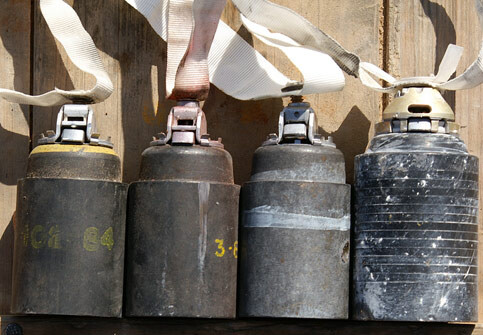 OSLO, Norway, Feb 22 (IPS) - As Branislav Kapetanovic brushes aside some grass to get a better view, his arms and legs are ripped off by a cluster bomb dropped by NATO. His eardrums burst. On the way to hospital his heart stops, but he survives to tell the tale.
Four years and more than 20 surgical operations later, he recounted the fateful day to delegates at a large non-governmental organisation and civil society forum in Oslo Wednesday.
In his wheelchair, gesticulating with stumps where hands and arms once were, Kapetanovic laid out the case against cluster bombs.
As Kapetanovic points out himself, he was a military man, and on that fateful day in November 2000, 18 months after the North Atlantic Treaty Organisation's 11-week bombing of Yugoslavia, he was disarming cluster bombs for the Serbian military.
But the truth, documented by NGOs, is that most casualties of cluster bomb strikes and, even more ominously, unexploded bombs, are civilians street-shopping, relaxing in their living rooms, on way to school, kindergarten or work, ploughing their fields, and returning home after war.
According to estimates by the NGO Handicap International, 98 percent of cluster bomb casualties in the last three decades have been civilian.
Many cluster bombs do not explode on impact, remaining more or less visible landmines.
"I do not expect anyone to be surprised by my destiny; I was a professional that disarmed cluster bombs. I just don't understand why so many civilians are exposed to the same situation," Kapetanovic told the forum.
Following the breakdown of United Nations negotiations last November, Norway has launched its own push to ban cluster bombs, supported by a wide range of NGOs.
Wednesday's civil society forum pressed its case ahead of the Oslo Conference on Cluster Munitions attended by some 40 countries. This two-day conference concludes Friday.
Norway is hoping to repeat the unprecedented success of the anti-landmine campaign in the 1990s that saw NGOs push forward a process leading to a near global ban on landmines (even causing non-signatories such as the United States, Russia and China to refrain from their use).
The Cluster Munitions Coalition of 150 NGOs is demanding that a "clear commitment" to achieving a ban by 2008 emerges from the conference. Talking to IPS, executive director of Human Rights Watch Steve R. Goose was more cautious, predicting a ban in five to ten years.
He concedes that so far there has not been the same amount of NGO or media engagement as during the anti-landmine campaign.
"The main reason is that landmines were an existing humanitarian crisis. Cluster bombs are a crisis in waiting, so there is a strong preventative element," he told IPS.
Parliamentarians from several European countries were at the forum.
"I don't believe in war, so let's do what we can do," Luisa Morgantini, vice-president of the European Parliament told IPS.
The European Parliament cannot pass laws, but called for the European Union (EU) to push for a ban on cluster bombs in a joint resolution last November.
"I would like to not meet, anywhere, children, men and women destroyed in this way. Even though we don't have legislative power we represent 500 million Europeans," she said.
According to Human Rights Watch, incidents with cluster bombs have killed between 90 and 150 civilians in former Yugoslavia. Only seven military personnel are known to have died in this way.
Despite NATO's claims of only targeting areas of military value, villages, towns and farmland were hit extensively in its bombing of Serbia in 1999. 'Yellow Killers', a report released in January by the NGO Norwegian People's Aid, lists some incidents.
The city centre and suburbs of Ni, Serbia's third largest city, were hit by several cluster strikes. In the first 14 civilians were killed, and 27 seriously injured.
NATO said it was a mistake. On the day of the NATO statement more cluster bombs rained down on a residential area of the town. Four days later another residential area of Ni was hit, and three civilians were seriously injured.
It is estimated that the United States, Britain and the Netherlands dropped almost 2,000 cluster bombs containing about 300,000 'bomblets' on Serbia and Montenegro in 1999. Exact figures or locations are not clear, because NATO has not released details.
Recently cluster bombs have been used in Iraq and Afghanistan. Israel dropped almost all of an estimated 4.4 million cluster bomblets in the final 72 hours of last summer's Lebanon conflict.
By October 2006 these had claimed the lives of at least 120 people and injured almost 380, not including Hezbollah (guerrilla) casualties. The UN estimates that 40 percent of the bombs did not explode on impact, and many have still not been cleared.
Some bombs hit Lebanese ambulances coming to collect the injured from previous attacks. One was dropped on the ambulance of 32-year old painter Mohamad Shakib Nahle as he raced back to hospital with injured people he had helped rescue.
"The ambulance exploded and my leg was hit," he told IPS. "I was brought to hospital where they amputated it because they cannot afford the right equipment."
All rights reserved, IPS – Inter Press Service (2007). Total or partial publication, retransmission or sale forbidden.
Related Links