U-21 match sparks feud
The clash involving the Scottish U-21 team is planned for Hamilton's Ballast Stadium in September. And Strathclyde Police are looking closely at the organisation of the game, in anticipation of protests from pro-Palestinian activists.
The Moslem Association of Britain (MAB) has slammed the match, accusing SFA chiefs of representing Scotland 'in approving of the inhumane policies of the Israeli state'.
Spokesman Anas Osama Al-takriti claimed going ahead with such a fixture was a disgrace 'for a nation such as Scotland -known for its friendliness and fair play the world over.'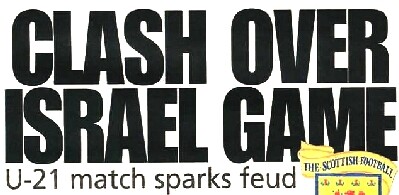 He blasted: 'It is with sadness that we see the

SFA

has organised this match against Israel. 'By doing this, they have represented Scotland in approving of the inhumane policies of the Israeli state. Howevre, the Israeli Information Office in Scotland say the game should not be linked to tensions in the Middle East. And the

SFA

say they have no plans to scrap the match.

But in a scathing letter to SFA chief David Taylor, obtained by the Glaswegian, MAB president Mohammad K. Sawalha wrote: 'We're sure you realise the decision to hold this match is a controversial one. Israel has been illegally occupying Palestinian land for over three decades. We urge you to consider your position in this regard. Undoubtedly there will be protests against this match taking place. The SFA will attract unnecessary bad publicity.'

SFA spokesman Andy Mitchell defended the decision to stage the game. He said: 'This football match is one of a series of games arranged for the Sotland U-21 team. It's been arranged to help prepare the team for the forthcoming UEFA qualifying ties. The match is a sporting event between two footballing bodies and it would be wrong to link it with the political situation in Israel.'

A spokesman for the Israeli Information Office in Scotland, Dr. Ezra Golombok, slammed attempts to have the fixture cancelled. He said: 'I would have thought any friendly sporting contest between people anywhere in the world should be encouraged, not discouraged. On the question of politics, of course, they present a very distorted view of history.'

A spokesman for Strathclyde Police said: 'We are currently in consultation with the SFA and planning is in progress for this game.'