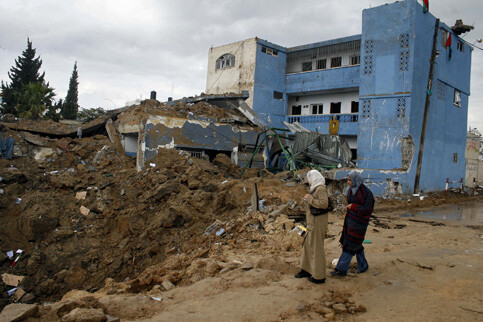 12:30pm Gaza Time (+2hrs

GMT

)
The Israeli Occupation Forces (IOF) has continued its military operation in the Gaza Strip for the fifth day. Today, it targeted an ambulance and its medical crew with a missile, killing a doctor and an orderly and critically injuring its driver. According to Al Mezan Center's monitoring, the number of Palestinian casualties since the start of Israel's Operation Cast Lead at 11:30am on 27 December 2008 has risen to 315, of whom 41 were children and nine women. At least 939 people have been injured, including 85 children and 52 women. The number of civilian objects that have been destroyed is as follows:
112 houses have been destroyed completely and approximately 3,500 houses damaged;
Seven mosques have been completely destroyed from direct air strikes;
38 private industrial and agricultural enterprises have been completely destroyed;
16 schools have been damaged;
Nine

CBO

offices were completely destroyed;
Eight private vehicles were destroyed;
16 governmental facilities were destroyed.
Moreover, 20 security installations were targeted and destroyed. All of these targets were struck from the air. Hundreds of heavy missiles have been fired on the Gaza Strip, some of which on open fields.
Today, at approximately 1:50am, an Israeli aircraft fired a missile at an ambulance that arrived in the Jabal al-Rayis neighborhood in the northeast of Gaza City after a call to rescue injured people. The crew, a doctor, driver and orderly, were targeted just after they stepped out of the ambulance. As a result, the orderly, 30-year-old Mohammed Sa'eed Abu Hasira, was immediately killed. The doctor, 33-year-old Ihab al-Madhoun, died from the wounds he sustained in this attack later in the morning. The driver, 30-year-old Hishmat Ajour, sustained critical wounds and is still at hospital.
Meanwhile, the health sector in Gaza has continued to suffer from the very high number of casualties and injuries it has been forced to deal with under severe shortages in medical necessities, which is the result of the Israeli prolonged siege on the Gaza Strip. Many health facilities have little materials and dozens of wounded people face greater threats on their life as a result.
Al Mezan Center for Human Rights asserts, according to its monitoring of the situation on the ground, that the IOF has perpetrated grave breaches of the international humanitarian law, amounting to war crimes and crimes against humanity, in the course of its military actions in Gaza. The Center also asserts that the vast majority of IOF's targets in Gaza are civilian targets that must not be deliberately targeted. This includes houses, mosques, police stations and at least one ambulance. Most of the casualties are not combatants and were not involved in any hostilities when they were targeted by IOF. This behavior reflects a blatant disregard of civilian life and of the international law that is supposed to protect it.
Al Mezan Center condemns the IOF's violations of international law applicable in times of belligerent occupation and armed conflict. In particular, the violations by IOF of the Fourth Geneva Convention and its Protocol I have caused extreme suffering as well as loss of civilian life. Articles 15-19 of the Convention prohibit the disruption of the working of health facilities during times of conflict. Article 20 requires respect and protection of the persons who are involved in the search for civilians, the sick, the wounded, the elderly and mothers and care for them. IOF violates international humanitarian law by imposing a strangulating blockade that disrupts, and sometimes prevents, the provision of humanitarian aid to the population of the Gaza Strip.
As such, and as the silence of international community continues to allow for such violations of international humanitarian law and human rights standards; including the perpetration of war crimes in Gaza, Al Mezan Center calls upon the international community to uphold its legal and ethical obligations by taking effective measures to ensure Israel's compliance with the applicable rules of international law, and to ensure the protection of civilians and civilian objects in Gaza. Al Mezan finds it ironic that the international community continues to call for such compliance while it must act to ensure it, to protect and aid civilians, and to prevent the perpetration of grave breaches of international humanitarian law.
Al Mezan Center welcomes the popular protests against the Israeli violations of human rights and international humanitarian law in Gaza, and the worldwide solidarity with its people. The Center calls on civil societies to double their efforts to exert pressure of their governments so that they act in conformity with their human rights and humanitarian obligations.
Related Links