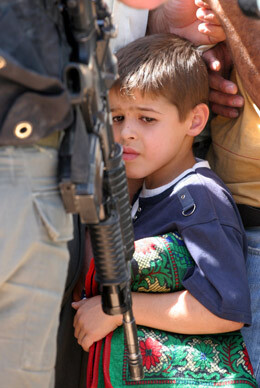 Recently an article was published reporting the shooting of two children inside a United Nations Relief Works Agency (UNRWA) school in one of Gaza's refugee camps. Ahmed, a seven-year-old, was seated at his desk when a bullet penetrated his head just as the school day began. Despite my best efforts, I have been unable to determine if he survived.
I became afraid for my little cousin, Sharif, a first grader at one of UNRWA's schools in Rafah. While reading about Ahmed, my mind immediately reeled to Sharif, whom I had just spoken to on the phone a day earlier. He is always a highlight of my day.
He told me of all the things he's learning in school and how excited he is to finally attend the first grade after waiting all year since his kindergarten was closed down due to a lack of funding. He now has a new uniform, and is finally able to use the bookbag and lunch box my mother sent him for him last year.
"All my friends love my bag, and my lunch-box, can you bring some more when you come?" he asked. "Bring 100 bags and some toys too," In turn I joked with him, "OK, but you have to give me some of the profit." He then got silent and whispered into the phone, "I'm still afraid to sleep in the dark because of the big tanks." That's when I choke up and hold back my tears and tell him about all the toys I will bring him from the U.S. when I return.
I call him and all the other children living under the current Israeli occupation, and more recently the siege, "Children of the Second Intifada." My generation was referred to as the children of the first Intifada. During the first Intifada, there were curfews and random shootings, but Israeli snipers and artillery shelling are new to us. It feels like the terror inflicted on us remains the same but with each generation it becomes more intensified.
The current siege has more than 80 percent of the Gazan population living below the poverty line, a fact that is also new to us. When I grew up in Gaza, we always had food, no one asked for money, and we were safe enough to go to school. At worst, our school was raided and closed down for the remaining year.
The Children of the Second Intifada have it worse. Never has Gaza been described as "a massive humanitarian disaster," where there is a shortage of basic amenities such as sugar and flour, and 88 percent of the population is reduced to depending on external food aid. There are 1.4 million people concentrated in a space a little over twice the size of Washington D.C., closed off from the rest of the world and at the mercy of Israel.
People are targeted from land, air and sea, crippling not only the economy, but the hopes and dreams of Gazans. The situation has become desperate and people have become hopeless and feel abandoned and forgotten by the international community.
When I left Gaza in 2000, two weeks before the second uprising, Sharif was almost one. As I said my goodbyes, I wanted nothing more than to place him in my little pocket and keep him safe. Safe from the tanks, air strikes, military raids and poverty.
My fear rests with my own helplessness should anything happen to him. For now, all I can do is just continue to send him toys from America, instill some sense of hope and send money to our aunt so that she can feed him and his brothers.
Yassmin A. Moor is a MA student at the Institute for Conflict Analysis & Resolution at George Mason University. She has also co-founded an organization, Save Gaza.
Related Links