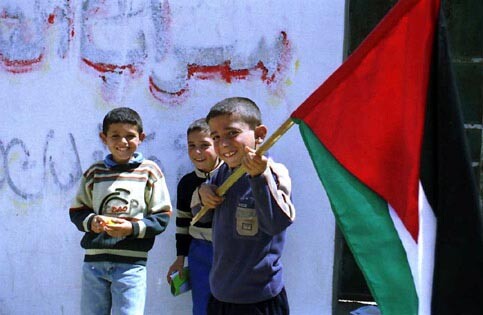 On April 5th every year, Palestinians celebrate Palestinian Child Day. This year's anniversary comes as Palestinian children suffer from various deprivations of their basic human rights. Israeli occupation remains the main reason behind all these violations and the basic source of agony for children and the Palestinian society as a whole.
Palestinian children suffer from the Israeli policies of assassinations, injuries, home demolitions, imprisonment, and bereavement. This is all in addition to the harsh living conditions of poverty, over-crowdedness, malnutrition, and inability to access necessary educational and health facilities resulted from checkpoints and closures. It is needless to say that children's basic rights, guaranteed by different international conventions, are systematically violated by the Israeli government.
Children have the right to live, while Israel has killed 749 children since the beginning of Al-Aqsa Intifada, 22% of the total death toll. Also, injured children comprise 42.2% of the total injuries.
Children have the right to live with parents in a protective and caring environment, but in Palestine, many parents are still imprisoned and 31.35% of those prisoners have their children suffering from different psychological problems including; fear, anxiety, poor school achievement, sleep disturbances, and bed wetting.
Children have the right of protection against violence and physical and psychological torture. Three hundred and ten Palestinian children, among them 12 females, are still imprisoned in Israeli jails. 100% of these children have been exposed to different physical and psychological torture. Seventy eight of these children are suffering from serious physical problems.
Children have the right to be protected from engagement in activities threatening their development and well-being. Over 43,900 Palestinian children are engaged in child labor to support their families; 7.4% of them are the sole bread-winner for their families.
Children have the right to free education, yet 15,000 Palestinian children are denied regular access to their schools and educational facilities. This is in addition to the deliberate killing of students while in schools.
Children have the right to social welfare, but 42.1% of Palestinian children live under the poverty line.
Children have the right not to be involved in armed conflicts. But in Palestine, targeting children is a clear policy of Israeli occupation forces. This is supported by the fact that the majority of Palestinian martyrs and injured are 9-20 years old.
All these political and social problems have negative ramifications on children's mental health. According to scientific research by GCMHP, children were found to suffer from high levels of trauma and PTSD, which negatively impacts their attitudes towards peace and increases their indifference.
Palestinian children, who constitute 53% of the population, are the future of Palestine. Any efforts to improve their future should consider the enjoyment of their basic rights and restoring their dignity.
Respecting children's rights and humanity is a basic requirement for building a healthy democratic and peace loving society.
Related Links