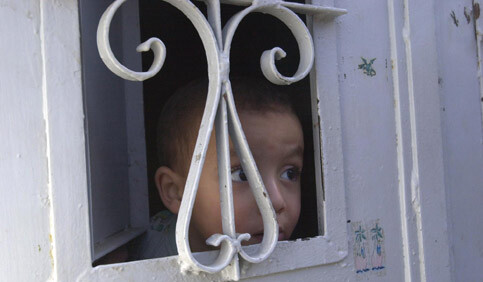 Today, Palestinian political prisoners detained inside Israeli prisons are marking the tenth day of an open ended hunger strike in protest of the inhumane conditions in which they are incarcerated. The prisoners are demanding that the prison authorities respect internationally recognised rules governing detention. They insist that the prison administrators move immediately to improve general conditions on all levels inside the detention facilities and that the prisoners' basic rights be unconditionally respected.
Embarking on a hunger strike is a measure of last resort. The decision to strike follows repeated requests by inmates for an improvement in conditions. These have been met with silence from prison administrations.
Despite the flagrant violations of prisoners' rights, Israeli officials refuse to acknowledge their responsibilities towards the prisoners' wellbeing. Moreover, they have shown callous disregard to the danger the hunger strikers face. Israel's Public Security Minister Tzachi Hanegbi announced on 13 August that as far as he was concerned the prisoners could "starve to death".
Currently around 7,500 Palestinians are imprisoned inside Israel for political offences, including several hundred children. Conditions inside the facilities in which juveniles are held are exceptionally bad. In Megiddo and Ketziot military prison camps, which are run by the Israeli army, children are treated as adults and held in threadbare tents which offer little protection against freezing winters and scorching summers. Bedding consists of wooden pallets covered by a thin mattress and there are four toilets and two showers for every section in which some 120 detainees are held.
Palestinian children are also detained in the Telmond Compound and Ramle Women's Prison, which are administered by the Israeli Prison Service (IPS). Here, detainees are locked in their cells for hours on end with, in some cases, only 45 minutes outdoor exercise permitted every two days. Many are forced to sleep on the floor due to overcrowding. Windows are boarded up with iron panels, which block out the light and intensify the heat in the rooms. Access to hot water is often cut and the prison guards routinely and arbitrarily beat and humiliate Palestinian detainees.
Incarceration in prison inside Israel is usually the culmination of a terrifying experience for Palestinian child detainees. Before being moved to one of the IPS or military facilities, the children have been subjected to an often violent and intimidating arrest. During interrogations carried out by members of Israel's armed and security forces, they are frequently tortured, both physically and psychologically, and placed in solitary confinement for prolonged periods in an effort to coerce them into confessing.
Given the potentially serious toll such a strike could take on children's health, the Palestinian prison leadership is not calling on child detainees to participate in this massive hunger strike. However, a number of children have already joined adult inmates in refusing to eat. Children detained in Telmond facility have submitted a list of demands to IPS officials. If these demands are not met then the children have said they too will join the strike.
The list of demands submitted by the Palestinian prison leadership at the launch of the strike focuses on key rights violations committed routinely by prison authorities and affecting Palestinian prisoners throughout the prison system. There are a number of demands which are particularly relevant to the situation of child detainees as follow:
Violence and Abuse
Palestinian child detainees report that they are frequently subjected to arbitrary and often severe treatment by prison guards and military interrogators. In some instances tear gas is sprayed into cells, or tear gas canisters thrown into rooms in which the detainees are held with no means of escape and little ventilation. Guards also intimidate inmates, entering their cells armed with guns or in at least one case small electric shock devices. In addition to being beaten, detainees complain that they are severely humiliated by prison guards during transport between prisons or on their way to and from trial hearings. In some instances detainees complain they have been strip searched, and metal detectors are run across their naked bodies.
Demands applicable to child detainees: Ending all aggressive policies by the prison authorities; An immediate end to all forms of collective punishment; Immediate cessation of strip searches.
Family Visits
Of the 350 Palestinian political child detainees, around 250 are held in facilities within Israel itself. Given that very few Palestinian families succeed in obtaining the permission to enter Israel required by the Israeli authorities, many children have no family visits during the entire period of their detention. The Israeli authorities have placed a complete ban on families visits for prisoners from the Gaza Strip and Nablus, but many families from other West Bank towns have their application for visits turned down with no reason. Family visits are made all the harder as many children are detained in prisons far from their place of residence. As a result those families who do have permission usually have to spend most of the day travelling to spend only 30-45 minutes with their child. During the visit, inmates must sit behind a thick glass screens and metal mesh, through which it is impossible to touch family members and difficult to communicate.
Demands applicable to child detainees: Removal of glass/plastic barrier between prisoners and visitors; Increase visit time to one hour; Allow all family members and relatives to visit; Relocate prisoners to facilities near their place of residence; Cessation of the policies of restricting family visits as a form of punishment; Installation of public phones in holding sections and yards.
Medical Treatment
Conditions in the prisons in which Palestinian political detainees are held are particularly unhealthy, with the result that many suffer all manner of medical problems from constipation and diarrhoea to skin infections and degenerating vision. Pre-existing medical conditions worsen as children are denied access to the necessary medicine while other inmates are not treated for injuries sustained either during arrest or beatings administered by the prison guards themselves.
Demands applicable to child detainees: Prisoners be given access to adequate medical treatment and that the withholding of necessary medications cease immediately; Develop and expand prison clinics and equip them for emergency cases; Ensure a practicing physician is present at the clinic seven days a week; Carry out prescribed operations immediately.
Food
The quality and quantity of food available vary from prison to prison, but in general standards are exceedingly low. Girls in Telmond prison reported they were given a plate of spaghetti and an apple almost every day for two months in early 2004. In Ketziot military prison camp in the Negev, prison guards leave meals standing in the sun for as long as two hours before serving it to the prisoners, with the result that the food is turning bad by the time it is eaten. Detainees in Ketziot also complain of a serious shortage in fresh fruit and vegetables.
Demands applicable to child detainees: Prepare and define a list of quantities of all food that prisoners have the right to receive; Improvement in fruit and vegetable supply and cessation of all reductions.
Financial Penalties
In addition to harsh beatings and confinement to isolation cells, prison authorities regularly fine child detainees as a form of punishment. The amount is withdrawn from what is often referred to as the "canteena" - a bank account into which individuals and organisations are able to deposit money for prisoners. Detainees use funds from the canteena to buy items that go a very small way towards improving their situation in prison, such as extra food rations. The canteena is also used for buying necessities such as soap and sanitary towels. Fines are imposed on detainees for any behaviour or act to which the guard takes exception. Since the prison administration has control over the canteena account, the detainees are unable to refuse to pay, even if the reasons for the punishment are spurious. Moreover, since the prisoners are not always aware of the balance of the account, the administration does not always inform the detainees that money has been deducted for a penalty. In April, the girls in Telmond prison estimated that the prison authorities had confiscated around 15,000 NIS ($3,000) from them for reasons often as arbitrary as looking a guard in the eye or praying loudly.
Demands applicable to child detainees: Cessation of imposition of fines; Cessation of the policies of confiscation of personal effects and the restriction of family visits; Cessation of collective punishments.
Education
Despite a 1997, Israeli High Central Court decision ruling that Palestinian child prisoners are entitled to education according to the Palestinian curriculum, only Palestinian child detainees in one facility within the Telmond compound receive formal education. However there is only one teacher for all of the boys, and a lack of books and study materials make it difficult to teach and to study.
In other Israeli detention facilities, the right to education is denied Palestinian child prisoners. While around 60% of children in prison are awaiting trial, only those who have been sentenced are allowed to sit their matriculation 'Tawjihi' exams. However, in 2004, seven boys who were sentenced were refused permission to take the exam, while 11 detainees that were able to only received the necessary study materials three days before the exam was held.
Demands applicable to child detainees: Immediate end to the punishment of restriction of access to education.
Personal Items
There is little consistence in prison regulations regarding what items prisoners may possess and receive during prison visits. Prisoners held in Ketziot and Ofer are prevented from having any means of accessing news from outside such as televisions, radios and newspapers. In other prisons these items may be confiscated from prisoners without reason or warning. Child detainees complain that clothes supplies provided for them by, among others institutions the International Committee of the Red Cross, are not distributed in full, and that some of the items are given to Israeli criminal detainees.
Demands applicable to child detainees: Cessation of confiscation and/or destruction of personal effects during searches; Compensation for items that were damaged intentionally during raids on cell-blocks; Rules on items that prisoners can receive from families be consistent from visit to visit and not changing on the whim of the guard.
Given the current detention conditions, DCI/PS demands the following:
that the Israeli government act immediately to improve the situation for Palestinian child detainees held in violation of international law in Israeli prisons; that the international community intervenes to put pressure on the Israeli government to improve conditions for Palestinian children inside the prisons and to safeguard the wellbeing of their rights; that UNICEF takes action in support of the child prisoners' demands, including the undertaking of practical steps such as visiting and monitoring detention facilities during and after the hunger strike; that human rights and medical organisations be given free access to the prisons during the period of the hunger strike to monitor the health and wellbeing of Palestinian child detainees, and that the ICRC conducts intensive visits with medical personnel.
DCI/PS holds the Israeli government responsible for any deterioration in the health and wellbeing of Palestinian juvenile detainees that might result from the strike. DCI/PS condemns the callous announcement of the Israeli Public Security Minister regarding the strikers and believe that his comments reflect an inherent racist disregard to the wellbeing of Palestinians that exists within Israeli penal institutions.
More Information
Defence for Children International/Palestine Section, George Abu Al-Zulof: 052 2 436 289, email: dcipal@palnet.com.

Related Links