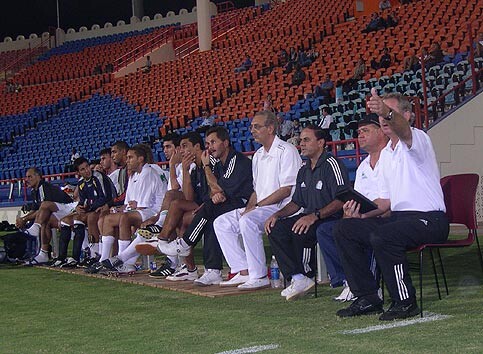 After a year and a half of production and hundreds of hours of footage in four continents, a Chicago-based production dedicated to the Palestinian national soccer team prepares to wrap up filming. The film crew is currently in the Middle East collecting material ahead of Palestine's last World Cup qualifying match against Iraq in Amman, Jordan, in November.
Futbol Palestina 2006 (working name) is a documentary about a soccer team and the unique challenge of representing a nation under occupation: Palestine. The story is told through five of the players, Palestinians from around the world, including those from the territories occupied by Israel and others from as far as Latin America. The team's stated purpose has been to claim a spot in the World Cup, the most important single sporting event in the world. Currently, the chances of reaching the Cup in Germany in 2006 no longer exist. The odds were always against a team competing as the ultimate underdogs, in extreme poverty and living under military occupation.
"The larger point is the fact that Palestinians can compete at all," said Director Marcelo Pina. "Their participation in world soccer competition legitimizes Palestine's yet unfulfilled claim to exist as a nation."
"Because of the reach of the game of soccer, the team has been able to make Palestine part of the community of nations in a positive way," Producer Nelson Soza added, "different from the violence with which Palestine is associated every time the name is brought up, particularly in Western sources."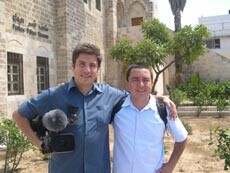 Soza and Pina are Chilean immigrants, both from Chicago. One is a journalist and the other an ethnofilmographer, both enamored with soccer and committed to social justice. Together they have assembled a group of volunteer collaborators committed to promoting the larger vision of the film: Palestinians' right to self-determination.
The treatment of the subject of Palestine through soccer has received unanimous support. Futbol Palestina 2006 allows the public a second look at a decades-old conflict, one of the most influential of our time, focusing on everyday life through an activity loved by millions around the world. Revisiting the conflict becomes urgent today, a subject that rallies the Arab world and beyond, especially after decades of war in the region, capped with the recent U.S.-led invasion of Iraq.
The spirit of the film is summarized by Gazan team member Ziad Al Kourd: "My father was imprisoned by Israel for years; he would watch me on TV and cry. Watching me play would make him feel free."
The film is expected to be released in 2005.
Related links:
View the movie trailer on the film's website