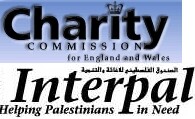 The Charity Commission today unfroze the assets of the Palestinian support charity
INTERPAL
and closed its inquiry. This action was taken after the watchdog received no evidence to verify allegations that the charity has links to Hamas' political and militant activities. A report of its findings has been published today.
The Commission opened an evaluation into allegations that INTERPAL was misapplying funds for Hamas' political activities in April 2003. Evidence was found that the charity had received funds from The Al-Aqsa Foundation - an organisation whose assets had been frozen under United Nations' sanctions for allegedly supporting terrorist activities. However, scrutiny of INTERPAL's records revealed that these funds were for humanitarian work already undertaken by the charity.
The evaluation was ongoing when, on 21 August 2003, the American authorities declared INTERPAL a 'specially designated global terrorist' organisation, which supported Hamas' political and militant activities. In line with the Commission's published policy on charities and their alleged links to terrorism, an inquiry was opened and the charity's assets were frozen as a temporary and protective measure. The American authorities were unable to provide evidence to support their allegations so the Commission has unfrozen the charity's bank accounts and closed its inquiry.
Simon Gillespie, director of operations at the Charity Commission, said:
"As the independent charity regulator it is our duty to look into serious allegaions about charities' link to terrorism. At the same time, we must have sufficient evidence to warrant an inquiry continuing. We have moved swiftly to reach a conclusion on this case because of the possible adverse impact of our actions on the charity's beneficiaries."
The Commission investigated INTERPAL in 1996 because of similar allegations. No evidence was found to support them and the inquiry was closed, concluding that, at that time, the charity was a well-run organisation.
Related Links:
Inquiry Report: Palestinians Relief and Development Fund, Charity Commission for England and Wales (24 September 2003).