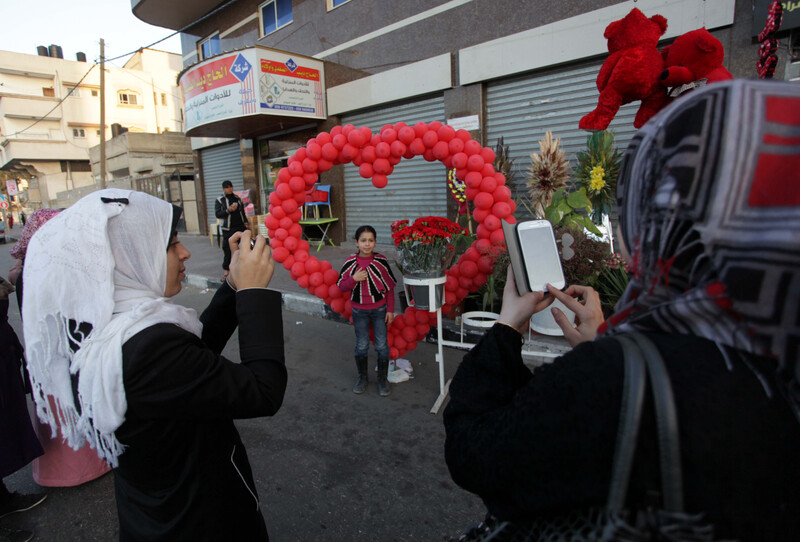 Holding a bunch of flowers on the eve of Valentine's Day, Nida looked cheerful. She was standing in the most well-known flower and souvenir store in Gaza City.
"I am going to give this gift to my fiancé and I'm waiting for him to show up at the store. For the past couple of years we have exchanged gifts mainly at this store, not outside," she said. Open displays of love are "not that widely accepted in our conservative community."
The public relations student told The Electronic Intifada all this while surrounded by customers, mainly girls and women, at the Ambassador of Love store in Gaza City's al-Wahda Street yesterday.
About six workers were busy in the store. One of them was preparing a bunch of flowers, ordered earlier by one of the store's older customers.
With a cheerful smile Shaima, another customer, said jokingly: "I doubt there is something called love in Gaza. I'm here only to feel this occasion and try to have some sort of joy. Why not? I want to buy some chocolates for my family."
In Gaza City yesterday, many such stores were decorated with red objects like flowers, gifts and toys.
Waseem Abdo, the owner of the Ambassador of Love, said his store has marked Valentine's Day for the past 14 years. "This year seems to be much slower for business, compared with past years," he said. But "many people here in the area [still] come to buy gifts."
Local produce
Abdo added that due to the Israeli blockade and Egypt's enforced closure of many of the tunnels under the Gaza-Egypt border, goods at the store are now mainly local products.
"Our gift prices range from $1 to $100," he said. "Many customers get low-price gifts in a symbolic way, just to mark the occasion. For this particular day, we have been preparing our store for a couple of months."
Abdo said his store's business has never faced any interruptions from Gaza's Hamas-led governing authorities.
"Since 2007, we have not faced any kind of threats or intimidation by the local authorities. On the contrary, we have been doing our business quite smoothly."
But The Electronic Intifada has learned that this year, some groups of religious preachers have toured the city to urge storekeepers and residents against marking Valentine's Day.
Although it has been commercialized and secularized in the West and globally, Valentine's Day has it origins in the Feast of Saint Valentine in many different Christian communities.
Most people mark Valentine's Day as an occasion to show affection or appreciation for loved ones, with no reference to religion at all.
Yet some devout Muslims consider it outside their concept of Islamic and Arab cultures and therefore think that the holiday should not be marked.
The majority of Palestinians are Muslim and Palestine, including Gaza, has an ancient and well-established Christian community.
Abdo said that several men wearing beards and head coverings characteristic of certain devout Muslims "came over to my store and started preaching to me" against honoring Valentine's Day.
He said they spoke politely before leaving. "Our work at the store has gone on normally up to this moment," he added.
Abdo explained that "our customers are varied, including young and old people. Valentine's Day is an occasion on which people express sweet emotions to their loved ones."
Rami Almeghari is a journalist and university lecturer based in the Gaza Strip.
Tags