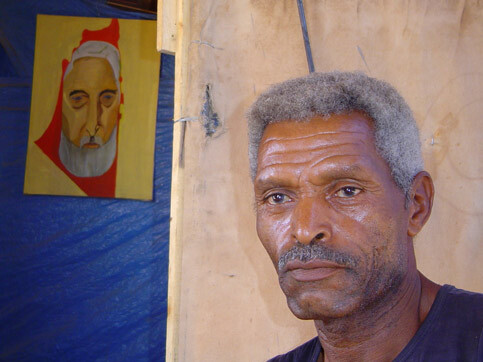 AMMAN
- Canada has accepted to host 46 Palestinian refugees from Iraq who have been languishing at al-Rweished refugee camp, some 250 km east Amman, for the past three years, said Robert Breen, the United Nation's refugee agency (
UNHCR
) Representative in Jordan.
"Representatives of the Canadian government interviewed 150 Palestinian refugees at the fenced camp a few months ago but accepted one third of them," said Breen, who hoped a third country would be found to accept the remaining group before a deadline set by Jordan to close the camp expires. Jordan initially said it would close the camp by end of September this year, but agreed to postpone the closure until year end.
Breen said he sent Jordan a letter to delay the closure until the issue was resolved. Jordan has yet to reply.
The Palestinian refugees are part of a group of 230 individuals, including Iranian Kurds and Iraqi asylum seekers, who fled Iraq following the collapse of former President Saddam Hussein's regime.
The al-Rweished camp originally sheltered nearly 1,200 refugees. The majority were resettled in Australia, Canada, New Zealand, Ireland and Sweden.
Camp residents have to endure extreme weather conditions, including blinding sandstorms and blistering heat. They said they were not permitted to leave the camp without police escort.
"These refugees have been living in the camp for three years, entirely dependent on the United Nations for their food, health care and education. They have no future [at the camp]," added Breen.
Palestinian refugees said they could not return to Iraq for fear of retaliation from armed Iraqi groups.
Taysir Mahmoud, 52, one of the Palestinian refugees who were not accepted by Canada, said he wanted to be accepted by a country where he can live in dignity.
"We lived happily in Iraq but now it's impossible to return. We are going crazy while waiting in the middle of the desert. Years are passing and our kids are deprived of education and exposure to the real world," he told IRIN in a telephone interview from the camp.
The New York-based Human Rights Watch issued a report on 10 September in which it criticised post-Saddam Iraqi governments for failing to protect Palestinian refugees.
"[Iraqi] Ministry of Interior officials have arbitrarily arrested, beaten, tortured, and in a few cases forcibly disappeared Palestinian refugees," said the report.
The group also criticised Jordan and Syria for refusing to absorb the refugees. Officials from the Jordanian government were not available for comment. Jordan is home to nearly three million Palestinian refugees.
Last May, Syria, which already hosts 500,000 Palestinians, allowed 287 Palestinians who were stranded for two months on its border with Iraq to enter Syrian territory in what it said was a "humanitarian" gesture. However, Syria has since said that it would not allow in additional Palestinians from Iraq.
Breen said the resettlement of the group in Canada would not jeopardise their right to return to their country of origin.
Related Links
Electronic Iraq
This item comes to you via IRIN, a UN humanitarian news and information service, but may not necessarily reflect the views of the United Nations or its agencies. All IRIN material may be reposted or reprinted free-of-charge; refer to the copyright page for conditions of use. IRIN is a project of the UN Office for the Coordination of Humanitarian Affairs.