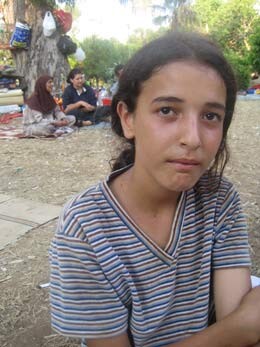 BEIRUT
- The Lebanese government's Higher Relief Committee (
HRC
) said on Saturday that it will set up temporary tent camps in a bid to alleviate the growing housing shortage in Beirut.
The housing shortage is a result of the influx of hundreds of thousands of people who have fled fighting in the south between Israeli forces and Hezbollah, a Lebanese political party with a military wing. The conflict began on 12 July after Hezbollah captured two Israeli soldiers.
"As the number of displaced people increases, we are having to explore alternative ways to meet the basic needs of the displaced," said the HRC's Fadi Aramoune, who is coordinating the tent camps project.
The government is setting up the temporary camps in Beirut in collaboration with the United Nations' Refugee agency (UNHCR) and local non-governmental organisations (NGOs). Similar camps will later be set up in the rest of the country.
According to the HRC, the number of people who have left their homes in Lebanon stands at 913,000, about a quarter of the population. Of those, 700,000 are displaced within Lebanon - of which some 550,000 are living with families and 130,000 are in organised shelters - and about 200,000 have sought refuge in Syria.
So far, 903 people have been killed and 3,293 injured by the Israeli Defense Forces (IDF) and at least 89 Israelis, mostly soldiers, have been killed by Hezbollah, according to Lebanese and Israeli officials.
The UNHCR said that the situation of those displaced by the conflict in Lebanon was becoming increasingly difficult as the crisis deepened. The massive displacement of people to the north of the country as they fled the conflict has put a huge strain on public shelter facilities and host families.
Camp project
Work has already started on setting up one camp in Beirut, although more are planned. "We have started work on a camp in a sports centre in Burj Hammoud, Beirut," said Aramoune. "We are trying as hard as possible to make it a fully equipped camp."
The camp in Burj Hammoud would house up to 350 people, Aramoune said. More tent camps are planned. He did not specify when the camps would become functional.
The UNHCR is assisting with the design in order to ensure that basic amenities, such as clean water and bathrooms, are provided. "We have assessed three sites in Beirut, and it is expected that, once completed, the camps will house 350,000 people," said Astrid Van Genderen Stort, UNHCR spokeswoman in Beirut. "In relation to the total number of displaced persons, it's a drop in the ocean, but it's a start."
With every day that Israel bombs Lebanon, the number of displaced people increases as new areas come under attack. Many have moved several times. "We are witnessing much internal secondary movement," said Van Genderen Stort, explaining that many families have moved from villages in south Lebanon to larger towns, and, finding themselves under attack once again, have moved north to Beirut or further.
Housing crisis
Some schools have proven to be well equipped to provide temporary shelter for the displaced. "Some are equipped with good kitchens and bathrooms, and it has been relatively easy for civil society to meet the needs of the displaced," Van Genderen Stort said. "Others, especially in poorer areas, are a mess."
Other displaced people have sought refuge in open air public spaces such as in Sanayieh park in central Beirut. "They spend days and nights in the outdoors," said Aramoune.
Even though the government and international agencies have worked with local NGOs to install bathrooms in the park to help minimise the hygiene and sanitation crisis, many problems remain unaddressed at such sites. For instance, 13-year-old Fatme has been living in Sanayieh park with her family for three weeks. "I haven't changed my clothes in all this time," she said, adding: "I feel dirty, I want to go home and rest."
For the majority of people living with family, there is the problem of overcrowding. "While some families are well-off enough to host displaced relatives, many others aren't," said Van Genderen Stort, adding that she was concerned about how long host families would be able to afford food and other basic commodities before they themselves faced crisis.
Health and vulnerability
Nevertheless, Lebanon is coping, thanks to the joint efforts of authorities, civil society and of the local population. "This is not a poor country, a lot of its infrastructure is still functioning and civil society has been doing excellent work," said Chris Black, the UN World Health Organization (WHO) spokesman.
In addition, there is a shortage of mattresses for the displaced in public spaces. "We are trying as far as we can to buy them on the local market. Getting stockpiles in from Damascus has been difficult, given that our main pipeline has been cut off," Van Genderen Stort said, referring to the recent bombing of the main road from Beirut to Damascus.
"Even if there was a ceasefire tomorrow, we would still face the problem of where all the displaced would go," said Van Genderen Stort.
"The crisis is on the rise and the authorities are aware of this," Aramoune said. "Our first priority is to make sure the displaced are safe, away from the bombing. The immediate crisis is what needs to be dealt with first, even if our solutions are short-term to begin with."
Related Links
This item comes to you via IRIN, a UN humanitarian news and information service, but may not necessarily reflect the views of the United Nations or its agencies. All IRIN material may be reposted or reprinted free-of-charge; refer to the copyright page for conditions of use. IRIN is a project of the UN Office for the Coordination of Humanitarian Affairs.