BEIRUT

, 29 March 2007 (

IRIN

) - Electoral reform would combat the sectarianism that blights Lebanon and provide an exit from its political crisis,

NGO

s say.

Three civil society groups have stepped up a campaign for the adoption of a draft electoral law they say would create a stable democracy that is less prone to shocks. A four-month stand-off between the Sunni-dominated government and its opponents, led by Shia political party Hezbollah, has raised fears of civil war.

"We sense that there's a general atmosphere of disregarding the new [draft] law at the moment — the politicians don't care much for this kind of reform," Walid Fakhreddine of the Lebanese Association for Democratic Elections said after a press conference last week to launch an awareness campaign.

Lebanon's electoral system shores up its division of political power — from members of parliament to public servants — according to religion. Each electoral district has multiple seats, all allocated according to sect, and voters must return to their families' ancestral homes to cast their ballots.

Gerrymandering before an election to protect incumbent powers has been a fixture in Lebanon for decades. The current electoral system was drawn up for the 2000 parliamentary elections, when Syria still politically and militarily dominated its neighbor. Despite widespread calls for change, the elections that followed Syria's withdrawal in May 2005 were held under the old laws.

Lebanon was torn apart by civil war from 1975-1990. Because religion and power are tightly intertwined, political tensions can rapidly degenerate into sectarian violence: two days of deadly street-fighting in January raised fears of another war.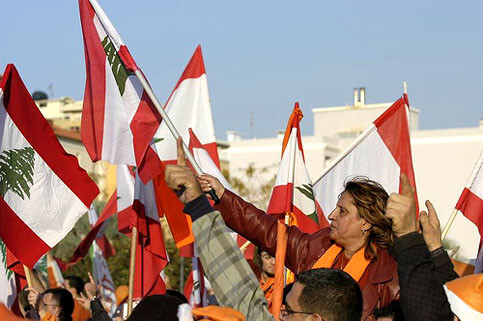 One of the most important reforms in the draft is the introduction of proportional representation for choosing 51 of 128 parliament seats, with the rest elected by a simple majority in each constituency.

Law would unseat traditional strongmen

Advocates say this would give rise to new political forces that would gradually unseat the traditional strongmen, many of whom have handed power over their communities from father to son for generations. "Political life would be healthier because political leaders could not monopolize their sects any more," Fakhreddine said.

Oussama Safa, head of the Lebanese Centre for Policy Studies, agreed. "If the electoral law was passed, sectarianism would start to become irrelevant and it would sow the seeds for changing elections into a truly political exercise," he said. "It would hold politicians accountable."

Safa said he believed the most important aspect of the law was the establishment of an independent commission to monitor elections.

The law also stipulates capping campaign spending, regulating the use of media for electioneering, a 30 percent quota for women on party lists and lowering the voting age to 18 from 21. Lebanese nationals who live abroad would also be permitted to vote.

An independent body of 12 specialists, equally divided between Muslims and Christians and headed by former minister Fouad Boutros, presented the draft in June 2006. But a planned parliamentary debate was thwarted by the outbreak of the war between Israel and Hezbollah last July.

Safa said the campaigners, who also include the Lebanese Transparency Association, were realistic about the draft. "We don't think the whole thing will be adopted. But if they adopted 50 or 70 percent of it we'd be happy."

This item comes to you via IRIN, a UN humanitarian news and information service, but may not necessarily reflect the views of the United Nations or its agencies. All IRIN material may be reposted or reprinted free-of-charge; refer to the copyright page for conditions of use. IRIN is a project of the UN Office for the Coordination of Humanitarian Affairs.