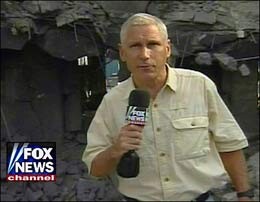 Reporters Without Borders voiced deep concern today about the kidnapping of two journalists working for the
US
TV
network, Fox News, reporter Steve Centanni and cameraman Olaf Wiig, who were abducted by gunmen in the centre of Gaza City last night.
"We appeal to the kidnappers to release these two journalists," the press freedom organisation said. "They were just doing their job and can in no way be held responsible for US policy in the region or the Israeli army's operations in the Palestinian Territories or in Lebanon. We also call on the Palestinian authorities to do everything to find Centanni and Wiig and to ensure they return safe and sound to their families."
Ten journalists have been kidnapped in the Palestinian Territories in the past 12 months.
Centanni, a US citizen, and Wiig, who is from New Zealand, were kidnapped while in their work vehicle just a few yards from the headquarters of the Palestinian security services in the centre of Gaza City. The gunmen took them after disarming their bodyguard. They did not take their Palestinian driver. No organisation has claimed responsibility.
Wiig's wife, BBC World Service presenter Anita McNaught, said negotiations were already under way with their kidnappers.
Agence France-Presse reported that both Ghazi Hamad, the spokesman of the Hamas-led government, and Nabil Abou Roudeina, the spokesman for the Palestinian president, condemned the kidnapping and appealed for their "rapid release."
A spokesman for the Palestinian interior ministry told journalists: "We have opened an investigation to determine who kidnapped the two journalists in Gaza and we have begun enquiries to find them as quickly as possible."
Three journalists were previously kidnapped in Gaza in March by the Popular Front for the Liberation of Palestine (FPLP), who acted in response to an Israeli army operation against Jericho prison. The three were later released safe and sound.
At least five journalists were kidnapped in the Palestinian Territories in 2005. Since the start of this year, at least four journalists have been injured by the Israeli army in the Palestinian Territories.
Related Links