DC
ACTIVISTS
INTERRUPT
FARCICAL
BRIEFING
BY
FORMER
ISRAELI
GENERAL
MOSHE
YA'ALON
WASHINGTON DC — Former Israeli General Moshe Ya'alon, the "Butcher of Qana", found it nearly impossible to deliver a briefing on Washington DC's Capitol Hill Monday, August 14th, as he was disrupted again and again by Washington DC based activists.
Members of the Coalition for Justice and Accountability drew attention to Ya'alon's leading role in the 1996 shelling of a United Nations Interim Forces in Lebanon (
UNIFIL
) compound in Qana, Lebanon. Under the supervision of Ya'alon, Israeli armed forces repeatedly targeted the compound, killing 106 civilians and wounding hundreds of others. Ya'alon is currently facing a civil suit in
US
Federal Court on charges stemming from his involvement in the Qana attack.
Monday's event was advertised as a "Briefing on the Crisis in Lebanon" but turned into a crisis itself as organizers from the Zionist group, Endowment for Middle East Truth (www.emetonline.org), found themselves locked out of the advertised room in the Russell Senate Office Building. Capitol Hill staffers, media and Ya'alon himself were shuffled in and out of the office building in search of a location to hold the event. Banished from the sponsoring senator's office they began the event in the hallway, only to be interrupted and escorted outside by Capitol police. Ya'alon finally began his speech under a tree in a public park.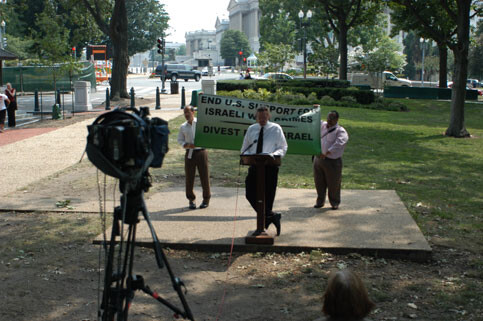 The Former Israeli General had hardly started to speak, however, when he was interrupted by local activists wearing t-shirts spoiled with mock blood and bearing messages highlighting Ya'alon's war crimes. The activists, who made up nearly half of the assembled audience, had earlier held a press conference to inform local and national media on the former Israeli General's history of blatant crimes.
The case against Ya'alon was filed on December 15, 2005 by the Center for Constitutional Rights and is currently pending. The claims against him include war crimes, extrajudicial killing, crimes against humanity, and cruel, inhuman or degrading treatment or punishment. The lawsuit is brought pursuant to the Alien Tort Statute which permits non-
US
citizens to be tried in
US
Federal Courts for violations of customary international law, and the Torture Victim Protection Act, which provides for damages for extrajudicial killing under color of foreign law.
According to event organizers, Ya'alon's briefing was meant to "provide policymakers in Washington and the American public at large, with realistic and accurate [sic] assessments concerning the nature of those with whom Israel is at war." In the end, however, activists carried the day with the overwhelming message that Moshe Ya'alon is a war criminal with no credibility to speak on Capitol Hill. As the Endowment for Middle East Truth left the scene, angry and frustrated at their inability to hold the event, activists unfurled a banner demanding "Divest from Israel Now!"
The Coalition for Justice and Accountability is a Washington DC area group recently formed out of concern for developments in Lebanon, Palestine and Iraq and the continued allocation of US funds for war and aggression. To contact CJA and get involved with local activists organizing BDS, protests, teach-ins, civil disobedience, etc, in the DC metro area contact us at qawom@mutualaid.org. This report came from the Coalition for Justice and Accountability. All images: Nema Sadeghi, 2006
Related Links