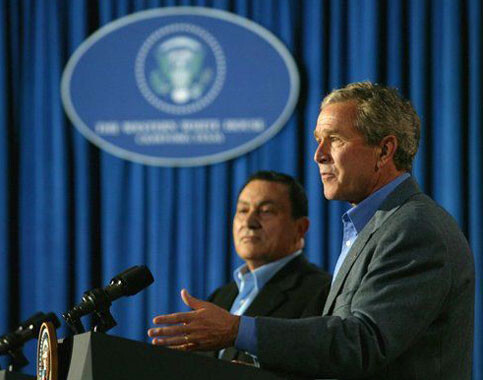 U.S.
President George W. Bush should raise Israeli human rights violations in the occupied West Bank and Gaza Strip when he hosts Israeli Prime Minister Ariel Sharon at the White House on Wednesday, Human Rights Watch said today.
"President Bush has said that respect for human rights is central to his administration's policy in the Middle East," said Joe Stork, acting Middle East and North Africa director at Human Rights Watch. "But that policy won't have any credibility unless he presses Sharon to address Israel's routine violations of basic Palestinian rights."  
 
Human Rights Watch called on President Bush to tell Prime Minister Sharon that the United States expects Israel to end policies amounting to collective punishment. These policies include crippling restrictions on Palestinian movement within the occupied West Bank that go beyond legitimate security needs, the demolition of homes belonging to the families of alleged armed militants, and the widespread destruction of homes and property in areas of the Gaza Strip for unsubstantiated security reasons.  
 
Prime Minister Sharon is visiting Washington to seek U.S. endorsement of his announced plan of withdrawing Israeli forces and civilian settlers from the Gaza Strip.  
 
"Civilian settlements in territories under military occupation violate international humanitarian law, so an Israeli initiative to end those settlements in the Gaza Strip is welcome," Stork said. "But the United States should not accept a quid pro quo in which Sharon seeks to consolidate or expand illegal settlements in the West Bank and East Jerusalem."  
 
Human Rights Watch said that Israel's construction of a "separation barrier" beyond the Green Line and inside the occupied West Bank has worsened an already severe humanitarian crisis in the West Bank by imperiling access to essential civilian needs such as work, water, medical care and education. Israel has argued that the barrier is intended to improve security from Palestinian attacks against targets in Israel, but the barrier's route has been designed to incorporate and make contiguous with Israel civilian settlements constructed with government support over the past three decades.  
 
"The separation barrier further encroaches on local land and resources in order to consolidate control over these illegal settlements," Stork said.
Related Links