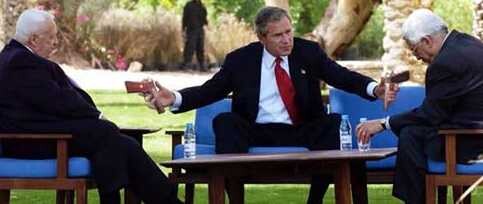 During secret talks between
US
President George W. Bush, Israeli Prime Minister Ariel Sharon and former Palestinian Prime Minister Mahmoud Abbas, the
US
President offered both leaders a solution to the leadership problem. "I don't like leaders who are not listening to me. Today, I offered a solution. The Israelis and Palestinians have been fighting each other for too long. I presented both leaders with the tools to solve their issue."
Some diplomats suggested that the US administration developed this new initiative after the concluded failures of CIA director George Tenet, US senator Mitchell, the work of the so-called "Quartet", the closed Road Map, the many flaws of the Geneva Accord. "George W. Bush agreed it was an act of bias to call for Yasser Arafat's removal. He understood that it prompted even Palestinians critical of their leader to rally behind him. It could discourage potential terrorists from posing a challenge," Ari Shlomo, a well-known political analyst of the Middle East said on Tuesday.
At the secret meeting, George Bush handed two light weapons to both Prime Ministers and demanded an overhaul of the Palestinian Authority and Israel at the same time, saying that both have failed under their respective leaderships to halt suicide bombings against Israelis. Mahmoud Abbas protested and said that the conflict did not only included suicide bombings. He pointed to a number of alleged unlawful actions by Israel and tried to influence the American leader to uphold his position as a honest broker.
Abbas reportedly told the US President "Although many are disappointed by Abu Ammar's failure to improve their lives, and by allegations of corruption in the Palestinian Authority, they balk at doing anything that smacks of taking orders from the United States". Abbas also wondered why he was invited and not the current Palestinian Prime Minister, Ahmad Qurei, also known as Abu Ala. "I don't know why the U.S. is trying to isolate him." Asked the same question, George Bush told reporters: "Abu Ala, Abu Amar, Abu Dis and Abu Dad, they are all the same".
Referring to the situation in Iraq, the US President told his audience that once, his arch enemy Saddam Hussein invited him to Iraq to fight him personally. "Actually, I liked the idea. Having my roots in Texas, I was not afraid to board a plane to Baghdad and punch that son-of-a-gun in his face." Apparently, State Department officials and CIA intelligence advised Bush not to go. Some officials stated off the record that they didn't believe Bush was strong enough to beat the Iraqi President. Analysts remember an address by Saddam Hussein, transmitted by a Baghdad satellite channel, in which he called on US President to shoot himself. Hussein stressed that "the best way out for this person is to put a bullet in his head in order to avoid disgrace."
Analysts believe that this triggered Bush to apply this idea to the other conflict in the region, the Israeli-Palestinian conflict. In this year of elections, State Department officials know that nothing much can be done in the sphere of diplomacy without losing votes. "Tackling the Middle East will not make one win US elections," one official told BNN.
"We don't know what he thought when he handed over those guns. I think his suggestion comes from his heart. He really wants to end this conflict," a White House spokesperson said. Israeli spokesmen did not react to this new initiative.