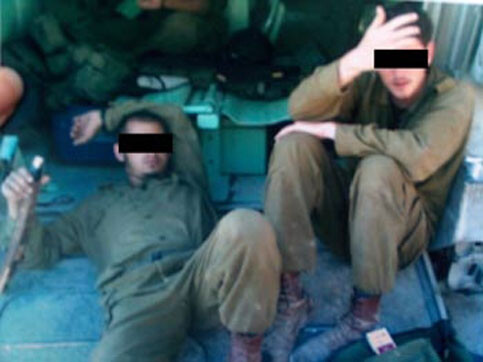 Today, the Judge Advocate General's Office filed an indictment against two soldiers from the Haruv Battalion who had abused Palestinians in Nablus District last month. The soldiers were charged with assault in aggravated circumstances and unbecoming conduct.
Recently, B'Tselem uncovered that, in August, a group of soldiers from the battalion had maltreated two Palestinians near a-Naqora, a village in Nablus District. The two filed complaints and turned to B'Tselem. B'Tselem wrote to the Judge Advocate General's Office and demanded that the matter be investigated. Following B'Tselem's letter in this case and in other cases of abuse, the Military Police investigated eight cases in which soldiers beat and abused Palestinians.
One of the indicted soldiers took the cell phone of Tha'ir Muhsan, who was beaten, and used it to take a picture of his fellow soldiers. In his testimony to B'Tselem, Muhsan described one stage of the abuse: "Afterwards, the officer gave the rifle to the soldier who moved back a few meters, ran toward me and kicked me in the head. He did this a few times, as if my head were a ball in a game. Then the officer grabbed my head, slammed it into the armored vehicle and went away."
For years, B'Tselem has reported on security forces' violence against Palestinian civilians. Recently, there has been a significant rise in the number of such reports received by the organization. Usually, the military authorities pay little attention to incidents of this kind, thereby transmitting a message to soldiers that maltreatment of Palestinians is not a grave matter and does not warrant punishment.
B'Tselem welcomes the filing of the indictments in this case, and urges the Judge Advocate General's Office to continue to investigate cases of violence and abuse and ensure that the punishment meted out to the perpetrators is severe enough to deter other soldiers from acting similarly.
Related Links