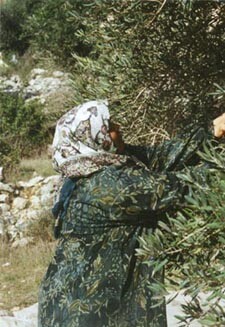 "The settlers threw stones for half an hour, while the soldiers stood by and did nothing. Later, an Israeli commander arrived, accompanied by a group of soldiers. The commander told us that he had come on behalf of the
DCO
. They tried to prevent the settlers from throwing stones at us, but they did not succeed in controlling them. The commander then ordered us to leave the area. Otherwise, he said, the settlers would open fire and there could be a massacre. He commented that he could not stay with us all day to prevent the settlers harassing us."
From the testimony of Suleiman Abu Mifrah, Head of Taqua village
Groups of armed settlers have been disrupting the olive harvest in the West Bank since the harvest began in October. These groups have carried out systematic and violent attacks on Palestinians who were harvesting olives.
It was not until early November, four weeks into the harvest, that the security forces began taking significant steps in order to prevent acts of violence by settlers. These steps have had a positive impact in some places. However, in others locations settlers continued to attack olive harvesters.
These deliberate attacks have occurred every year during the harvest, varying only in scope and frequency. Dozens of Palestinians sustained injuries from beatings and shootings during the olive harvest in recent years. Since 1998, three Palestinian civilians have been shot and killed during the harvest.
Despite the fact that it was clear that attacks on harvesters could be expected again this year, the security forces did not take sufficient steps to prevent them. The policy of non-enforcement of the law is revealed at number of levels: inadequate preparation for such attacks, even when they are entirely predictable; refraining from halting attacks even when security forces are present at the site of the attack, and refusal to thoroughly prosecute the perpetrators. This lack of law enforcement essentially gives free rein to violent settlers.
When the law is not enforced, the agencies responsible for doing so lose their power of deterrence. This has led some residents of the settlements to believe that they are above the law and that violence is a worthwhile and effective means of achieving their objectives.
The Performance of Law Enforcement Authorities in Responding to Settler Attacks on Olive Harvesters,

B'T

selem, November 2002. To access the full report (Word document) click here.

Related Links:
The farmers of Qaffin, Live from Palestine, November 4, 2002

Heading for olive season catastrophe, Live from Palestine, October 23, 2002

Testimonies,

B'T

selem, 2002