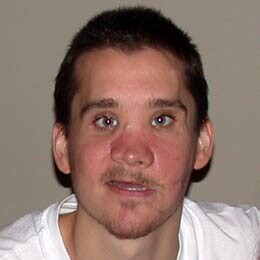 On February 23 at 2:45
PM
, Brian Avery will arrive in Tel Aviv from the
U.S.
in order to be present on February 28th when the Israeli Supreme Court hears his petition demanding a criminal investigation of his shooting.
Brian, an American human rights activist with the International Solidarity Movement (ISM), was shot in the face and critically wounded on April 5, 2003 by Israeli soldiers while standing in street with his hands in the air in the West Bank town of Jenin.
A bullet entered his face, shattering his jaw and his nose.  Since the incident he has been in rehabilitation and undergone a series of facial reconstruction surgeries.
Four other international activists from Denmark and Sweden who witnessed the shooting testify that Brian, along with another ISM activist, was standing under a street lamp on a quiet empty street wearing a high visibility medic vest with his hands in the air, clearly indicating he was an unarmed international.  An Israeli Armored Personnel Carrier approached at less than 30kmph and without warning opened heavy fire from a range of just tens of meters, and then carried on driving.
The Israeli army conducted an internal command inquiry and concluded there was no evidence that Brian was hit by shots fired by Israeli soldiers.
The inquiry did not include testimonies from the eyewitnesses and relied entirely on the testimonies of Israeli soldiers serving in the region.
In several cases Israeli military Internal command inquiries absolved the army, but subsequent military police investigations uncovered incriminating evidence and serious charges were brought.
This was the case in the killing of British ISM activist, Tom Hurndall, who was fatally shot in Rafah six days after Brian's injury. The internal command inquiry ruled that Tom was shot because of the presence of a Palestinian militant in his vicinity.  The criminal investigation of the military police discovered that the soldier who fired the fatal shot and another soldier had lied in the internal inquiry. Charges of killing and interfering with the investigative procedure were brought.
All requests made on behalf of Brian for a police criminal investigation have received no response.
On the 28th of February his appeal demanding a criminal investigation will be heard by the Supreme Court. 
Related Links
The Brian Avery shooting: When will we realise that there can't be this many "accidents"? Nigel Parry (5 April 2003)