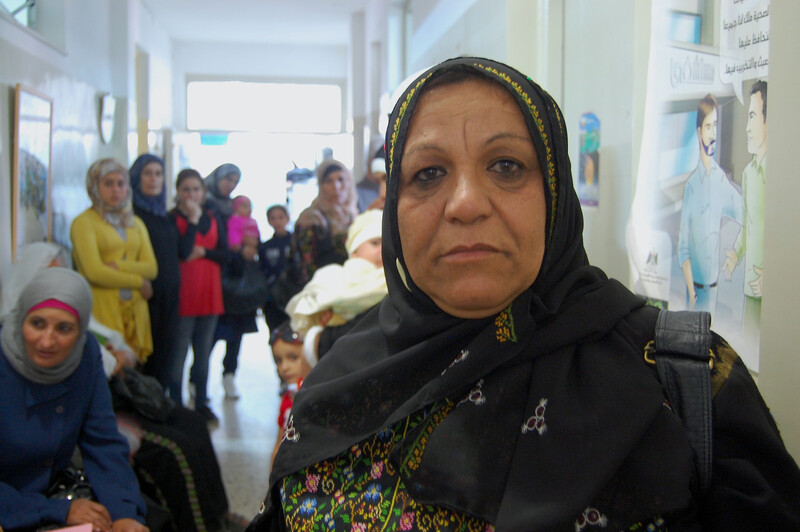 DURA, occupied West Bank (IPS) - Fatmeh Abu Hrar Tabeel has had her first ever breast cancer screening. "It feels good to know, of course. Thanks to God, I am well," the 51-year-old mother of seven said. "Now I can examine myself once a month from home; the doctor showed me how."
Abu Hrar Tabeel is from Sura, a small village in the southern Hebron district, which is one of the most conservative areas in the entire West Bank. She explained that after hearing from her neighbors that a mobile clinic was offering breast cancer screenings near her home, she decided to get checked.
"After [the screening], I went to speak with my friends about it and encouraged them to go. It's easy and made me more comfortable," Abu Hrar Tabeel said from the crowded hallway of a small health clinic in the town of Dura, where she waited for a general check-up. "My daughter came with me. She's 18, so she's still young, but she knows now how important this is."
According to statistics released by the Palestinian Ministry of Health, breast cancer was the highest-reported cancer among both women and the general Palestinian population in the West Bank in 2011. Breast cancer represented 22 percent of cancers among women, and 11.8 percent of all cancers in the area.
Today, an all-woman team of healthcare specialists — including a doctor, nurse and mammography technician — based at Augusta Victoria hospital in occupied East Jerusalem runs a mobile health clinic to diagnose breast cancer among Palestinian women in the West Bank. It is the only mobile unit operating in the area that deals solely with this specific form of cancer.
The unit provides Palestinian women with breast cancer screenings, mammograms, and information about the disease. Approximately 35 women are treated daily, and the mobile clinic — a large van equipped with a mammogram machine and other medical equipment — can be stationed in remote communities for months at a time.
Awareness
"When you come to the patient, you are encouraging her to get checked," said 26-year-old mammography technician Ahlam Issa, from inside the van where the tests are conducted. The process begins by patients meeting with a nurse to discuss their medical history and if they ever experience any pains or noticed abnormalities, and conducting a breast examination. They can then set up a mammography appointment. After their results are analyzed, they can, if necessary, meet with a doctor for more tests and a treatment plan.
"At first the women are afraid, but then they like it and promise us to come back again," Issa said, as she examined a patient's results. "We need more high quality care here in Palestine. We need more awareness. This program improves awareness."
In 2010, a group of researchers at Haifa University conducted a survey of almost 400 Palestinian women in the West Bank aged between 30 and 65 about the frequency at which they had undergone mammograms, clinical breast examinations and self-breast examinations, and the level of breast cancer-related services offered by the Palestinian Authority ("Factors associated with low screening for breast cancer in the Palestinian Authority," 1 October 2010).
The survey found that more than 70 percent of the women had never undergone mammography screenings or clinical examinations. Factors such as religiosity, education, income levels and whether women live in cities or villages greatly influenced whether or not breast examinations were performed.
"Educational programs should be constructed to enhance understanding of the value of early detection and knowledge of guidelines, to teach breast awareness, and to reduce cultural and social barriers," the report found.
According to the report, there are four permanent mammogram facilities for Palestinian women living in the West Bank. Mammograms are free of charge for women who have health insurance, and cost between $5 and $30 for uninsured women, who represent about 20 percent of the population.
Psychological support
"We are investing collaborative efforts with [the UN agency for Palestine refugees] and outside institutions whereby women can be screened," said Dr. Hani Abdeen, the PA's minister of health, from his Ramallah office. "They can undergo ultrasounds and take further steps in the investigative procedure if need be and [we can] send them for treatment at an early stage."
He said that Palestinian cultural considerations — including the fact that Palestinian women prefer to be examined by female doctors and nurses — have forced the ministry to offer its breast-cancer treatment program along gender lines. "We should give specialized nurses training to carry out this kind of screening. We are achieving good progress there," Dr. Abdeen said.
According to Dr. Khadijeh Jarrar, director of the women's health program at the Palestinian Medical Relief Society, providing psychological support for women dealing with breast cancer, especially those living in peripheral areas, is crucial.
"When people lose hope in life, they don't bother to go for treatment. They are not encouraged emotionally to go for treatment," Dr. Jarrar said. She added that the entire Palestinian community must encourage women to be screened so that doctors can treat the disease early and save lives.
"The women's health issues are not a women's issue only," she said. "Breast cancer is becoming a public health issue and all the community should support women for early diagnosis."
All rights reserved, IPS - Inter Press Service (2012). Total or partial publication, retransmission or sale forbidden.
Tags