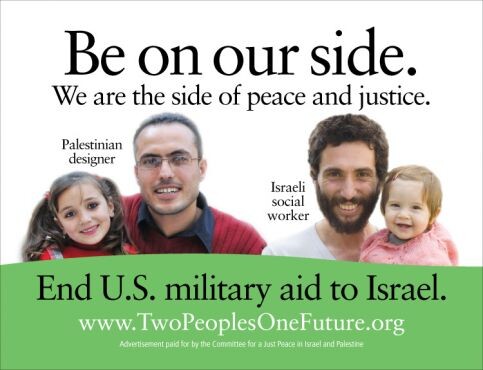 Palestine solidarity activists are organizing a day of action today, 10 December, to encourage "people of conscience" to join the more than 18,000 who have already signed a

US

-wide petition urging financial holdings corporation

TIAA

-

CREF

to disinvest from construction vehicle manufacturer Caterpillar Incorporated.

According to campaign coordinating group Jewish Voice for Peace (JVP), TIAA-CREF has invested more than $250 million in Caterpillar, which the group says is "complicit" in Israel's violations of US and international law ("December 10: TIAA-CREF day of action).

In June, JVP member Joel Finkel attended the Caterpillar board meeting, and publicly stated that the company's armored D-9 bulldozer is Israel's "primary tool" to "cleanse Palestine of its non-Jewish inhabitants by destroying their homes ("JVP at Caterpillar board meeting," 9 June 2010).

In addition to the petition-gathering action, JVP stated on its campaign website that protests will be held today in front of TIAA-CREF branch offices across the country. Activists in Baltimore, Chicago, Ithaca, Lexington, New York City, Palo Alto, Phoenix, Princeton, San Francisco, Seattle and Washington, DC will hold demonstrations outside the financial service's offices, and some activists are planning to meet with corporate representatives and deliver more petition signatures.

This day of action is just part of JVP's ongoing campaign to target TIAA-CREF. In July, activists attended the shareholder meeting and presented an "overwhelming" amount of signatures they had gathered in support of TIAA-CREF's divestment from companies that profit from Israeli occupation policies.

Meanwhile, the Palestinian-led movement of boycott, divestment and sanctions (BDS) against Israeli human rights violations and apartheid policies continues to gather steam elsewhere around the world.

Argentina

In Argentina, the World Association of Community Radio Broadcasters (AMARC) — an international community media organization representing more than 3,000 community radio stations across 110 countries — called on its members to "refrain from participation in any form of cooperation, collaboration or joint projects with Israeli media institutions" in a resolution issued during its tenth global conference on 13 November ("RESOLUTION 12: Support Palestinian Civil Society Call for BDS," (PDF) 13 November 2010).

The AMARC resolution noted that Israeli media institutions and Israeli journalists have contributed to their government's maintaining and justification of oppression of Palestinians whereas many have been "complicit in [forms of oppression] through their silence."

In response to the growing push for boycott, divestment and sanctions against Israel's apartheid policies, AMARC's resolution included the advocacy of a "comprehensive boycott of Israeli media institutions at the national and international levels, including [the] suspension of all forms of funding and subsidies to these institutions; [and the promotion of] divestment and disinvestment from Israel by international media institutions."

In related news, the West Bank-based Stop the Wall Campaign (STW) reported that Argentina factory workers pledged to support the boycott, divestment and sanctions (BDS) call during the month of November. In a statement, representatives of eight factories pledged to "ensure that our work sites, our businesses and factories … will be free of Israeli apartheid" ("In Argentina workers' movements, community radios take up BDS," 6 December 2010).

Factory workers resolved to refuse to enter into contracts and business deals between their worker-run companies and Israeli companies, the State of Israel, or companies that support Israel.

Stop The Wall added "[i]n addition to committing to raise awareness in Argentina about the Palestinian struggle, workers will be encouraged to 'participate in and support global and national BDS initiatives [and] require the State of Argentina to cut relations with State of Israel until such time as the end of apartheid and freedom of the Palestinian people is achieved.'"

South Africa

A member of the African National Congress (ANC) in the Western Cape Provincial Parliament called for action against South African businesses who buy and sell Ahava cosmetics, which are made inside the illegal settlement colony of Mitzpe Shalem in the occupied West Bank but are labeled as "made in Israel."

An activist with Open Shuhada Street, an international activism campaign working to target the Ahava company for its illegal practices, filed charges with the Office of the Consumer Protector, while Provincial Parliament member Mcebisi Skwatsha stated that Ahava products "are unlawfully produced and sold under false pretenses" ("ANC Western Cape supports legal action against distributors of Ahava," 30 November 2010).

"Every consumer should know the origin of a product … Products that are produced by violating human rights are deeply offensive," Skwatsha added, and requested that the regional minister of economic development and tourism and the national minister of trade and industry initiate investigations into South African companies purchasing and selling Ahava products.

"Furthermore," said the minister, "we request labeling guidelines for such products stating it is 'Made in an Illegal Israeli Settlement in Occupied Palestinian Territory.'"

Australia

During the October 2010 national conference to support boycott, divestment and sanctions, Palestine solidarity organizations pledged to hold regular BDS-related actions. This month, activists in major cities across the country put on "Don't Buy Israeli Apartheid for Christmas" protests. The Australian Boycott, Divestment and Sanctions Campaign for Palestine (http://australianbdscampaign.wordpress.com) held an action in Melbourne in a shopping mall, urging shoppers not to buy Israeli products for holiday gifts. They produced a video of the demonstration ("Don't Buy Israeli Apartheid for Christmas).

Meanwhile, the New South Wales' Green party unanimously endorsed a proposal to call upon "all Australians and the Australian government to boycott Israeli goods, trading and military arrangements, and sporting, cultural and academic events as a contribution to the struggle to end Israel's occupation and colonization of Palestinian territory, the siege of Gaza and imprisonment of 1.5 million people, and Israel's institution of a system of apartheid ("Israel: Greens NSW back international Boycotts, Divestment and Sanctions," 7 December 2010).

Minnesota, United States

For the first time, a US labor union officially voted in favor of the boycott, divestment and sanctions movement in support of Palestinian human rights.

The Industrial Workers of the World (IWW), also known as the Wobblies, adopted a resolution on 2 December "in support of the workers of Palestine/Israel" in an overwhelming vote both at the IWW's convention in Minneapolis and by the membership through a referendum, according to a press release by the union ("IWW supports Boycott, Divestment and Sanctions movement in support of Palestinian Rights," 2 December 2010). The IWW has a long history of adopting anti-war and international solidarity platforms since its founding in 1905.

The IWW stated that the resolution to support the growing BDS campaign came out of the work of the union's International Solidarity Commission and the IWW Friends of Palestinian Workers Group, "a grassroots network of Wobblies supportive of the Palestinian, Israeli and international struggle against Israeli apartheid."

IWW's International Solidarity Commission member Nathaniel Miller stated in the press release, "For a union concerned with international solidarity, supporting the BDS movement is the right thing to do … By officially supporting this BDS call, the IWW stands shoulder to shoulder with Palestinian workers in a global picket line against Israeli apartheid."

"Our support of the BDS movement is in line with traditional wobbly principles of anti-racism and international solidarity," Miller added.

California, United States

Advertisements calling for an end to US military aid to Israel were posted in several Bay Area Rapid Transit (BART) subway stations, initiated by the Northern California Friends of Sabeel, the local branch of a Christian ecumenical organization, and cosponsored by local chapters of Jewish Voice for Peace and American Muslims for Palestine.

In a press release, the organizers said the ads will run for four weeks, and appear in high-traffic BART stations in Oakland, Berkeley and San Francisco ("Christian, Jewish, and Muslim groups sponsor BART ads calling for ending US military aid to Israel," 7 December 2010).

They are the same design as those recently posted in Chicago subway stations, which were sponsored by Chicago-area Committee for a Just Peace in Israel and Palestine (CJPIP).

The ads direct people to a website (http://twopeoplesonefuture.org), which contains information and an overview of US taxpayer-funded aid to the Israeli government and military.

United Kingdom

British academics associated with the British Committee for the Universities of Palestine (BRICUP) drafted an open letter to German bass-baritone singer Thomas Quasthoff, urging him to cancel his upcoming concert series with the Israeli Philharmonic early next year ("Open letter to German bass-baritone Thomas Quasthoff," 8 December 2010).

"We understand you're scheduled to give five concerts in Israel in February 2011, where you will sing Mahler's Kindertotenlieder (Songs on the Death of Children)," stated the letter. "We're struggling to understand why this might seem to you an appropriate thing to do."

Jerusalem

Three Jerusalem city council members affiliated with the liberal Meretz party authored a letter to the sportswear company Adidas urging it to reconsider its sponsorship of the International Jerusalem Marathon. The public figures called on the corporation to withdraw its sponsorship if the city did not remove illegal Israeli settlement colonies in occupied East Jerusalem from the planned route, reported the Israeli daily The Jerusalem Post ("City councilors to Adidas: Boycott Jerusalem Marathon," 7 December 2010).

City council members Pepe Alalu, Laura Wharton and Meir Margalit warned Adidas that the company could expect calls of international "opposition" if the current route of the marathon remains, and if Adidas subsequently maintains its sponsorship. "As members of the Jerusalem City Council, we feel it is our duty to inform you that this year, the path of the marathon is due to run through parts of east Jerusalem that are considered occupied territory by the international community and by us," the letter stated.

The current route, reported The Jerusalem Post, would take marathon runners through areas across the city, including East Jerusalem — such as the settlement of Pisgat Zeev. Council member Alalu stated that he planned to "reach out" to other corporate sponsors and marathon participants and encourage them to boycott the race "until the route is changed." More than a thousand runners are planning to take part in the marathon, which is due to be held in March.