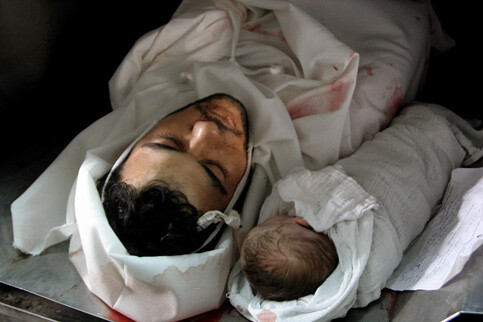 Israel has announced to unilaterally cease fire in the Gaza Strip while leaving its troops in positions they had seized during the so-called Operation Cast Lead. Al Mezan Center's staff visited some of the areas the Israeli Occupation Forces (
IOF
) left last night and this morning. It found out that a disaster had struck these areas, which had not been accessible for weeks. The findings provide evidence about the likelihood that the
IOF
had perpetrated war crimes in these areas. In particular, dozens of civilians' corpses have been found in a bad condition under the rubble of destroyed houses. Moreover, the scene of destruction of neighborhoods suggests that wide-scaled home demolitions were systematically conducted by the
IOF
.
Al Mezan Center's field workers reported that entire urban blocks have disappeared in the areas of Ezbet Abed-Rabu, al-Salatin, al-Atatra, al-Israa in North Gaza District, and al-Kashif and al-Rayis Hills and the eastern suburbs of Gaza City. As of 2pm, medical teams had found 62 corpses of people under the rubble of houses, or rubble moved by Israeli bulldozers. Among them were eight children and 10 women. It is not known yet whether those were buried under the rubble alive or dead.
According to Al Mezan Center's monitoring, the IOF has breached the unilaterally declared ceasefire. Shooting and shelling from artillery batteries, tanks and naval vessels have occurred in various areas throughout the day. Israeli aircraft also launched raids on open areas. At 10:30am, Israeli troops opened fire at civilians who were trying to reach their homes in Khuzaa village, east of Khan Younis. A man, 22-year-old Mahir Abu Irjila, was killed as a result. The victim and his family had evacuated their house and stayed in a UN shelter.
With these casualties, the number of Palestinians killed by the IOF in the Gaza Strip since the start of Operation Cast Lead on 27 December 2009 has risen to 1,253, including at least 280 children and 95 women. Another 4,009 people were injured, including 860 children and 488 women.
Al Mezan Center has started a campaign to document with detail the implications of the IOF's operations on life and property in the Gaza Strip. It has also started to investigate dozens of cases where the likelihood of the perpetration of war crimes is evident.
Al Mezan Center highlights the necessity of ensuring that the IOF would not return to its disproportionate, indiscriminate military actions in the Gaza Strip. The Center has witnessed the manner in which the IOF carried out its operations, with flagrant disregard to applicable international law and to civilian life. As the Center continues its monitoring and documentation efforts with regard to what has already happened in Gaza, it demands that the international community takes a solid stance concerning the behavior of the IOF: civilians must not be targeted and international law must be observed at all times, especially during armed conflict. Al Mezan remains alarmed by the current fragile conditions which have resulted from unilateral arrangements that might not end the hostilities.
Al Mezan expresses its outrage by the facts it has found in those areas which the IOF had invaded more than two weeks ago. The findings proved that the fears that civilians and civilians property in these areas had been treated in cruel ways. Dozens of corpses have been brought to hospitals with increasing allegations that civilians were killed or left to die as the IOF refrained from making any efforts to aid the wounded or survivors. Al Mezan condemns this practice, which represents a serious violation of international law and norms of armed conflict.
Al Mezan Center also calls on the international community to promptly relief aid for the civilian population of the Gaza Strip, particularly those who have lost their breadwinners, parents, homes and assets due to the Israeli attacks. The Center calls on UNRWA [the United Nations agency for Palestine refugees] to continue its efforts to aid the displaced people; thousands of whom have lost their homes as a result of IOF's raids and demolitions. As schooling is expected to be resumed on 23 January, alternative shelters are needed for those who cannot return to their homes.
Al Mezan also asserts the need for urgent international intervention to prevent any IOF attacks against civilians and civilian objects in Gaza in the future, and to investigate the IOF's actions, many of which represent war crimes, in accordance with international law.
Al Mezan Center also renews its calls on the High Contracting Parties to the Fourth Geneva Convention Relative to the Protection of Civilian Persons in Times of War, of 1949, to live up to their legal and moral responsibilities upholding their own obligations under Common Article 1, by respecting, and ensuring respect of, the Convection.
This press release has been edited.
Related Links