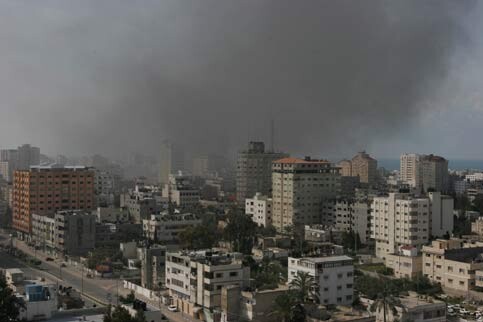 Gaza - The clashes between the rival Palestinian factions, Hamas and Fatah, continued in the Gaza Strip on Thursday night and into Friday.
In these clashes, Palestinian sources said that at least 22 Palestinians were killed and approximately 220 injured.
Palestinian sources said that the clashes were fiercest in Gaza City and the shooting spread to Beit Lahiya and Jabalia in the north of the Strip.
In addition, sources reported that the presidential security forces and other members of the national security forces, "in addition to other security forces", broke into the Islamic University in Gaza City on Thursday night.
The sources said that, according to the Palestinian media, "the forces found huge quantities of arms and explosives in the university." The sources added, "These weapons and explosives were used by the Hamas movement".
In the same sequence of events, President Abbas' residence was attacked with a number of projectiles, according to eyewitnesses.
Gunfire was heard all night long in many areas of Gaza City. In the morning, clashes were focused on the area close to the police station in Wihda Street in Gaza City. The sources say that the assailants fired rocket-propelled grenades at the police station in an attempt to occupy it.
"The main headquarters of the police in the city centre was attacked by mortar projectiles, in addition to the base of the 'Preventive Security', while other projectiles targeted the buildings of the intelligence department in the north of the city," the sources said.
Eyewitnesses also reported that fierce clashes erupted between Fatah and Hamas members near the 'Preventive Security' offices in Beit Lahiya in the north of the Gaza Strip. It was reported that the Hamas members succeeded in occupying many of the offices of the 'Preventive Security'. The 'Preventive Security' forces are a national security force considered close to Fatah.
The witnesses added that armed men from Hamas also attacked the offices of the intelligence department in Beit Lahiya using heavy machine guns and projectiles. In these clashes, two men were killed but it was not reported whether the men were from Hamas or the intelligence. The intelligence forces are also considered to be close to Fatah.
Hamas supporters and members of the Executive Force, the security force under the command of the Hamas-led interior ministry, also attacked the offices of the General Union of Palestinian Workers in Gaza City before setting fire to the offices of the union radio. Palestinian sources in the radio said that armed men detonated two explosive devices in the radio building.
The Hamas movement denied these accusations, saying that they did not burn the radio.
Knowledgeable sources in the presidential guards added that Hamas members besieged one of their posts in the southwest of Gaza City where hundreds of the new recruits were training.
The sources said that Hamas members shot intensively at the post and used anti-tank projectiles. According to the sources, many men training in the camp were injured.
Related Links