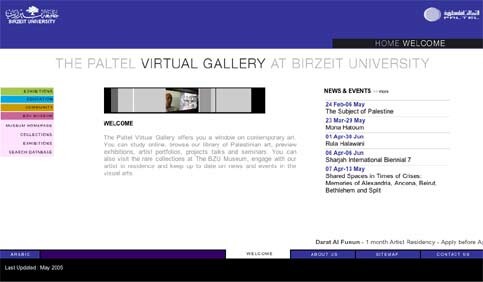 This spring Palestine's Birzeit University launched its latest means of cultural exchange. The new Paltel Virtual Gallery, which serves as an Internet portal for Birzeit students, Palestinians, and anyone else interested in Palestinian art, will also feature academic courses on Palestinian, Arab, and contemporary international art. In addition to highlighting a different Palestinian artist each month, the multiple functions of the bilingual Paltel Virtual Gallery intend to serve both those curious about Palestinian art, as well as Palestinians thirsting for more exposure to international art, which doesn't enjoy a high priority in Palestinian schools.
Spearheaded by artist and lecturer in Islamic art Vera Tamari, and scholar Tina Sherwell, the gallery was formally launched at the gallery's physical space at Birzeit University on March 17. But the gallery continues to be developed, with new features such as the virtual exhibition space, which will host both Palestinian and international art works that can be viewed online; a keyword-searchable online library of Palestinian art; as well as an artist-in-residency program.
The launch of the Paltel Virtual Gallery comes at an exciting time for the community at Birzeit — the end of this month will find the anticipated opening of a new physical gallery space at the campus, and will feature the university's permanent collection. Also in the gallery space will be archived materials such as the Tawfiq Canaan amulet collection, and Birzeit's collection of Palestinian costumes.
The virtual gallery is the latest product of Birzeit University's history as a point of cultural exchange between Palestine and the international community. Just next to cosmopolitan Ramallah, which boasts successful cafes and restaurants, Birzeit has in the past attracted internationals interested in learning about Palestine or wanting to bequeath gifts to Palestine through the institution. The Syrian artist currently living in Berlin Marwan Qassab Bashi donated 75 works to the university, and the director of a museum of modern art in Berlin curated a show through Birzeit that was taken to Gaza, Bethlehem, Hebron, Nablus, and Jerusalem.
Birzeit has also hosted workshops with international artists, though it has no formal art department. Indeed, because of the economic and other hardships the Palestinian school system has faced, coupled with cultural values, the creative arts has never been considered a main concern of the educational curricula. But Tamari, who teaches an introductory course to the elements of arts at the university, has found that despite her students' complete lack of background in the arts, they are longing to do creative work. Noting that they are "starting from zero," Tamari comments that the students "come up with amazing results in their projects." Indeed, having been so starved for creative endeavors, they "go wild with their ideas. It's nice for them to start scratching their imaginations."
Despite the lack of formal arts education in the West Bank and Gaza Strip, Palestine boasts a large number of filmmakers, painters, sculptors, and musicians for such a small population. And if the old adage is true that hardship breeds creativity, then Palestinians have a large well in which to tap into. Tightened Israeli-imposed movement restrictions in the past four years of intifada have left Palestine's economy dilapidated, and Israel's campaigns of violence have killed thousands, many of them university-aged young men.
Tamari explains that she realized that students had "no way of making contacts with Arab, international, and even Palestinian artists because of movement restrictions," and so she "started resorting to the Internet." She started giving her students assignments that required use of the Internet as a resource in researching art, encouraging them to take virtual tours of museum galleries, the likes of which the vast majority of her students had never seen. This capability of cultural change through the web inspired Tamari. Receiving funding for three years from the Palestinian communications company Paltel, Tamari and Sherwell began working on Birzeit's own virtual art space.
Noting that Palestinians in the occupied territories are burdened with a "physical and cultural isolation," Shrewell says that the gallery has potential to break that. The website will advertise deadlines for grants and call for entries for exhibitions, which isolated young Palestinian artists are not necessarily privy to. And since DSL will soon be mass-implemented in the territories, more and more young Palestinians will be able to reasonably access the Internet and come to the website.
And while some sections of the website are under construction, and those who don't use Internet Explorer as their Internet browser will be disappointed when they can't properly view images on the website, the website is an attractive, user-friendly one that has significant potential as a resource for both Palestinians in the territories and those abroad interested in Palestinian art.
Indeed, both this double-goal is an important one to develop. There is little interest in or understanding of fine art that isn't transparently political in Palestine, nor is there any real art market. As Tamari puts it, "artists cannot survive unless they're very well-known." And then there is the "baggage" that Palestinian art carries, as Sherwell explains. The international art scene "see 'Palestinian' before seeing the artwork," she says, and that Palestinian art "comes with a framework." Giving as an exception to the rule Lebanese-born Palestinian world-renowned artist Mona Hatoum, Sherwell points out that even Hatoum has struggled to avoid being pigeonholed into the Palestinian context, and being denied other meanings to her work.
In any event, as there is so much ignorance of Palestinian life and culture outside the Middle East, the Paltel Virtual Gallery is a welcome step towards cultural understanding. And at a time when the West Bank is on the verge of developing a high-speed Internet infrastructure, the web has great potential as a means of bridging the isolation Palestinians experience as a result of the occupation.
Related links:
BY

TOPIC

: Arts, Music and Culture
Maureen Clare Murphy, currently based in occupied Palestine, is Arts, Music and Culture Editor for the Electronic Intifada