"I am in shock, we are in shock," Hamde Abu Rahmah told me as we stood outside the small cemetery in Bilin where 36-year-old Jawaher Abu Rahmah was buried on Saturday. One day earlier, on 31 December, Jawaher was killed after inhaling

US

-made tear-gas fired by Israeli soldiers at demonstrators in the occupied West Bank village. Jawaher's brother Bassem was killed by Israeli occupation forces in a similar manner in 2009.

"We simply did not think that this would happen. We deal with tear-gas on a regular basis but the amount that they used and the strength was something we have not yet seen," continued Hamde, Jawaher's cousin who has reported on and photographed Bilin's regular demonstrations against Israel's wall and occupation since 2008.

Friday's demonstration, on New Year's Eve, was enormous. Over 1,000 people — Palestinians, Israelis and internationals — joined villagers in Bilin to call for an end to Israel's wall. Israel tried to stop the demonstration before it even began by creating a ring of military checkpoints on roads encircling the village to prevent non-villagers from attending. However, their strategy failed as hundreds of activists trekked through the rolling hills to reach the village.

Even prime minister of the Ramallah-based Palestinian Authority, Salam Fayyad, briefly joined the demonstration leading from the village center to the area of the wall. How Fayyad reached the village and why he left so quickly was unclear to everyone, some joked that the soldiers let him through the checkpoints because they consider him a Zionist.

Once the demonstration reached the village's agricultural lands, which are bisected by the wall, Israeli soldiers fired tear-gas in every direction including directly at protesters. Wave after wave of tear-gas surrounded demonstrators leaving nearly everyone gasping for air. One of the demonstrators was Jawaher Abu Rahmah, who lost consciousness from gas inhalation and never recovered.

Jawaher was a veteran of the Bilin demonstrations attending every one for the past four years, even after Israel shot and injured her handcuffed and bound brother Ashraf in the neighboring village of Nilin with rubber-coated steel bullets in July 2008, and her other brother Bassem was shot and killed with a tear-gas canister in April 2009.

Bassem was killed when an Israeli soldier fired a high velocity tear-gas canister directly at his chest at one of the weekly demonstrations in Bilin. Despite clear video documentation of the murder taken on three different cameras, justice has yet to come for the Abu Rahmah family for Bassem's death and Israeli soldiers have repeated their deadly repression of occupied Palestinians in Bilin with impunity. Now, an already grieving family has had to bury another one of their relatives after Jawaher's shocking death on Friday.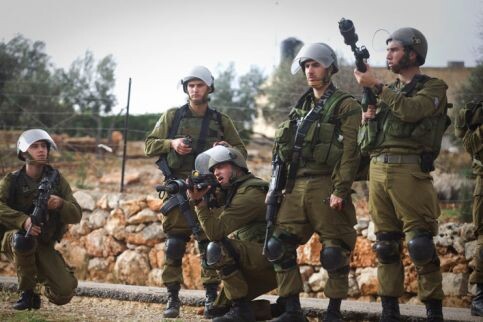 Violent repression of unarmed demonstrators
Unarmed resistance to Israeli occupation in West Bank villages like Bilin, whose land Israel is stealing to build the wall, has almost always been met with violent repression by the Israeli military. Since 2005, 21 unarmed demonstrators, 10 of whom were children, have been killed in demonstrations throughout the occupied West Bank ("Under Repression," Popular Struggle Coordinating Committee, September 2010).
Israel has developed a three-pronged strategy of military repression of Palestinian non-violence which includes the negligent use of firearms such as in the case in Bassem's killing, cover up of criminal misconduct, and the use of the occupation's legal system to crush Palestinian freedom of expression as in the case of Bilin leader Abdallah Abu Rahmah who has been sentenced to a year in jail for his role in organizing non-violent demonstrations.
The US-based company, Combined Systems, INC, is the leading American supplier of tear-gas used by the Israeli military against Palestinian protesters. Israel uses a type of tear-gas called CS, which has been blamed for a number of deaths and serious injuries, according to Haaretz ("Protester death shows IDF may be using most dangerous type of tear gas," 3 January 2011). The Israeli army has often responded to claims of negligent use of tear gas with repeated statements that the demonstration was violent because of stone throwing. They claim that the protesters "provoked" the use of the gas. However, such a claim cannot be made about Friday's demonstration since Israeli soldiers fired tear-gas from the moment protestors entered their sight. It is obvious that for the army, the mere presence of unarmed demonstrators is reason enough to use chemical weapons against them.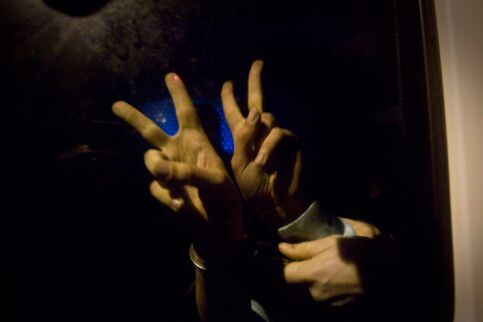 Israeli solidarity with Bilin
In response to Jawaher's murder, on 1 January hundreds of people demonstrated across the street from Israel's ministry of defense in Tel Aviv. Protesters chanted "Israel is a police state" and called for an end to the occupation. For more than one hour, protesters successfully blocked a main street in Tel Aviv beside the ministry by sitting in it and blocking traffic. Eight protesters were arrested in the demonstration including Mossi Raz, a former member of the Israeli Parliament. All were later released without charge.
Later that evening, Israeli activists descended on the home of the US ambassador to Israel, James Cunningham, in the northern Tel Aviv suburb of Herzliya. The activists "returned" loads of spent tear gas canisters collected in Bilin by throwing them into the ambassador's front yard. They also chanted, waking up neighbors, to demand a halt in US military aid to Israel.
Eleven demonstrators were arrested, including two women over the age of 60. They have been charged with illegal arms possession and will remain in jail until their hearing on 4 January. More actions are being planned by Israeli activists in response to the army's killing of Jawaher and in solidarity with Bilin.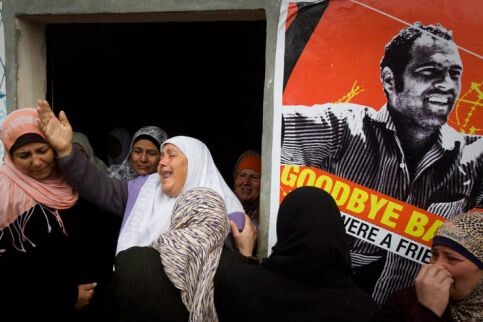 A symbol of resistance
Jawaher Abu Rahmah's death is the latest evidence of Israel's full-scale war against the defenseless Palestinian people living under occupation.
Bilin has become an international symbol of Palestinian nonviolent resistance because of its six-year struggle against the Israeli wall in the West Bank. In 2007, villagers celebrated a small victory when the Israeli high court ruled that the route of the wall in Bilin was illegal and requested the army to change its path. However, the wall's route has not been changed and as a result the protests have continued.
In 2009, leader of the Popular Committee Against the Wall in Bilin, Abdallah Abu Rahmah, was arrested in his Ramallah home. Despite his recognition by the European Union as a "human rights defender," the Israeli occupation's legal system found him guilty of "incitement" and "illegal protest."
Abdallah has served his one year sentence in full, yet still sits in an Israeli jail cell because the state has filed an appeal asking for a harsher sentence. The judge has not given a date for his verdict on the appeal.
The sadness caused by yet another victim of Israel's occupation lingered in the air in Bilin on Saturday. However, the determination to continue the struggle was visible in the eyes of villagers as Jawaher Abu Rahmah was placed in the earth next to her brother. Leaders of various other popular committees in occupied West Bank villages like Budrus, Nabi Saleh and Nilin, attended the funeral in a show of support and unified solidarity to continue the demonstrations.
They vowed that the unarmed protests will continue despite knowing that the violent repression of the Israeli military will continue as well. The protesters of Bilin and other villages understand that both history and justice are on their side. They have embraced the tactic of unarmed resistance and have opened their struggle to any one willing to join in respect and solidarity, even to an increasing number Israeli Jews. Their moral clarity should be a model for international civil society, which now more than ever needs to support the popular Palestinian struggle.
Joseph Dana is a Media Coordinator of the Popular Struggle
Coordination Committee.
Tags