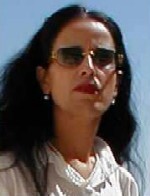 Palestinian writer Kawther Salam received together with a group of 27 writers from 13 countries the Hellman/Hammett grant in recognition of her courage in the face of political persecution, Human Rights Watch announced earlier this week.

Kawther Salam has worked with Israeli peace groups and foreign journalists to document the situation in the occupied Palestinian territories since September 2000. She wrote a weekly diary of her experiences for the Israeli peace group Gush Shalom and collaborated on three films for Israeli TV. She reported on human rights abuses by the Israeli occupying forces, named particular soldiers, and filed legal complaints against them. As threats from the various sources multiplied, she fled the region and received asylum in Austria in December 2002.

Thirteen of the 28 grant recipients have asked Human Rights Watch not to release their names for fear of further reprisals, a larger proportion than in previous years. Ten recipients have fled to exile.

The Hellman/Hammett grants are given annually to writers around the world who have been targets of political persecution. The grant program began in 1989 when executors of the estate of American playwright Lillian Hellman asked Human Rights Watch to design a program in her name and that of her long-time companion the novelist Dashiell Hammett.

The Hellman/Hammett grants are announced each spring. In the thirteen previous years of the program, more than 400 writers received grants totaling well over one million dollars. The Hellman/Hammett program also makes small emergency grants from time to time throughout the year to writers who have an urgent need to leave their country, who need immediate medical treatment arising from prison conditions or torture, or who find themselves in desperate financial circumstances as a result of political persecution.

Related Links:

Besieged writers receive awards, Human Rights Watch, 29 July 2003.
Hell - made in Israel, the daily life of Kawther Salam, Gush Shalom.