Forced by Israeli construction in East Jerusalem, the

US

president delivers a "rare rebuke" of an ally. Israeli Prime Minister Benjamin Netanyahu begins "construction of a new housing project in East Jerusalem" despite the risk of drawing "fierce, and possibly violent, Palestinian protest, along with international denunciations," as reported by The New York Times. While this may sound like a news summary from the last month, these are in fact news reports from 1997, as Israel began work on Har Homa colony.

A number of commentators have pointed out a sense of déjà-vu about Netanyahu's current premiership. But while today's gaze is fixed on colonies like Ramat Shlomo — home to the 1,600 new housing units announced during US Vice President Joe Biden's visit — or right-wing settler expansion in Sheikh Jarrah, little has been said about what has since happened to Har Homa, the colony which caused a stir during Netanyahu's previous time in office.

Har Homa's impact on the Palestinian community has been devastating, with the town of Beit Sahour now dominated by the ever-expanding settlement. While many are aware of Beit Sahour's famous nonviolent resistance during the first Palestinian intifada (1987-1993), less well-known is how Israeli rule continues to choke the town. Har Homa has been instrumental in that respect, and it plays a role in the latest settler-driven attempts to take over more land at Ush al-Ghrab, the site of a vacated Israeli military base. Located on the edge of Beit Sahour, the Israeli military has returned to the site while right-wing settlers campaign for the area to become the new settlement of Shdema.

A strategic colony

After 1967, Israel moved quickly to unilaterally and illegally expand the municipal boundaries of Jerusalem, expropriating land from West Bank villages in order to do so. As reported in the Israeli daily Haaretz on 13 February, Beit Sahour lost 1,200 of its 7,000 dunams (a dunam is the equivalent of 1,000 square meters), or 17 percent of its total land. Moreover, a May 2009 report by the UN's Office for the Coordination of Humanitarian Affairs (OCHA) entitled "Shrinking Space: Urban contraction and rural fragmentation in the Bethlehem governorate," found that the Bethlehem governorate, which includes Beit Sahour, lost around 10 square kilometers to Israel's land confiscation.

In his book, City of Stone: The Hidden History of Jerusalem, Meron Benvenisti, the ex-deputy mayor of Jerusalem, stated that for Israel the "determining consideration" in the "delineation of the borders" of occupied East Jerusalem was " 'a maximum of vacant space with a minimum of Arabs." He argues that this logically led planners to Palestinian land "on the outskirts of the city and surrounding it" (154-55). Further land loss would follow — meaning that the amount of non-built-up land available for Beit Sahour for development and growth has been reduced to around 600 dunams.

Israel's creation of the Har Homa colony in the 1990s and its ongoing expansion has been instrumental not just in the direct expropriation of land from Beit Sahour residents, but also in restricting the community's ability to naturally expand. According to Separate and Unequal: The inside story of Israeli rule in East Jerusalem by Amir S. Cheshin, Bill Hutman and Avi Melamed, the allocation of land for the establishment of Har Homa — a third of which was owned by Palestinians from Beit Sahour and nearby Um Taba — was "never connected with the planning of the neighborhood." Instead, the goal was to "expropriate as much undeveloped land as possible in the area, to prevent Palestinians from building." In particular, Israel was "concerned that Palestinian construction would eventually link up Palestinian villages in southern Jerusalem with the nearby West Bank towns of Beit Sahour and Bethlehem" (p. 58).

Separate and Unequal also reveals that in April 1992, a senior official close to then-mayor of Jerusalem Teddy Kollek wrote to then housing minister Ariel Sharon, explaining how the land confiscated for Har Homa would " 'straighten the line' of the Jerusalem municipal border." The letter explained that the "immediate battle" was over connecting the Jewish settlements of Gilo, East Talpiot and Givat Hamatos. Otherwise, it warned that Beit Sahour and the nearby Palestinian town of Sur Baher would be connected (p. 59).

Indeed, Har Homa has continued to expand over the years, with further residential units being added. Currently, a new expansion of hundreds of homes referred to as "Har Homa C" is awaiting implementation, having been submitted for public review in 2008.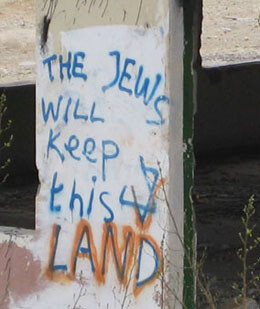 The same strategy to connect Israeli settlements and deny Palestinian villages the ability to expand is now being applied in Ush al-Ghrab. Establishing a settlement at Ush al-Ghrab will serve to consolidate Israel's Judaization of the area between Jerusalem and the Bethlehem-Beit Jala-Beit Sahour urban triangle and prevent the possibility of Palestinian territorial contiguity.

Nor is the strategy a secret. Haaretz reported on 4 February that Herzl Yechezel, the leader of the Har Homa "local committee," spoke at a settlers' ceremony about the importance of contiguity of Shdema, and Har Homa in order to prevent "the spread of Arab construction." Yechezel has previously described Har Homa "as a thorn" sitting between Palestinian villages and towns.

An apartheid regime

The loss of land and establishment of settlements has been "complemented" by Israel's wall in the occupied West Bank, checkpoints and bypass road 356. This matrix of control has further defined the boundaries of this Palestinian enclave. According OCHA's "Shrinking Space" report, the path of Israel's wall has placed olive groves belonging to Palestinians from Beit Sahour on the "wrong side." It stated that these groves are "now only accessible through two gates" that are opened "for limited periods during the annual olive harvest." According to an 11 April 2009 Reuters report, Israel's wall has also meant that residents in a Beit Sahour housing project — having narrowly avoided outright demolitions — will be completely encircled, thus "forcing residents to enter and leave via a gate controlled by Israelis."

Like the wall, bypass road 356 is designed to contain the growth of Beit Sahour. The road connects Har Homa and occupied East Jerusalem with the Israeli settlement of Teqoa in the southeast. Opened in 2007, the road stretches for 19 kilometers in the Bethlehem governorate and onwards to Israeli settlements in the southern West Bank near Hebron. As Nate Wright described in a 7 October article for the Middle East Report, bypass road 356 is "effectively demarcating the city limits" of Beit Sahour while strengthening the eastern Gush Etzion settlements. Therefore, it is imposing limitations on "prospects for growth and the larger socio-economic future of the Bethlehem area."

Beit Sahour is emblematic of the situation across the occupied Palestinian territories. According to a May 2008 report by OCHA entitled "Lack of Permit: Demolitions and Resultant Displacement in Area C," two-thirds of the Bethlehem governorate remains designated as "Area C" under the Oslo accords signed by Israel and the Palestine Liberation Organization (PLO). Under total Israeli control, Palestinian construction and development is almost completely impossible in "Area C." Moreover, "Area C" accounts for over 60 percent of the occupied West Bank's territory.

While settlement expansion — or creation — announcements make the news for a few weeks, before being forgotten, the impact of Israeli colonization continues devastate Palestinian communities. Diplomatic gestures mean nothing for towns like Beit Sahour, struggling to breathe under an apartheid regime that forces Palestinians into increasingly small, unsustainable pockets of land, policies intended to make normal life — and a continued Palestinian presence — untenable.

Images by Ben White.

Ben White is a freelance journalist and writer whose articles have appeared in the Guardian's "Comment is free," The Electronic Intifada, the New Statesman, and many others. He is the author of Israeli Apartheid: A Beginner's Guide (Pluto Press). He can be contacted at ben A T benwhite D O T org D O T uk.