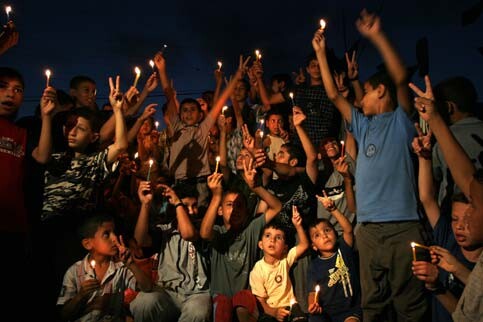 On July 16,
CBS
Face the Nation host (and
CBS
Evening News anchor) Bob Schieffer dedicated the entire Sunday morning news show to the Middle East conflict. In his closing editorial, he adapted a well-known fable in an attempt to explain the causes of the current conflict—or rather, the lack of causes:
"Finally today, when the war broke out in the Middle East, the first thing I thought about was the old story of the frog and the scorpion who were trying to cross a river there. The scorpion couldn't swim, the frog was lost. So the scorpion proposed a deal, 'Give me a ride on your back, and I'll show you the way.' The frog agreed, and the trip went fine until they got to the middle of the river, and then suddenly the scorpion just stung the frog. As they were sinking, the frog asked, in his dying breath, 'Why would you do that?' To which the scorpion replied, 'Because this is the Middle East.'"
Lest there be any doubt about who is the frog and who is the scorpion in that parable, Schieffer went on to spell it out:
"It is worth noting that the Palestinians in the Gaza Strip did not kidnap that Israeli soldier and provoke all of this because the Israelis were invading Gaza. No, all this happened in the wake of the Israeli withdrawal, which was what the Palestinians supposedly wanted. But this is the Middle East. Why would fundamentalists in Gaza and Lebanon choose to provoke this war at this time? There is no real answer except this is the Middle East."
Schieffer was echoing the media's conventional wisdom in portraying the Palestinian raid that captured the Israeli soldier as an inexplicable provocation. The New York Times, in a June 29 editorial headlined "Hamas Provokes a Fight," declared that "the responsibility for this latest escalation rests squarely with Hamas," adding that "an Israeli military response was inevitable."
The media assumption is that in withdrawing from Gaza in September 2005, Israel ended its conflict with at least that portion of Palestine and gave up, as Schieffer put it, "what the Palestinians supposedly wanted." In reality, however, since the pullout and before the recent escalation of violence, at least 144 Palestinians in Gaza had been killed by Israeli forces, often by helicopter gunships, according to a list compiled by the Israeli human rights group B'tselem. Only 31 percent of the people killed were engaged in hostile actions at the time of their deaths, and 25 percent of all those killed were minors.
From the time of the pullout until the recent upsurge in violence, according to B'tselem's lists, no Israelis were killed by violence emanating from Gaza. Although during this period Palestinian militants launched some 1,000 crude Kasam missiles from Gaza into Israel, no fatalities resulted; at the same time, Israel fired 7,000 to 9,000 heavy artillery shells into Gaza. On June 9, just two weeks before the Hamas raid that killed two Israeli soldiers and captured a third, an apparent Israeli missile strike killed seven members of a Palestinian family picnicking on a Gaza beach, which prompted Hamas to end its 16-month-old informal ceasefire with Israel. (Though Israel has denied responsibility for the killings, a Human Rights Watch investigation strongly challenged the denial, calling the likelihood of Israel not being responsible "remote"; Human Rights Watch, 6/15/06.) Hamas has repeatedly pointed to the Gaza beach incident as one of the central events that prompted its cross-border raid—indeed, Schieffer's own CBS Evening News has reported that claim (CBS Evening News, 6/25/06). Even so, Schieffer seems unable to recall this recent event.
Hamas also points to the capture of some of its leaders by Israel as the provocation for its raid. If Israelis had every right, as Schieffer said, to respond with force to the capture of one soldier by Hamas, then how are Palestinians expected to feel about the more than 9,000 prisoners captured and held by Israel—including 342 juveniles and over 700 held without trial (Mandela Center for Human Rights, 4/30/06)?
Moreover, Israel's withdrawal did not remotely give Palestinians "what they wanted." In addition to its continued deadly attacks on Gaza, Israel has continued to control Gaza's borders and has withheld tens of millions of dollars of tax revenue in response to Hamas' victory in democratic elections in January 2006. Israel's actions crippled the Gaza economy and prompting warnings from the U.N. of a looming humanitarian disaster (UNRWA, 7/8/06).
None of this is to say that Hamas, which has regularly ignored the distinction between military and civilian targets, does not share part of the blame for the current crisis. But to act as though Israel had been behaving as a peace-loving neighbor to Gaza until the soldier's capture is a willful rewriting of very recent history. The most Schieffer can bring himself to say about Israel is this:
"Israel had every right to respond, and it did. But again, this is the Middle East, so perhaps a response may have made it all worse by giving moderate Arabs in the region an excuse to distance themselves from Israel."
Israel's "response" has resulted in the deaths to date of at least 103 Palestinians, while no Israelis have died other than one soldier killed by friendly fire (New York Times, 7/19/06). Meanwhile, Israel has also destroyed Gaza's main power plant and its water system, leaving tens of thousands of Gaza families without access to food, water and medical care (Oxfam, 7/19/06). In Lebanon, Israel has killed over 300 people, the vast majority of them civilians, wounded over 1000 and displaced half a million (MSNBC, 7/19/06). To call such devastation an "excuse" for Arabs to "distance themselves from Israel" is a trivialization of real human suffering.
Why is Bob Schieffer allowed to get away with such shallow, dismissive coverage of complicated and tragic events? Because it's the Middle East.
Related Links