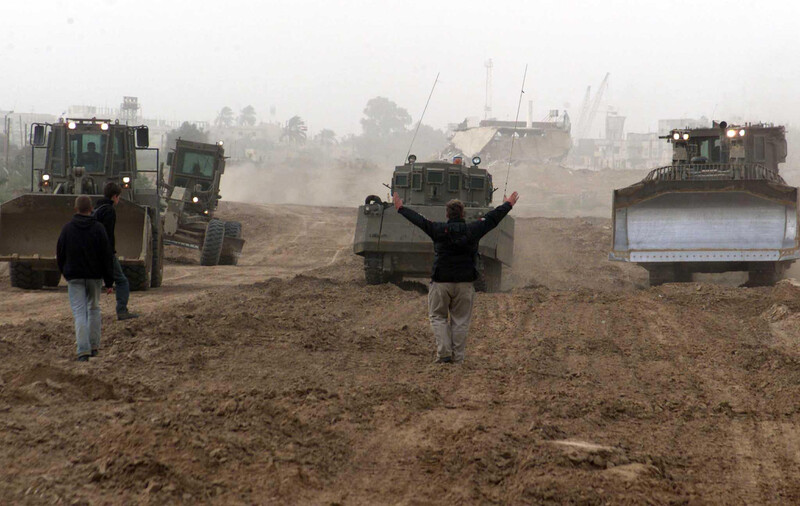 Tuesday 28 August was an extraordinary day for the BBC, even by its own low standards of reporting on Palestine.
This was the day an Israeli court absolved the State of Israel of any responsibility for the death of Rachel Corrie, the 23-year-old American activist who was crushed to death by an Israeli armored bulldozer in Gaza in 2003.
BBC Radio 4's World at One program ran a seven-minute segment on the court's decision, including an interview with Israeli government spokesperson Mark Regev.
Partway through this interview, the BBC presenter, Martha Kearney, made this astonishing claim: "Clearly Rachel Corrie was one of the casualties of what happened that day, and I know Israeli soldiers died too."
In fact, Israeli human rights group B'Tselem lists no Israeli soldiers as being killed on 16 March 2003 ("Israeli security force personnel killed by Palestinians in the Occupied Territories, 29.9.2000 - 26.12.2008," B'Tselem).
Despite this, a BBC presenter decided to introduce the deaths of Israeli soldiers into the narrative of the day Corrie was killed, a completely false claim which altered the actual reality and set a framework for BBC audiences in which several Israeli soldiers and one activist had died.
Suddenly, Corrie was not the only victim. Kearney's sleight of hand had effectively created a war zone with uncounted numbers of Israeli soldiers being killed on the same day, presumably by the side that Corrie was supporting.
Uncritical BBC acceptance of erroneous Israeli claims
Kearney's erroneous words allowed Regev to expand into the framework she had created. He took over, to say: "This is an active area of terrorist activity. As you say, Israelis were killed there. An hour before Rachel's death, a grenade was thrown at our forces." With Kearney's able assistance, the erroneous portrayal of Palestinians as terrorists, and those who stand with them as supporters of terrorism, was complete.
What Kearney did not choose to mention in her falsified version of "what happened that day," was that the other casualties on the day Corrie died were Palestinian.
Two Palestinian civilians, including a 17-year-old boy, were shot dead that day in Gaza. During the week that Rachel was killed, Israeli forces killed 27 Palestinians in the occupied territories, mostly civilians and mostly in Gaza, including seven children, the youngest a four-year-old girl, as documented by the Palestinian Centre for Human Rights in its weekly report for 13-19 March 2003. A Lexis-Nexis search of contemporaneous news reports from that period yielded no reports of any Israeli soldiers killed in Gaza.
Moreover, Kearney did not mention that two weeks before Rachel died, Nuha al-Maqadma, a pregnant Palestinian woman, died when Israeli forces in Gaza demolished her family's house on top of her in Bureij refugee camp. Her killing prompted the US State Department's official spokesman to issue a rare condemnation of "the increasing Israeli use over the past few months of demolitions and the civilian deaths that have resulted from this practice, including the pregnant woman" (US State Department briefing, 3 March 2003).
Regev's lies go unchallenged
The Palestine Solidarity Campaign emailed Kearney asking her to back up her statement and provide evidence for the deaths of Israeli soldiers on the day Rachel was killed, but received an email back from her editor at World at One, Nick Sutton, requesting that we go through the official — and laborious — BBC complaints process.
Unfortunately, the criticisms emanating from Kearney's interview with Regev are too lengthy to fit into the limited word count given on the BBC's online complaints form. Immediately before concocting her own evidence-free claim, Kearney had allowed Regev to come up with a few of his own.
Thus, in an attempt to give credibility to a justice system which had withheld vital evidence relating to Corrie's death, Regev had said, without challenge or contest from Kearney that: "Israeli courts are known for their independence. There are numerous examples of Israeli courts ruling against the government, against the military. Israeli soldiers have been sent to jail. Our judiciary is known internationally for its independence and its professionalism, and I think the best claim I could say to support that is the fact that every day Palestinians take the Israeli government to court in our courts because they know that our courts give justice."
The Israeli injustice system
Regev has a strange notion of justice. Earlier this month, a former Israeli soldier was given 45 days in jail in relation to the deaths of a Palestinian mother and daughter, shot dead during Israel's 2008-2009 massacre in Gaza as they attempted to flee a house under Israeli fire. They were killed as they waved a white flag. In May, Israel's military prosecution decided that no legal steps would be taken against the soldiers responsible for killing 21 members of the Samouni family during the same three-week massacre ("IDF closes probe into Israeli air strike that killed 21 members of Gaza family," Haaretz, 1 May 2012).
Stark figures do not back up Regev's claims either. According to the Israeli human rights organization, Yesh Din: "91 percent of investigations [by Israeli police in the West Bank] into crimes committed by Israelis against Palestinians and their property are closed without indictments being served. Eight-four percent of the investigation files are closed because of the investigators' failure to locate suspects and evidence" ("Police fail to investigate ideological crimes committed by Israelis against Palestinians," 27 March 2012).
Is this the "justice" that Regev was referring to, his outright lies being flouted, unchecked, on the BBC?
Casting doubt on Rachel Corrie's motives
The number of real facts given by BBC news reports into the Corrie ruling diminished as the day went on. One of the most important facts, which receded during the course of the broadcasts, concerned the house of the pharmacist and his family which Corrie had been trying to protect when she was killed.
The early morning Today program made a clear reference to house demolitions in Gaza. By the afternoon, the BBC was starting to waver. On The World at One, Kearney introduced the segment on the court's ruling by asking BBC correspondent Jon Donnison to give an overview of the day Corrie died.
Donnison began: "Well, Rachel Corrie was part of a group of activists, from an organization called the International Solidarity Movement, very much supporters of the Palestinian cause, and they were in Gaza … trying to stop — in their view — the demolition of Palestinian homes and properties by the Israeli army."
The casting of doubt into the minds of BBC audiences about the true motives of Corrie and her fellow protesters by those three little words — "in their view" — had begun.
There was, the BBC seemed to be saying, some other reason for Corrie to be standing in front of a bulldozer. In stepped Regev: "There were no houses that were demolished that day," he told an uncritical Kearney. "The operation that day was dealing with clearing a territory, a part of land that was used for sniping. There were trees there, there were bushes there, there were places where people were shooting at our people. This was not about house demolitions; not at all."
But Corrie wasn't standing in front of trees or bushes. She was standing in front of the house of a family she had been living with for a number of days. Her mother, Cindy Corrie, said after the verdict: "There were children behind the walls of the home Rachel was trying to protect … We should have all been there." The family's home was demolished later by the same make of armored bulldozer that had killed its would-be protector.
BBC parrots Israeli propaganda
This went unremarked on in the BBC's reports. Instead, by early evening, Eddie Mair, picking up on Regev's comments made to Kearney earlier that day, was introducing the item on the court ruling on Radio 4's PM program by saying: "Miss Corrie's supporters say she was trying to stop Palestinian houses being demolished. Israel says there were no houses being demolished that day, but the area was being used as cover by people firing on Israelis."
Again, the element of doubt, not just over Corrie's motives, but over the veracity of the solidarity movement's claims that Israel was destroying family homes, had been propagated. And if no houses were demolished that day, was it not because an American citizen had died trying to protect them?
This idea, and the fact that the home Corrie had been standing in front of was later demolished, was not examined by Mair. Instead he went on to give selective quotes from the Israeli judge in the case: that her death was a "regrettable accident," that the bulldozer driver couldn't have seen her, that she had been "protecting terrorists in a designated combat zone," and that Israeli soldiers had "done their utmost" to keep people away from the site.
By the time the 6pm news bulletin rolled round, the BBC seemed to have fully accepted the Israeli line that Corrie's activism had nothing to do with house demolitions and had decided it was no longer necessary to even mention that she might have been attempting to stop a home being destroyed.
And so the 6pm headline on Radio 4 was: "A court in Israel has rejected a claim for damages by the family of an American activist who was crushed to death by an army bulldozer in Gaza." A few seconds into the report, the BBC reporter, Jon Donnison, said: "The young American died in Gaza in 2003 while trying to block the path of an Israeli army bulldozer."
Later in the report, Regev came on to say: "This is an active area of terrorist activity and obviously it was a war zone. It's clear that the drivers of these tractors actually moved away from the demonstrators on a number of occasions and yet the demonstrators followed after the tractors."
However, nowhere in the report did Donnison say that Corrie was trying to protect Palestinian houses, and no spokesperson was brought on to give her reasons for why she was there, or to explain the deliberate terror wrought on the Palestinian population by house demolitions, which, as a form of collective punishment, are illegal under international law.
Bias by omission "typical of BBC reporting"
Instead, the BBC accepted as fact Regev's assertion that this was an "active area of terrorist activity," which he had been allowed to say all day on the BBC without having to provide any proof for his claims; it accepted that "demonstrators" were chasing after "tractors," and it utterly failed to provide its audience with a reason as to why a young American might have been standing in front of a bulldozer in Gaza.
Greg Philo, director of the Glasgow Media Unit and co-author of More Bad News from Israel, a detailed study of how the BBC and other media report on Palestine, says this kind of bias by omission is typical of BBC reporting.
"You can always see where the BBC stands by looking at what they leave out," he explained in an email. "When the verdict on Rachel Corrie came out, there were two versions — the Israelis saying it was an accident with a bulldozer and the alternative which was that she was killed while trying to stop a Palestinian home from being demolished.
"This is the version in the [The Daily] Telegraph ["Rachel Corrie death: eyewitness attacks Israeli verdict as 'implausible'," 28 August]: 'Ms Corrie died after being run over by an Israeli Defence Force (IDF) bulldozer, while protesting against the demolition of a Palestinian house.' This is the BBC [6 o'clock news, Radio 4, 28 August]: 'A court in Israel has rejected a claim for damages by the family of an American activist who was crushed to death by an army bulldozer in Gaza.' And then later in the same bulletin: 'The young American died in Gaza in 2003 while trying to block the path of an Israeli army bulldozer.'"
"Twice they say it and still no reason given why someone would want to get in front of a bulldozer. How irrational! Why on earth would someone want to do that? Then in swoops Mark Regev to confirm the point, telling the BBC: 'I mean they really acted in a way that I think a normal, responsible person would consider very irresponsible.'"
Philo adds: "This is how it works — the rationale for Palestinian action is missing. In More Bad News from Israel we showed that this is systematic in BBC presentations. It is extraordinary that the BBC journalist can so routinely exclude a phrase such as 'demolishing a Palestinian home,' which of course makes sense of why the protestors are there."
It is, indeed, extraordinary, as extraordinary as Kearney's claim that Israeli soldiers died on the same day Corrie was killed. But it is also typical — typical of a news organization that just can't seem to let go of the Israeli narrative in favor of objective, factual news reporting.
Amena Saleem is active with the Palestine Solidarity Campaign in the UK and keeps a close eye on the media's coverage of Palestine as part of her brief. She has twice driven on convoys to Gaza for PSC. Follow the PSC on Twitter: @PSCupdates.
Tags