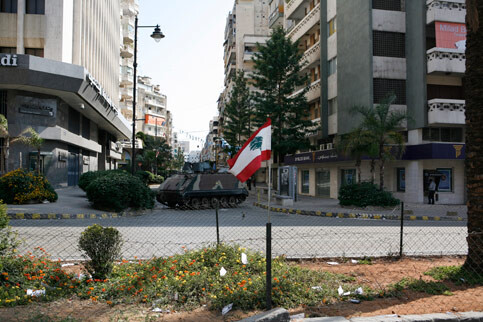 BEIRUT, 9 May (IRIN) - Everyone kept insisting it was not a civil war, but jumping for cover as a rocket-propelled grenade slammed into the apartment block beside us, and masked gunmen fired deafening salvos across the road dividing Sunni and Shia neighborhoods of Beirut, it certainly felt like it.
"It is impossible for Shia to shoot on Sunnis," insisted a military commander of Shia opposition group Amal, allied with Shia resistance group Hizballah, whose near two-year political battle against the Sunni-led government descended on 8 May into the worst fighting in Beirut since the ruinous 1975-1990 civil war that killed up to 150,000 people.
"My wife is Sunni: should I kill my nephews?" asked the commander, who gave his name only as Abu Ali.
But his words were cut short by machine-gun fire from the Sunni neighborhood across the road in the central Beirut neighborhood of Mazraa, sending sparks and soot flying up from the ground.
Young men outside the Amal office, some of them tattooed, many of them wearing ski masks, dashed for the nearest wall, loading clips into their machine-guns and high caliber automatic rifles.
From the boot of a black SUV, older men removed brand new rockets from their plastic covers, loading them into launchers to fire into the Sunni neighborhood just meters across the road.
"I brought my two daughters out here earlier," said 50-year-old Abu Ali, gesturing towards the corner of the building from where his fighters were preparing to jump out and fire. "I brought them out so they could see who their enemy was."
At least 10 people have been killed and dozens wounded in the intense battles, led by Amal fighters against the offices of Future Movement, the Sunni party of parliamentary majority leader Saad Hariri.
"We will control Beirut militarily"
The Amal commander said on the night of 8 May that dialogue between the two sides was now off the table, and vowed his fighters would take military control of Sunni areas of Beirut.
"God willing, we will control Beirut militarily and then we can catch all the traitors and then decide on a president and government."
Lebanon has been without a full cabinet since five Shia ministers and one allied Christian resigned in November 2007 following Hizballah's claim to a "Divine Victory" in its month-long war with Israel in July 2006.
Amal leader and House Speaker Nabih Berri has refused to open parliament and the country has been without a president since November, when Emile Lahoud stepped down without a successor. The Syrian and Iranian-backed opposition accuse the Western-backed government of Fouad Siniora of ignoring their demands and pursuing US and Israeli interests in Lebanon.
The clashes which began in the south-eastern neighborhood of Mazraa, where Shia and Sunni enclaves are divided by a main highway, continued through the night, spreading to Beirut's western Sunni stronghold of Ras Beirut and Hamra.
Amal in control
According to local reports from neighborhoods across Beirut, Amal, whom Hizballah appear to have tasked to do most of the fighting, control key areas of the whole Muslim west and south of Beirut and are handing them over to the army. Christian east Beirut has seen few disturbances, with the one Christian party allied to Hizballah, the Reform and Change bloc of former General Michel Aoun, playing no role in the opposition's military escalation.
Shia fighters ransacked the offices of pro-government Future TV and its newspaper, forcing the station off the air. Eyewitnesses in Tariq al-Jadide, the last stronghold of Future resistance, said the Sunni fighters were handing their weapons over to the army and surrendering.
The confrontation over Hizballah's status as an armed group in Lebanon hardened this week after the cabinet tasked the army with dismantling the guerilla group's secure telephone network, which ministers said is a threat to national security. Hizballah said the network is a vital asset in its war with Israel, allowing militants to communicate without being tapped.
The government also sacked the Shia security chief of Beirut's international airport, Brig-Gen Wafik Shoukeir, over accusations he had allowed Hizballah to set up spy cameras inside the airport to observe flights in and out.
Speech that triggered violence
In a speech on 8 May that triggered the violence, Hizballah leader Hassan Nasrallah said the opposition would only return to negotiations if Shoukeir were reinstated and the telephone network left alone. He accused the ruling coalition of wanting to turn the airport, which was largely closed for a third day on 8 May, into "a base for Mossad [the Israeli spy agency] and the CIA."
In a major break with previous Hizballah doctrine that its arms would never be turned on fellow Lebanese, Nasrallah said the government had declared "war on the resistance."
"We will use our arms inside Lebanon to defend our arms," he vowed, to curses from Sunni locals in Mazraa.
"The battle today is a battle between the American project and the battle of honor. You have crossed the red lines," said Nasrallah, addressing the government, "and we don't have any more red lines to cross."
Shia fighters pressed up against the walls of Mazraa apartment blocks on the night of 8 May were in no mood to lay down their weapons. "When we fought the Israelis in July 2006, the government accused us of going on a foolish adventure," said one Amal fighter, speaking English through a black mask and brandishing an assault rifle. "Now they are trying to disarm us and we say this is their foolish adventure."
This item comes to you via IRIN, a UN humanitarian news and information service, but may not necessarily reflect the views of the United Nations or its agencies. All IRIN material may be reposted or reprinted free-of-charge; refer to the copyright page for conditions of use. IRIN is a project of the UN Office for the Coordination of Humanitarian Affairs.
Related Links