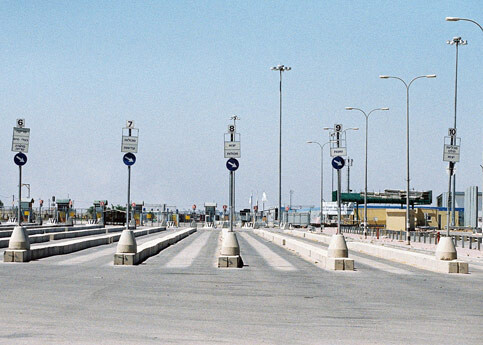 JERUSALEM

, 12 July 2007 (

IRIN

) - While humanitarian aid flows into the Gaza Strip are meeting most of the basic needs of the Palestinians, industries are unable to export their goods. This has lead to mass layoffs and unemployment in the already impoverished enclave.

Businessmen in Gaza speak of over 30,000 layoffs as a result of the lockdown on the Gaza Strip initiated after fighting between the Islamist group Hamas and Fatah last month, which ended when the former seized control over the strip.

About 80 percent of private sector businesses have closed, and the remaining establishments are operating at around 60 percent capacity, Paltrade, a local business group, reported. Also, Israel has cancelled the Gaza customs code, making importing goods more difficult.

"The economy in Gaza is grinding to a halt," said an aid worker.

World Bank statistics indicate over 80 percent of Gazans live below a poverty line of US$2.41 a day.

Cement

Goods such as cement are not making it into Gaza. The UN's agency for Palestinian refugees, UNRWA, announced this week the halting of all its building projects in Gaza.

"Some $93 million worth of projects are on hold because cement and other building supplies have run out," said John Ging, UNRWA's Gaza director.

"This is all vital humanitarian work," he said in a statement, noting that work on refugee shelters, sewage treatment plants, water works and health centres was affected.

"These have serious public health implications." Thousands of refugees subsequently lost their jobs.

Anticipating greater need for relief

Chris Gunness, an UNRWA official, was concerned about a possible amplified need for relief efforts.

"With no income, people will become more aid dependent. We anticipate the emergency caseload numbers will increase," Gunness said.

People in Gaza speak of a desperate situation, as there are few job opportunities. Some, locals say, are working for pitifully low wages, attempting to bring home a salary. They blame wealthy residents for taking advantage of the current situation.

Israel's position

Israeli security officials say they are currently focused on getting food aid into Gaza, and will not begin to deal with the exports matter for "at least another two weeks or a month". Another official said: "Wheat, for example, will take priority over cement needed for long term projects."

They say there is a clear goal of "preventing a humanitarian crisis in Gaza," although some observers expressed concern that little is being done to prevent a collapse of Gaza's economy and decrease the reliance on aid from NGOs and UN agencies. The military says it cannot reopen the main commercial Karni Crossing for exports as it requires coordination on the Palestinian side, something they cannot do with Hamas.

Private sector

As Israel will not talk with Hamas, which does not recognize Israel, coordination on goods is conducted largely by the military and the private sector, while agencies such as the World Food Programme monitor the markets and needs in Gaza.

However, aid workers say this should only be a temporary solution, as the interests of businesses should not dictate what goods go in. An independent body, with health and nutritional qualifications, should supervise the operations, some say.

Salaries paid

The Palestinian Authority recently paid salaries to tens of thousands of employees who had not received payments in over 18 months, after Israel released withheld tax funds.

However, some employees say the recent payments were hardly felt.

"We are using the money to pay off debts. For 18 months my family lived on borrowed funds," said a Palestinian employee of a security organ in Bethlehem, on the West Bank.

"I kept working all this time because there are no jobs," he said, adding that most of the 1,000 security officers in Bethlehem were in similar situations.

Hanadi, a mother of two and pregnant with her third, lives in the nearby village Beit Sahour. She said she received only a partial payment, and is still owed over $6,000.

This item comes to you via IRIN, a UN humanitarian news and information service, but may not necessarily reflect the views of the United Nations or its agencies. All IRIN material may be reposted or reprinted free-of-charge; refer to the copyright page for conditions of use. IRIN is a project of the UN Office for the Coordination of Humanitarian Affairs.