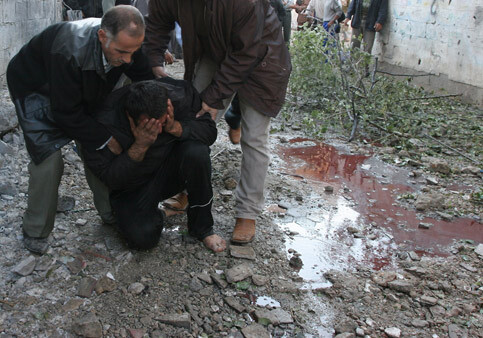 Is it looking at my own students at Birzeit University that reminds me of my old English teacher John S.? Every Tuesday and Thursday at 3:10 pm, and ten minutes before the end of class, they are all restless in their chairs, eager to continue their day without me. I do not take it personally. I feel their energy. But I do remember John fondly.
I recall his ability to last throughout the lesson and to end it with a virtual cliffhanger. Not all, but some of us would just be sitting there, nailed to our chairs, as the bell rang and other students began chatting, doors opening, noise everywhere. And, in the midst of clatter and laughter, John's last sentence would linger in the air. His cliffhanger.
One such cliffhanger I remember particularly well. We were discussing Brueghel's Fall of Icarus painting—the one that you can find in Musee des Beaux-Arts in Brussels. The myth of Icarus and his father Daedelus who made wings with wax to escape their Crete-prison. Flight. Youthful desire. Hubris. Icarus flying too close to the sun. Wings melting. The young Icarus falling into the sea and drowning. Tragedy.
In fact, not much of Icarus is showing in the painting. Only his white legs sticking up from the water in the bottom right-hand corner. But there are other people depicted, all going about their everyday lives. One man is ploughing. I do not remember the details, only the big panorama of a landscape with people in it, doing their things, like ploughing, undisturbed by the boy drowning. Icarus. The silent drama of a boy dying.
Did we talk about Auden's poem, as well? The one that speaks to Brueghel's painting:
About suffering they were never wrong,
The Old Masters: how well they understood
Its human position; how it takes place
While someone else is eating or opening a window or just walking dully along …
Maybe we did, or maybe I read the poem later. I do not remember. But I know the cliffhanger still hangs strong: Brueghel's painting as a depiction of the banality of great suffering. We just sat there, some of us, thinking on as the classroom emptied and John packed away his books. Not really knowing then what it means or could also mean. The banality of suffering … its human position …

Suffering … its headline position. The headlines on the front pages of al-Quds and al-Ayyam that we read every day. Every day there is a number.

The number of casualties, Palestinians injured or killed or murdered under occupation. This month there have been headlines in white on black background, the colours themselves having their own language.

I wonder what you do when every day the headline contains a count and that count is about you? A relative newcomer to occupied-Palestine realities, I still cannot fully comprehend the idea, let alone fact, of years and decades of outrageous headlines that enumerate the deaths of my people. Like one long headline that forgot it had to change.

On this morning of November 8, Icarus comes from Bayt Hanoun. Eighteen people killed in their sleep. Most of them women and children. Not that men dying is less suffering. From the comfort zone of Ramallah, these numbers are strangely close-far.

The headline continues. And under it, a picture from Ma'an News that makes me want to plough on even harder. It is without sleeping-dead women and children. Three living men are in the picture. They are all in an alley, the ground muddy, stony. There is a pool of water on the ground. On the right-hand side. A pool of red water. In the middle of the picture, one man is down on his knees. Leaning on one knee actually. The other leg (there they are, the legs again!) shows a bare foot. His hands cover his face. His head is bent in grief. The other two men lean towards him, their arms under his. A Beit Hanoun snapshot. Really, it is just two men trying to make a third man stand. But no matter how hard I try, I cannot make it go away.

Nathalie Khankan is a doctoral candidate at the University of California, Berkeley. She writes on modern Palestinian poetry and can be reached at khankan@berkeley.edu. This article was originally published in This Week in Palestine and is republished with the author's permission.

Related Links