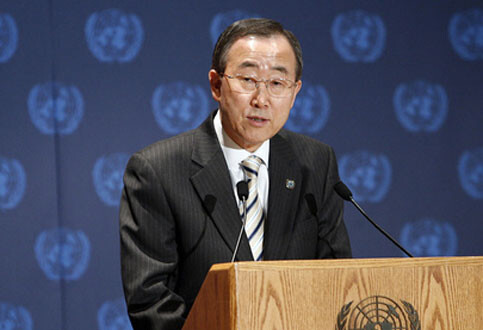 United Nations Secretary-General Ban Ki-moon today called for more than mere words from tomorrow's high-level diplomatic meeting in Washington of key partners seeking a resolution of the Israeli-Palestinian conflict through a two-state solution.
Mr. Ban will be participating in his first meeting of the so-called diplomatic Quartet with top officials of the other three partners - United States Secretary of State Condoleezza Rice; Russian Foreign Minister Sergey Lavrov; and European Union (EU) High Representative for the Common Foreign and Security Policy Javier Solana, European Commissioner Benita Ferrero-Waldner and German Foreign Minister Frank-Walter Steinmeier, representing the EU Presidency.
"He hopes that the Quartet will seriously engage with the key issues that have a direct impact on the situation on the ground, going beyond mere statements," Mr. Ban's spokesperson, Michele Montas, said. "He is fully aware that, within the region and beyond, many are looking at the Quartet to be more energetic in its efforts than it has been at times to break the current impasse in the peace process.
"He believes the Quartet should reach out to the parties and also other key regional partners for a more systematic dialogue, and involvement in the Quartet's deliberations," she added.
The Quartet has been championing the so-called Road Map plan aimed at securing a two-State solution to the Middle East conflict, with Israel and Palestine living side by side in peace, originally slated for completion by the end of 2005.
Related Links