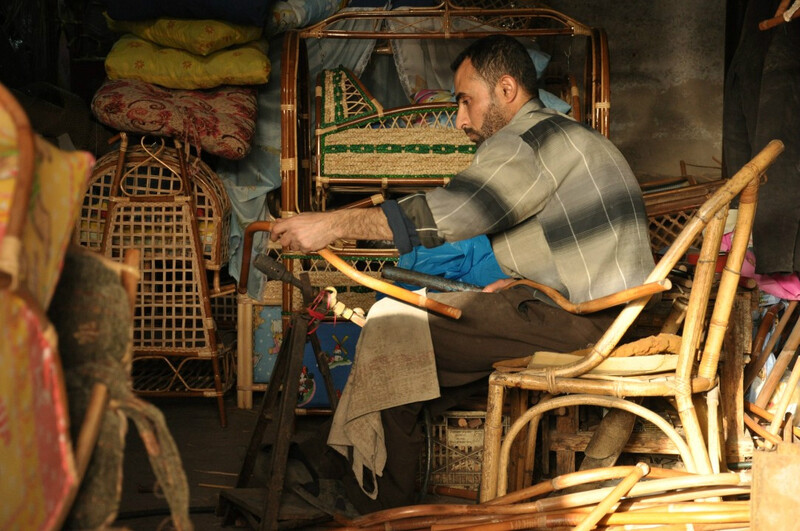 Abu Raed al-Mathloum sat in a bamboo chair at his workshop near the ancient marketplace of Fras in Gaza City on a recent Saturday afternoon, a smile lighting up his white-bearded face.
In the shop his son Zakariya, 36, turned a thick bamboo stick over a stove. The elder al-Mathloum has been making bamboo furniture for four decades.
It is a craft that has been passed down from one generation to the next. The al-Mathloums were one of the best-known bamboo furniture-making families but now, of his brothers, only Zakariya, the eldest son, is struggling to keep the tradition and the business alive.
A tradition brought from Jaffa in 1948
"I began this job at the beginning of the 1960s and I had my own business by 1964," Abu Raed al-Mathloum told The Electronic Intifada, "I learned this from the first maker of such furniture, Rajab Khallaf, who brought the profession from the Palestinian city of Jaffa, and this was right after the Israeli occupation of our historic Palestine in 1948."
Jaffa, once a major Palestinian port, business and cultural center, is now considered by Israel a suburb of Tel Aviv, as most of its Palestinian population were forced to leave.
Once thriving demand
Demand for bamboo furniture used to be high in 1970s to the 1990s and in those decades, there were about 60 workshops in the Gaza Strip.
Al-Mathloum said that his business was the main source for the furniture trade during those years, as Gaza, West Bank-based and even Israeli customers used to purchase sofas, chairs and bedroom furniture. Yet for the past ten years, the business has begun to decrease, particularly since the Israel imposed its blockade on Gaza.
Turning to tunnels for raw materials
"In 2007 through 2008 and the beginning of 2009, I used to rely on quantities of stored bamboo sticks and other materials needed for manufacturing," al-Mathloum said, "That was because of the fact that Israel prevented imports and exports. Later on, underground tunnels along the Gaza-Egypt border began to be reliable as far as importing bamboo was concerned."
Bamboo is a product of southeast Asian countries and before the Israeli blockade of the Gaza Strip, Gaza traders used to bring it in to the coastal territory in adequate quantities to allow the industry to remain viable.
"Prior to the blockade, myself and three other brothers, used to work in the business for two shifts a day," Zakariya al-Mathloum said, "but since 2007, my three brothers left because of the slow business here and they now have a small frozen meat shop nearby."
Keeping a family tradition alive
Asked why he keeps working in the trade despite the slow business, Zakariya explained, "This is a traditional family profession that I want to inherit from my father and to hand on to my children, God willing."
It isn't just the blockade that threatens the business but competition from other types of furniture. Despite that, "there are still many customers who prefer bamboo furniture to other wood products," said Zakariya. He also considers it price competitive with an bamboo sofa ranging in price from $600 to $900. And the range of products includes sofas, baby beds, rocking chairs and walking sticks.
This traditional industry could fade away gradually due to economic instability in the region and the lack of training for the industry across the Gaza Strip. Yet Abu Raed al-Mathloum is determined to remain one of its practitioners.
"We look forward to continuing this work for our lifetime," the still smiling al-Malthoum said, "This is work that I myself am proud of and my children should be proud of too."
Rami Almeghari is a journalist and university lecturer based in the Gaza Strip.
Tags