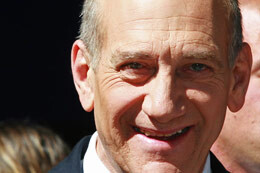 The news that former Israeli Prime Minister Ehud Olmert was in Australia and was welcomed by the honorable members of our parliament came as somewhat of a shock. It is one thing to have allowed a man charged with corruption and suspected of war crimes into Australia at all; it is another thing that he was listed as a distinguished guest in Hansard — the official record of parliamentary proceedings — and received a resounding "hear, hear" from our elected representatives.

As a High Contracting Party to the Fourth Geneva Convention, Australia has a duty to bring before its courts those responsible for alleged violations amounting to grave breaches of the convention. The UN-commissioned Goldstone report and other investigations into Israel's conduct during its attack on Gaza last winter by Amnesty International, Human Rights Watch, the International Committee of the Red Cross and others, make for chilling reading of what the Palestinians in Gaza are made to endure for Israel's "security." Our government has shown a callous disregard for Palestinian human rights and no amount of aid can compensate for its cavalier decisions to back Israel regardless.

Only last month, the UK's Guardian reported that a UK lawyer "is working to expand the application of 'universal jurisdiction' for offenses involving serious human rights abuses committed anywhere in the world." A number of Israeli politicians and military leaders have already come close to being arrested in some European countries and Olmert would most likely face arrest if he visited Britain. It is only a matter of time before those wanted for war crimes will find themselves subjected to universal jurisdiction wherever they go, not least because of Israel's failure to undertake a genuine independent investigation into alleged war crimes as urged by the Goldstone report.

Australia's politicians on both sides of the spectrum are sending the wrong message when they open their arms to every visiting Israeli official. Not only are they condoning violations of international law, but they leave themselves open to charges of hypocrisy and racism. To wit, Australia's smearing of Dr. Mohamed Haneef for allegedly supporting terrorist attacks on no more evidence than innuendo and suspicion, which at the time then Opposition Leader Kevin Rudd backed without a whimper; and similarly, the government's ugly fear-mongering about asylum seekers, conflating them with terrorists.

Ehud Olmert is wanted for war crimes. Those war crimes have been amply documented. As Israel's prime minister at the time, there can be no doubt that Olmert knew the consequences of the military operations he approved and ordered. And he is by no means the only one.

Australia's position on war crimes is very clear. A recent letter from the attorney-general in response to a request from a concerned citizen for more information about Australia's handling of cases involving alleged war criminals states "the Federal Government takes the allegation of war crimes very seriously" regardless of where they are committed or by whom. The letter continues:

"Australia takes an active role in identifying and investigating anyone who may have had involvement in human rights abuses and war crimes, including those that have occurred overseas. If there is evidence on which to base a prosecution under Commonwealth law, the Australian Federal Police will give that evidence to the Commonwealth Director of Public prosecutions (CDPP). It is then a matter for the CDPP to consider, in accordance with the Prosecution Policy of the Commonwealth, whether there is sufficient evidence, reasonable prospects of securing a conviction, and whether a prosecution is in the public interest."

There is a danger that Australia could become a safe haven for Israeli war criminals if political pressure is allowed to interfere in the work of the judiciary, despite Australia's obligations under international law and Division 268 of the Criminal Code Act 1995 (Cth), which criminalizes genocide, war crimes and crimes against humanity. The question for Australians will be whether justice and universal human rights is something they wish to champion over the political concerns and self-interests of whatever government is in power. The opportunity was missed with Olmert, but there will be no shortage of opportunities as long as our government continues to play host to war criminals whether from Israel or elsewhere.

Sonja Karkar is the founder and president of Women for Palestine and one of the founders and co-convener of Australians for Palestine in Melbourne, Australia. She is also the editor of www.australiansforpalestine.com and contributes articles on Palestine regularly to various publications. She can be contacted at sonjakarkar A T womenforpalestine D O T org.