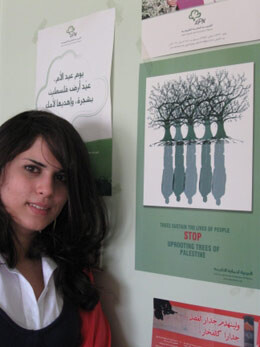 Download [

MP3

- 16

MB

]

Planting olive trees is a matter of resistance for the Arab Group for the Protection of Nature (or APN), a non-profit organization based in Amman, Jordan.

The organization began in 2003 with the goal of replanting one million trees on Palestinian land. By 2008, they achieved this goal and now hope to plant one million more trees in Palestine. They began organizing in 2001 against the wall being proposed by the Israeli government. Since 2002 the illegal construction of the wall has resulted in the confiscation thousands of dunams (a dunam is the equivalent of 1,000 square meters) of Palestinian land, uprooting olive trees as well. APN was initiated by volunteers brought together under the slogan, "They uproot one, we replant ten."

According to APN, statistically speaking, every minute in Palestine one olive tree is uprooted. In the war on Gaza alone, more than 500,000 trees were uprooted, 80 percent of them olive trees. "We hope we replant trees at a faster pace, as the occupation is systematically destroying the agriculture sector in Palestine," says Rand Wahbeh, director of APN's One Million Trees campaign. APN replants trees and occupation forces uproot them. "We have planted them again." Wahbeh asserts, "For us it is a matter of resistance." They work on a tight deadline. If a farmer does not replant the land within three years, the occupation forces confiscate the area.

Today, some 70 percent of Palestinian exports are agricultural. Occupation forces destroyed much of the industry in Palestine. The siege in Gaza and the daily experience of the occupation in the West Bank have left many Palestinian families with no choice but to return to agriculture to survive.

Replanting olive trees in Palestine is met with many challenges. The farmer may not have access to the land to bring the saplings or water. Then there are difficulties to harvest the olives. Every step the farmer takes is also met with the bureaucracy of the occupation or even bullets from soldiers and settlers. With the pace of tree uprooting ever increasing, APN needs to fundraise more and cultivate awareness of the danger of tree uprooting in Palestine.

The value of olive trees economically and culturally runs deep in Palestine. Not only a primary component of the Palestinian diet, olives and olive trees are also present in poetry, music and paintings.

Recently, APN invited Larry Harder, Associate Professor of Landscape Architecture at the University of Guelph in Canada, to present in Jordan on this topic. He described the olive tree and its representation as used by Palestinians and Israelis. For Palestinians, the symbol of their resistance is a small olive sapling that is still growing, representing their past and future. However, like other symbols of Palestinian culture, Israel has appropriated the olive tree. During the 2008 Olympics, a garden space was made so that each participating nation could include their national flora. An olive tree was included in the section for Israel. Wahbeh says, "If you look closely, this tree is scratched because it is stolen, uprooted by chains and moved from its original place." Many olive trees included in public spaces and gardens, as well as farms in Israel, were taken from Palestinian property and replanted.

APN seeks to stimulate sympathy for their efforts in Jordan. Though the country hosts a large Palestinian refugee population, there is little knowledge of the struggle to save olive trees in Palestine. Wahbeh believes this is due to a general lack of environmental awareness. "The importance of agriculture [in Jordan] is not that much," says Wahbeh. "Many people live in urban centers and are detached from their agricultural cultures." APN's largest base for support, whether volunteers or donations, does come from Jordan, though they are always working to seek the full capacity of what the local Palestinian population could give.

APN also works on the international level, working to affect international environmental policy through advocacy. Wahbeh observes, "We are always the first to bring the issue of wars and conflicts and their role in razing land, land grabbing, destroying agricultural communities, and dismantling their abilities for production." She adds, "It is our mission to say what is happening in Palestine, how the occupation deprives farmers from accessing their land, their water, any source of production so that they give up their rights."

At the International Union for Conservation of Nature, APN successfully passed two resolutions. One concerned the environmental liability of conflict and the other compensation in cases of war and occupation. The group sent a fact-finding mission to Lebanon after the Israeli bombardment in 2006 and they also release environmental assessment reports, the most recent published earlier this year after the winter attacks on Gaza. "The assembling of this report was horrible," recalls Wahbeh, "the results were horrific."

Each olive tree planted by APN costs 5 JD (or about $8 US). Wahbeh says that for APN, "It is very important to have a tree in Palestine connected to anyone in the world."

Gretchen King has been creating independent media productions since 1998. She has produced programming on Palestine for nearly a decade, including co-coordinating an international 18-hour audio commemoration of the 50th anniversary of the Nakba in 2008. In Montreal, Gretchen has served as Community News and Production Coordinator at CKUT Radio (90.3 FM) since 2001.