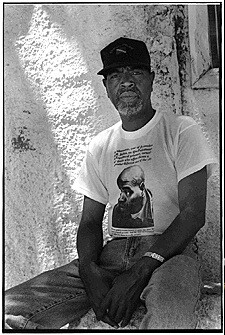 This week on Crossing the Line, host Chris Brown examines the disparity in media coverage of the Israeli-Palestinian conflict with journalist Alison Weir. Weir speaks about the bias in the American mainstream press using the example of how the media has covered both Israeli and Palestinian deaths over recent years: "What we're finding with Israel-Palestine is that Israeli deaths, for example a study of children deaths, shows that there is network broadcast prime-time coverage covered Israeli children deaths at a rate up to 13 times greater than they're covering Palestinian children deaths. Because of that Americans have almost no idea how many Palestinians have been killed, especially how many children have been killed by Israeli forces since the current uprising began."
Brown also speaks with photographer and activist Andrew Courtney about the little known community of African Palestinians and their long history within the country and conflict.
Listen Now [

MP3

- 14.4

MB

, 31:24 min]

Crossing the Line is a weekly podcast dedicated to giving voice to the voiceless in occupied Palestine. Through investigative news, arts, eyewitness accounts, and music, we do our best to bring you the lives of people on the ground.