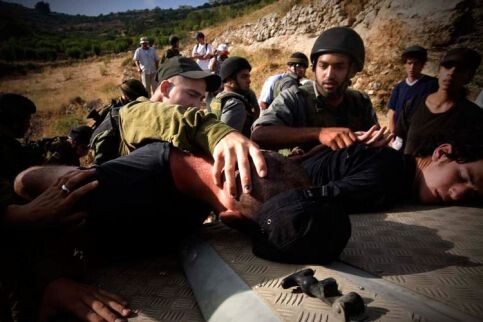 It was a bright, warm morning in the occupied West Bank's Saffa Valley Thursday, 18 November when, without warning, the Israeli occupation forces were upon us. Within moments, five Israeli soldiers were shouting in Hebrew. "You have one minute to leave the area!" they said, before shooting stun grenades at our feet. Moments later, we were told to sit quietly and hand over our passports. A six-hour detention was to follow.

I was detained along with six other internationals, five Israelis and one Palestinian activist in the Saffa Valley, near the occupied West Bank village of Beit Ommar. We were there to accompany Palestinian farmers to their land, and uproot dead bushes and other plants in preparation for planting olive trees later this winter. The army and Israeli media accused us of arson. In reality, small, controlled fires were lit in order to clear the weeds in the Palestinian-owned fields.

Still, we spent the day at the Gush Etzion settlement police station, where Israeli interrogators repeatedly asked us why we had violated a closed military zone order and had committed arson, both untrue charges. We were never presented with a closed military zone order nor did any criminal activity take place that day, as the Israeli police were alleging.

We were released after agreeing to not participate in any demonstrations or visit Beit Ommar, the Saffa Valley and the entire southern West Bank area for a period of 14 days. Exhausted and overwhelmed by it all, I headed home only to read the disturbing Israeli media reports detailing what had happened that day.

We were called anarchist arsonists on Ynet, the online, English-language version of Israeli daily newspaper Yedioth Ahronoth. Ynet quoted Yair Wolf, deputy head of the Gush Etzion Regional Council, who said "The anarchists' intolerable behavior must be stopped. The foreigners among them must be deported. They only fuel the conflict" ("Suspicion: Anarchists torched field near settlement," 18 November 2010).

In Wolf's opinion, it is peace and justice activists working for the self-determination and freedom of Palestinians who are fueling the conflict, not the violent behavior of Israeli settlers like himself who are illegally occupying Palestinian land. His statement would be funny if it didn't reflect the opinion of such a large segment of Israeli society.

Having had a few days to reflect, I can now view what happened through the lens of the larger picture, no longer blinded by my anger or frustration at an Israeli system that values theft, discrimination and religious-based privilege, while holding human rights and international law in such low regard.

What happened to us is not exceptional. Similar incidents will happen again, week after week, and they need to be viewed in the context of a growing nonviolent Palestinian struggle against Israeli apartheid. Israeli occupation forces are clutching at straws, when they feel it necessary to spend millions of dollars on the man-power needed to arrest activists each week and indiscriminately use tear gas, sound grenades or rubber bullets to disperse nonviolent demonstrations.

What happened to us — no matter how unjust or enraging — is nothing compared to the arbitrary detentions, arrests and prison sentences Palestinians must deal with on a daily basis. More than 9,000 Palestinians are detained each year by Israel and today, more than 7,000 sit in Israeli jails.

And yet in the face of this ever-increasing level of state violence and danger, the steadfastness of Palestinians to fight against the occupation of their lands is strong. It serves as an indispensable model to follow in the struggle for justice in Palestine, and being aware of how each one of us — Palestinian, Israeli, international — can best join in that struggle is crucial.

Originally from Montreal, Jillian Kestler-D'Amours is a reporter and documentary filmmaker based in occupied East Jerusalem. More of her work can be found at http://jilldamours.wordpress.com..