"If Israel can, we can"
On Thursday 31st October at 3.00pm, 30 badgers armed with waterpistols stormed the Starbucks on Oxford St claiming it as their ancestral home. Using the logic of Israeli settlers the badgers evicted some of the customers and erected the first badger settlement in London.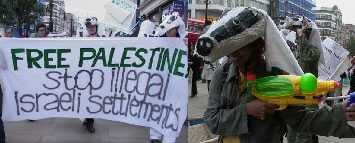 With placards proclaiming "If it works in Palestine why not here" and "It's ours because we say so" the self-styled Badger Defence Force set up checkpoints to inspect shoppers and tourists for concealed weapons. "If they're not a badger, they could be a terrorist" a spokesbadger said.
They handed out copies of the badger bible which proves their ownership of Starbucks and a fact sheet which answered Frequently Asked Questions about their activities.
The badgers have selected the store for their settlement because of the role of its CEO as a major supporter of the Israeli state. The company has become a prime target of an international boycott of companies with ties to Israel.
A spokesbadger said "Since the chief executive of this company clearly believes it is ok for one group of people to grab land belonging to another and say they have a right to it, we believe they won't mind if we take some of theirs".
Related Links:
Frequently Asked Questions about badger settlers,

ISM

-London
Badger Bible (condensed version),

ISM

-London